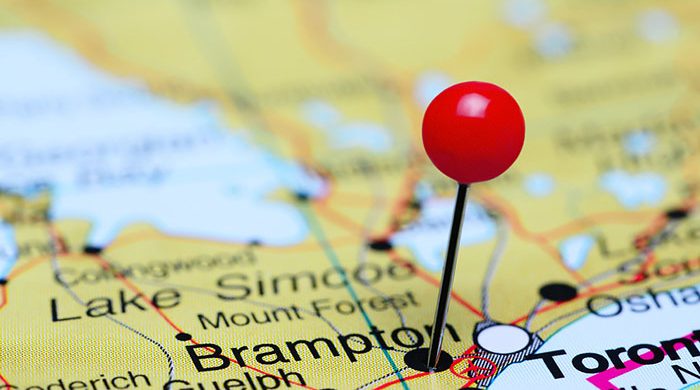 9 June 2016,
The Region of Peel has an estimated 1.4 million residents and 143,000 businesses in the areas of Caledon, Brampton, and Mississauga. Brampton has a population of 600,000, making it Canada's 9th most populated city.
The city is in Southern Ontario and a suburban city of the Greater Toronto Area (GTA).  Also called the Flower City, it adopted a community landscaping strategy to beautify its communities in keeping with its flower growing heritage.  It also has a bustling economy fueled by the manufacturing sector with the presence of Chrysler Canada Assembly Plant, American Motors, Canadian Tire Corp., Best Buy, Bacardi, Frito Lay Canada, and more.  In addition, other sectors including logistics, information and communication technologies, life sciences, and business services also have a huge influence on the local economy.
English is widely spoken by the city's population, followed by other minority languages such as Punjabi, Portuguese, and Urdu, among others.
Some factors related to its proximity to Toronto have increased the cost of real estate and taxes that in turn has made it comparatively expensive to live here.  However, its prime location, good road infrastructure, and attractive way of life make it appealing to many people wishing to move their homes or businesses.
Brampton is the seat of the Peel Region.  It is supported by an active bus transit system, rail system, and has easy access to Toronto Pearson International Airport.
Quality Living in Brampton – Essential Facts for New Arrivals
Unemployment rates are low in Brampton, with most residents working locally although many commute to work to Toronto.  You can find Brampton job opportunities while planning your move to the city.
Brampton also came out a winner in the Top 10 Mid-Sized American Cities of the Future 2015/2016 by fDI Intelligence of the UK's Financial Times.  This means that the city is a very lucrative option for investors who plan on doing business in the region.
There are also a number of local attractions that provide excitement to residents including treetop trekking in the Heart Lake Conservation Area, beautiful trails, the Peel Art Gallery and Museum, and the Rose Theatre.
Due to its high quality living standards and suburban appeal, the city is also a great choice for those wishing to retire or move to assisted living facilities.  There are about 30 choices for retirement homes in Brampton and its surrounding areas.
The city's diverse ethnicity is mirrored in its multicultural festivals, boutiques, restaurants and recreational opportunities.
You can find out what's happening in Brampton to get a feel of what it's like to live here.
Planning a Move to Brampton – Save money with your moving company
Many people think that moving companies are all the same and use price as the most important criteria.  While the moving cost is certainly important, it is equally necessary to look at professionalism, customer service, experience, and overall efficiency in choosing a moving company.
Below are some professional movers serving Brampton to help narrow down your choice.  When you have read moving reviews from customers, you can also receive more moving company quotes when you click request 5 movers quotes.
TWO MEN AND A TRUCK
This Brampton moving company operates locally with a franchise backed by a brand known internationally for its quality moving services.  Whether moving a house or a business, you can count on this company to serve your needs.
In 2012, it opened a climate controlled storage facility for its clients.  As members of the Brampton Board of Trade, Canadian Association of Movers, and the Better Business Bureau, you have peace of mind that the company is reputable and licensed to provide moving services.
It was voted Platinum Award as Brampton Times Mover for 2014.
MAPLE LEAF MOVING AND STORAGE
This moving company is a premier Brampton relocation source and provides comprehensive moving solutions to residents in Brampton and surrounding communities.  As a full service moving company, it can take care of everything you need with experienced and polite moving crew and clean and equipped moving trucks.
It has a license to perform local, long distance and international moves.  It also specializes in last minute moves for moving emergencies.
NATURAL MOVERS CORPORATION
This moving company offers residential and commercial moving services throughout Ontario. It can handle packing and loading and also has a climate controlled storage facility for your belongings.
It is accredited with the Canadian Association of Movers and can help you save money with its low moving rates.
The company offers discounted rates from the 2nd to the 23rd of the month.
PRIMECITY BRAMPTON MOVERS
This moving company is trusted in Toronto and nearby areas as a professional relocation specialist.  It has more than 15 years in the moving industry and is licensed and insured to carry out professional moves for households and businesses.
Aside from comprehensive moving services, the company also offers packing and storage solutions.  It is accredited with the Better Business Bureau.
AUGUSTA MOVERS TORONTO
This moving company offers residential and commercial moving services in and around the Greater Toronto Area.  This is an eco-friendly moving company, working with Frogbox for reusable and environment-friendly moving boxes and supplies.  You can save a lot of money from your moving boxes.
YOU MOVE ME
This moving company will take the stress of moving off your hands.  As a professional local moving company, it will handle your move from start to finish.  The company offers upfront and transparent rates for their packing and moving services.
This company serves Brampton and other areas in the GTA with no additional or hidden fees.  It is accredited with the Better Business Bureau and has multiple locations in Ontario.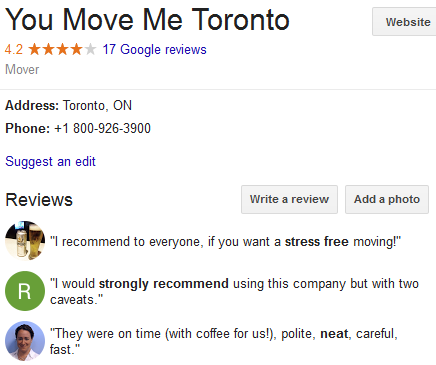 Hiring Your Best Moving Company For Moving To Brampton
The list of moving companies above is just a start to finding your best movers.  You can get access to more moving companies and affordable moving quotes by requesting for your free 5 moving quotes today.
With more than 200 partner moving companies in our network, we can definitely put you in contact with professional and reputable movers in your area, free of charge.
Save time and money from your move. You can have the best moving experience with us!