21 juillet 2016,
So you are moving to Trois-Rivieres, Quebec? That is amazing news.  There is definitely a lot to be said about living and working in this beautiful city.
But before you can start to live your new life, you have a million and one things to get done.
Aside from having to find a new job and a new home, maybe a new school for the kids, you will first need to pack up everything you own and get them moved as economically and safely as possible to your new address.  
But that is easier said than done.  Packing up all your stuff and finding a reliable and cheap mover could take you a lot of time if not done the right way.  And when you feel pressed for time and just settle for any moving company around, you could land yourself in a lot of trouble.
Fortunately, there is a really easy and reliable way to find a professional moving company that would suit your budget.
At 5moversquotes, we provide you with 5 free moving quotes from experienced and reputable moving companies in your city to help you move.  When you fill-out a short form online to supply your moving details, you receive free of charge low-priced moving quotes from movers in your area.  This means you can quickly compare moving rates and services to choose the one that's perfect for your moving needs.
We know there are many things on your mind right now and we want to help.  Below you will find moving advice to Trois-Rivieres to answer some of those essential questions.
We have also prepared a review of 12 BEST MOVERS IN TROIS-RIVIERES to get you started.
The City Of Trois-Rivieres – Move To The Poetry Capital Of Quebec
The International Poetry Festival is celebrated each year in the city of Trois-Rivières in Quebec.  Poets and journalists from around the world come to join the event and the number of visitors is increasing each year.  It has become the world's largest poetry event, earning for the city the name Capital of Poetry.
It is part of the Quebec City-Windsor corridor and is in between Quebec City and Montreal.  As part of the administrative region of Mauricie, it has become the economic hub of this part of Quebec.
Boulevard des Forges, the city's prime thoroughfare, runs several blocks in the center of the Old Town with many ancient buildings and a wide variety of restaurants, coffee shops, bars, and retail shops.  It is the venue of many festivals during the summer and is closed to traffic during this time, turning it virtually into a street mall.
New arrivals in this city love to explore the local sights such as the river along Rue des Ursulines, the historical Old Prison, and the Notre Dame du Cap Basilica. Being located near the Saint-Maurice and St. Lawrence Rivers, it has earned the name Trois-Rivières, which translated in English, means 3 Rivers.
Other popular landmarks include the Ruine de la forge basse, the Ursulines Monastery, and the Forges du Saint-Maurice, a centuries old foundry.
There are many churches, academic institutions, art galleries and theaters, memorials and plaques that add to its very rich heritage.  Although two major fires destroyed some of these historical buildings, the city has preserved and continues to showcase its diverse and rich culture.
If you are a new arrival, tourist or just moved to the city, don't be surprised to receive warm welcome and greetings from Trois-Rivières greeters.  These volunteers want to share their love of the city and can take you around for an hour or two especially if you are going solo.
There are so many events and festivals happening all year round. To quench your thirst for what you will soon find after your move, a unique festival of Mauricie's agricultural producers joined by Quebec's malting plants and breweries give the public a preview of special beer selections.  Enjoy a beer challenge and entertainment for all ages including beer tasting workshops in July.
In September, dozens of exhibitors gather at the Harbourfront Park to give samples of local and Quebec produce.  There are also cooking demonstrations and family activities for everyone.
Fun and Games – Make Moving to Trois-Rivières Fun
Like other cities in Quebec, the climate is humid continental, with long and snowy winters.  In the summer, the weather is warm with temperatures averaging from 25 to 30 degrees centigrade.  Spring and autumn is short but cool.
In the city is an internationally popular racetrack by the name of Circuit Trois-Rivières.  It is host to Le Mans Series, the Trans-AM series, World RX of Canada, and the NASCAR Canadian Tire Series.
The Colisée de Trois-Rivières also hosts the home games of the Trois-Rivières Blizzard from the North American Hockey League.  The only remaining wagering racing track in Quebec is also in this city.  Hippodrome de Trois Rivieres operates live racing of standard-bred from May to October.
Life in Trois-Rivières is really exciting with so many events happening throughout the year.  But aside from fun and games, the city also has much to boast about in terms of jobs and cost of living.
The City's Economy – What Jobs Are in Trois-Rivières?
As the oldest industrial city in the country, it was a bustling pulp and paper capital and a busy port facility since the start of the century.  Declining demand resulted in closures in the 80s and 90s but today, there are still 3 mills operating here.  The city launched an active revitalization of its economy to take advantage of its proximity to Quebec City and Montreal by intensifying its manufacturing sector and establishing technology parks.
The city offers many interesting job opportunities in different fields. Below are some places you can find jobs in the city and surrounding areas.  Dozens of employers recruit periodically to fill up requirements in their workforce.
Emploi-Québec
Tout Pour Reussir
Job Bank
If you are considering establishing a business in the city, you can also find many useful resources for investors and entrepreneurs.
Studying In Trois-Rivières – Get High Quality Education And a Healthy Lifestyle
Whether you are moving to Trois-Rivières as a student or with children of your own, you will be glad to know that there are many opportunities to attain quality education here from public and private institutions.
Two school boards manage the primary and secondary education in the region, one for Francophone and another for Anglophone.  Around 28 public primary schools and 7 secondary and vocational institutions are located throughout the city.
There are 5 private schools also offering primary and secondary education such as Mary of the Incarnation College and the Seminary of St. Joseph of Trois-Rivières.
For college, two institutions namely the Cégep de Trois-Rivières and the College Lafleche offer a wide variety of courses.  Notably, the city also has a university, the Université du Québec satellite campus.  UQTR is located in the heart of the city and offers more than 200 excellent programs in health, engineering, education, and science as well as over 55 exclusive programs in Quebec.
Where To Live In Trois-Rivières – Great Neighborhoods And Apartment Finders
According to the a report of Canada Mortgage and Housing Corporation, the housing market in Trois-Rivières is currently undergoing a period of  adjustment, with developers focusing on offering existing properties rather than starting new ones.  The vacancy rate of the local housing market is rather high with a wide inventory of new properties for rent or sale.
This is good news for people planning to move to Trois-Rivières as this means lower housing costs compared to other Canadian cities.
People who choose to live here can benefit from a very high quality of life and can even find affordable and very pleasant neighborhoods close to work and favorite activities.
One huge advantage is the average housing cost which is almost half the price in any other city in Quebec such as Quebec City or Sherbrooke.  For a 2-bedroom apartment, you can expect to pay around $560 a month.
Communities in Trois-Rivières include:
Lac a la Tortue
Nicolet
Louiseville
Saint Etienne des Gres
Saint Boniface
You can use the resources below to find great neighborhoods and apartments in the city and roundabouts.
12 Of The Best Moving Companies In Trois-Rivières – Movers And Moving Reviews
You have now seen a lot of what you need to do before moving and what you can expect to find upon your arrival in Trois-Rivières.  You are now ready to begin planning your move with a professional mover.
Check out below some of the best moving companies serving Trois-Rivières and nearby areas.  After considering their qualities and services, don't forget to request for your 5 free moving quotes to instantly compare lowest moving bids for your moving date.
VALOIS MOVING
This local moving company was established in 1926 and offers moving services and storage at very reasonable rates.  It has a long a solid reputation for residential and commercial moving, no matter the size of the move.
The company focuses on efficiency, safety, and customer service and aims to delivery your household belongings safely and on time with experienced movers and modern trucks.
The company serves all corners of Quebec including Trois-Rivières,   Bécancour,   Laval, Sherbrooke, Drummondville, Chicoutimi, Sept-Îles,  Baie Comeau,   Val-d'Or, and more.
You can count on them for local or long distance moving needs.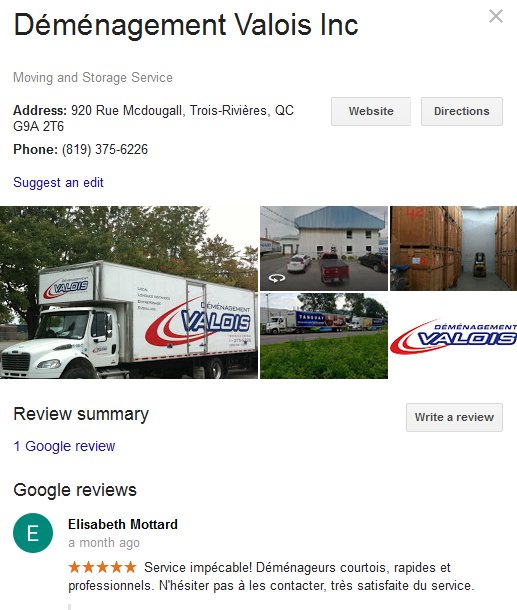 MARTEL EXPRESS
This moving company has over 90 years of history in moving.  It offers a wide range of moving services such as local and long distance moving, overseas moving, packing/unpacking, and storage.
The company guarantees courteous and punctual service to its customers.  It is the only company in the region to hold the ISO 9001 certification.   It is also affiliated with United Van Lines Canada and USA, giving it access to a large moving network in the country and abroad.
It is also a member of the Canadian Association of Movers, demonstrating its adherence to high standards of quality and professionalism.
BEL MAR EXPRESS
This local moving company offers professional relocation for household, commercial, or industrial moving in Trois-Rivières, Shawinigan, Mount Carmel, and surrounding areas.  It specializes in short or long distance moving.
Established in 1928, residents in Mauricie have come to reply on this company for transporting goods within Quebec or beyond.  With their experienced and friendly movers, you are guaranteed to have a stress free experience.
It also offers packing and unpacking services, sale of packing materials, and storage.
TESSIER DÉMÉNAGEMENT ENR
Since 1999, this moving company has provided residential and commercial moving services in the Trois-Rivières area.  It offers local and long distance moving, senior relocation, packing services, and storage. As expert movers, the company offers professional household relocation with flexible and friendly rates.  Movers arrive in uniform and will ensure no damage happens to your floors or furniture.
The company offers special hourly rates from May 15 to July 15.
DEMENAGEMENT PRO- XTREME
This moving company specializes in residential and commercial moving, local, long distance or national moving, piano or spa moving, packing and unpacking services, and storage service.
With more than a decade of experience in relocation services, this company has the expertise and resources to handle your move in a professional manner.  It owns a fleet of trucks in 2 locations to serve the Trois-Rivières area.  It enjoys a solid reputation in Bécancour, Mauricie, Drummondville, Sherbrooke, and Shawanigan for specialized moving services.
It also offers discounted hourly rates for senior moving services.
DEMENAGEMENT TRANSPORT MOREAU
This moving company offers local and long distance moving, senior and student relocation, local and long distance delivery, and storage in Trois-Rivières.  It specializes in residential and commercial moving.
The company has more than 30 years of experience and offers discounts for student moves and senior moving services.

GRENIER TRANSPORT
Since 1952, this moving company has been providing secure and affordable removal for homes and businesses.  It also provides storage services in a secure warehouse equipped with modern security alarm system and cameras.
When you move with Grenier Transport, you can obtain comprehensive insurance to ensure safety of your goods.  It accepts local and long distance moving.
With more than 40 years of experience in the industry, they guarantee a safe and convenient transport of your belongings.
DEMENAGEMENT BARIBEAU
Baribeau Moving is a leader in commercial and residential relocation services.  As a family business, it has more than 30 years of experience in the industry and specializes in local and long distance moving and packing and unpacking services.
The company guarantees that movers will ensure floor coverings and mats are placed to prevent damage to flooring and will carefully arrange clothing items in wardrobe boxes for your convenience.  Furniture are padded and covered to keep them clean and without damage.
All trucks are regularly maintained and inspected and they have a permit from the Commission des Transports du Québec.
DEMENAGEMENT MARTIN
This company was established in March 1997 in Sherbrooke and has been providing residential and commercial moving services in the regions of Quebec.
It has quickly distinguished itself as a quality residential and commercial mover for local, long distance, and even overseas moving.  It also expanded into warehousing of vehicles and furniture and established wider operations in Montreal, Quebec, and Toronto.  With a massive fleet of trucks and well trained employees, the company is equipped to handle your move with care.
It is an agent of Great Van Lines and a member of the Trucking Association of Quebec.
DÉMÉNAGEMENT EXPERT DE SHERBROOKE
This moving company proudly offers professional removal services at very competitive rates.  They specialize in commercial, residential, and industrial relocation for local and long distance moving.
Beginning at $50 per hour, you can benefit from safe moving with the right moving equipment and professional moving crew.  Their superior services also include packing and unpacking services and moving supplies you need.
DEMENAGEMENT TRANSPORT EXPRESS
This moving company provides residential and commercial moving, local and local distance moving, packing and unpacking, and storage services.
In the Mauricie region, it serves Trois-Rivières, Berthieville, La Tuque, Cap-de-la-Madelaine, Grand-Mère, Saint-Tite, and Shawanigan.
DEMENAGEMENT VALOIS LEO & FILS
This moving company was established in 1926 in in Trois-Rivières and specializes in commercial and residential relocation, local and long distance moving, overseas moving, and storage of goods.  It has a reputation for quality services and courteous staff.
As an agent of Atlas Van Lines, it belongs to a huge network of movers and can move you safely anywhere in Canada or internationally.
This is but a glimpse of moving companies that can help with your move.  It pays to compare moving services and moving rates so you can choose your mover carefully and ensure an affordable price.
Obtain your free moving quotes at 5moversquotes now and see how much you can save from your move.
We wish you a very pleasant moving experience and look forward to connecting you with the best movers in your area.