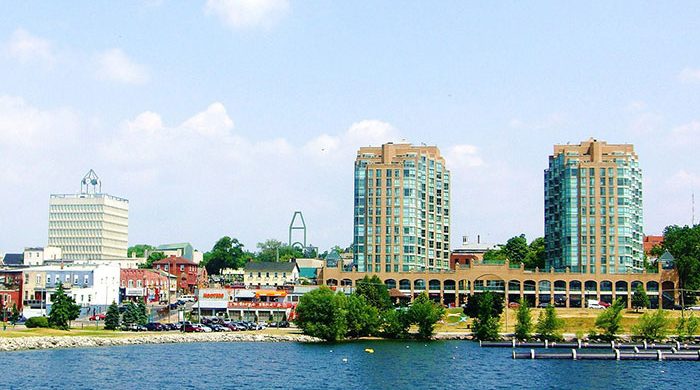 11 June 2016,
Are you moving house or business to Barrie, ON? We can help you move affordably and more easily with our network of more than 200 moving companies in Canada and the US.
The process of moving can be complicated, particularly in terms of moving expenses and ensuring your goods arrive safely.
To make moving more convenient and cheap, we prepared a list of moving companies in Barrie with moving reviews.  After carefully reviewing their services and prices, you can request 5 free moving quotes to compare more local and long distance movers.
All that is absolutely free, no obligation!
Moving need not be stressful or expensive. Let's start planning your move to Barrie.
Live and Work in Barrie, ON – Essential Facts about Moving to Barrie
Located in Central Ontario, Canada, Barrie is part of the highly industrialized Greater Golden Horseshoe.  It has an estimated population of around 187,000, which makes it Canada's 21st largest metropolitan area.
Why is Barrie a favorite moving destination in Canada? Firstly, it is a major waterfront city in Central Ontario so residents enjoy a beautiful natural environment with several beaches and the Kempenfelt Bay and Lake Simcoe.  It has more than 300 hectares of parkland.  The winter months provide recreational activities such as skiing, snowboarding, and ice fishing. There are also numerous events and festivals throughout the year.  In fact, the city is committed to making itself an age-friendly city, allowing for residents of all ages to benefit from high quality living.
In August, Barrie hosts Kempenfest – the biggest outdoor arts and crafts event in Ontario with more than 300 craftsmen participating along with food and entertainment.  This is only one of many events that boosts local tourism throughout the year.
The city's major employers include Coca-Cola, IBM, Scotia Bank, Transcom, Wolf Steel, and the City of Barrie, among others. Its low unemployment rate and low cost of living makes it a great place to invest in. Property prices are diverse, with many affordable choices open in estate homes or waterfront condominiums.
There are truly a lot of things to look forward to when you move to Barrie. You can learn more details about living and working in Barrie to prepare for your arrival.
Quick Review of Professional Barrie Moving Companies
It is not easy to select which moving company to hire for your move. You could spend a lot of time researching movers, types of moving service, moving rates, and customer feedback.
The good news is that we have done that for you so you don't need to.
Below are some moving companies serving Barrie and nearby communities with moving company reviews.
Smart Barrie Movers
This moving company delivers a wide array of high quality moving services.  It offers commercial and residential moving, local and long distance moving, piano and pool table moving, cargo delivery, garbage removal, and storage.
It serves all areas of the Greater Toronto Area.
PREMIERE VAN LINES
This moving company is an agent of Atlas Van Lines.  With over 50 years of experience, it is one of the country's most experienced and diversified movers.  It has independently owned locations throughout Ontario and can handle any local, long distance, or international move.
If you are in between homes, you can also avail of their storage services for short or long term use.
BARRIE ROCKBRUNE MOVERS
This local moving company has decades of experience in moving homes and businesses in Barrie, Ajax, and Newmarket. Aside from local and long distance moving, the company also handles senior relocation, custom crating, and storage.
Their local moving rates are charged based on actual time spent on the move, including the drive from residence to their office.  For long distance moves, rates are calculated based on shipment weight and distance.
This company is an agent of United Van Lines.
EZ MOVERS AND TRANSPORT    
This local moving company accepts big and small moves.  As licensed and trained moving professionals, they provide residential and commercial moving services at affordable rates.  The company also provides storage services locally and long distance.
NP MOVERS
This moving and storage service provides personalized moving services at affordable rates.  It is family owned and operated and serves Central Ontario and the Greater Toronto Area.
Since 2000, the company has been serving Barrie for its residential and commercial moving needs.  It offers seniors' discounts and complies with rules or retirement communities.
Which moving company is the best for you to hire? Don't stop here. Click request 5moversquotes to get actual moving estimates from professional Barrie moving companies to compare and save money.
3 Things to Check about your Moving Company
Once you have received your moving quotes, you can begin the process of selecting your mover.
Make sure to check that the company is licensed and accredited with the BBB or professional moving organizations like the Canadian Association of Movers.
Check the type of insurance provided in your moving contract and if needed, obtain appropriate insurance cover for your valuables.
Take the time to check consumer reviews about your moving company.
You can have a stress free and affordable move when you hire a reputable and professional moving company. We look forward to providing you with your best moving options soon.
Have a pleasant move to Barrie with us!