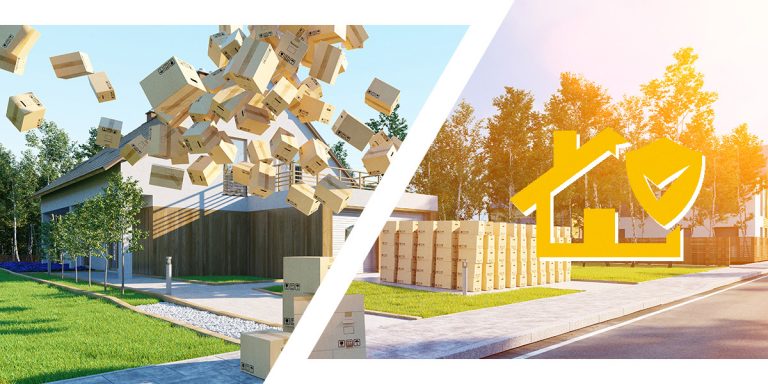 3 October 2019,

DON'T TAKE CHANCES!
Moving without home insurance is a bad idea!
It's almost D-Day and you'd like to know if, during your move, your home insurance is really useful for protecting your belongings.
You do not want to have unpleasant surprises. Does the moving company you hired be able to compensate you in case something goes wrong?
Are your belongings protected only during transport? Will the liability portion of your home insurance cover any injury that a friend sustains while helping you move?
Usually, people clean their homes, renovate a little, and start bringing things over before the actual moving date.
Are your goods still covered by home insurance under these circumstances?
What is home insurance for and why is it so important especially if you are moving?

Below you will find a short guide on home insurance to cover your belongings during a move.
See what your insurer and your home insurance broker would like you to know about your move.
#1 – How does home insurance work during a move?

If, a few days or weeks before the official date of your move, you start transporting certain items to your future home, be aware that these will still be part of the property covered by your current home insurance for a period of 30 days unless you cancel your home insurance policy within this deadline.In fact, as soon as an object leaves your old home to integrate your new home, it is systematically protected at both addresses as well as during transport.Notify your insurer or home insurance broker of your move as soon as possibleYou should let your insurer or insurance broker know your new place of residence as soon as you know the address.This is essential, not only in the event of a fire, vandalism or theft, but also with respect to civil liability (fire at the neighbor of which you are responsible, for example)Many factors that need to be taken into account in establishing your coverage, a less tight schedule will give your home insurance broker or insurer time to analyze with you your new situation.

ChAD (Chambre de l'assurance de dommages) has suggestions for things to do before the move.

It is important to review all of your home insurance when your move is scheduled.

For example, if you let your home insurance broker know that the size of your new home is larger than your current one, he will probably ask you if your appliances still fit in the new space or if you plan on buying new devices.

This type of information is important in assessing the value of your assets as a whole.

The benefits of your home insurance at the time of the move

If a friend or loved one helping you move gets hurt during the move, the liability cover in your home insurance could cover medical expenses.

If inadvertently your flat panel HDTV is dropped on the stairs, damage may be covered if you are covered by "all risk" insurance. However, if you have a "designated risk" home insurance policy, this type of coverage may not be included in your policy.

You must also consider the amount of your deductible. For example, if your deductible is $1,000 and the damage to your flat screen is $900, it goes without saying that you can't claim the damage from your insurance.
# 2 – When should you notify your insurer of your change of address?

We mentioned before that it is important to let your insurer or your home insurance broker know about your relocation as soon as possible. In fact, he must be notified between 30 and 60 days before D-Day.Here are the reasons why informing your insurer is important:

The distinctive features of your new home are crucial to ensuring your home insurance coverage is tailored to your needs which would now be different.

There is a wide range of home insurance products. The one or two months' notice will give you the chance to get information and to shop for your home insurance before becoming too busy with the move.

A simple change of address for your home insurance during your move

Oftentimes, a move is associated with a new situation in your life: you move in with your spouse and acquire new furniture … or you move alone and have less property to insure.

In such situations, your home insurance may simply be transferred to your new place of residence including, if necessary, new items. Your current contract can continue without the need to negotiate new terms for your home insurance.

If the transfer of all your property requires more than 30 days, you must notify your insurer in order to maintain your protection by correcting the provisions of your home insurance policy. Sometimes, you just need to add an annotation to your file.
# 3 – What if you have to leave your house and itis not sold yet?

A vacant home represents a higher risk for an insurer because it becomes more vulnerable to water damage, structural damage, fire … However, you must declare that your home is not inhabited for an indefinite period. Your insurer will then reserve the right to refuse or agree to cover you according to standard home insurance coverage.Your coverage, if it continues, will usually be conditional with certain exclusions. Find out what exactly will be covered by your home insurance after your move.
#4 – Is the mover's insurance enough?

You have decided to use the services of a professional mover for your peace of mind. You still need to take some precautions. The very first step is to know the company's insurance coverage:

How much of your belongings will be covered?
Is the basic protection of your possessions
assessed by weight (usually $ 0.60 /lb)?
Is additional coverage available (ranging from $5 to $10/ lb)?
Does your mover's insurance include professional liability?

By knowing your mover's insurance company name and policy number, you can verify the accuracy of the information received.

The company's insurance will take precedence over your home insurance during a move. Thus, in the event of loss or breakage, any amount in excess of the cover of your moving company will be covered by your home insurance.

On the other hand, at the risk of repeating ourselves, it is the "all risks" type of home insurance that will offer the most protection to your goods during their transportation, as well as to your 2 addresses during the 30 days normally provided for a move.

If you have a "designated risk" home insurance, you may not have all these protections. Check the conditions stipulated in your contract.

In case you are wondering, you can also check how much it costs to hire a moving company in Quebec.
# 5 -If your friends move, does your home insurance protect you?

During a move, your home insurance will generally provide compensation to people who help you through your liability coverage.

A basic home insurance policy includes a number of exclusions. It is better to read your contract or contact your broker (or insurer) to confirm the coverage for DIY moves.

Warning! When you move, your home insurance will only compensate you if it is proven that you have not been negligent. You must be careful with helpers you choose.

For example, if it is known that your friend Joe Lefort has a fragile back and carries a piece of furniture, a bad step can cause him to have a lumbar sprain and the insurer can refuse to cover it.
Moving can be dangerous if you don't plan properly or take precautions.
You can find tips for a safe move to help you plan your relocation and be worry-free.
The importance of good insurance during a move
Check that your home insurance covers all of your belongings when you move.
For example, if your sound system or digital device is stolen from your car, you can ask your insurer to compensate you.
If your new home has a spa or pool, know that these features are not automatically included in a basic home insurance policy.
Your move is the perfect opportunity to take stock of your current coverage and to check if you need additional guarantees.
It is also critical to prepare an inventory of your belongings prior to your move. In case of loss, this document can help strengthen your claim from your insurance.
Refer to this guide for personal property inventory recommended by the Chambre de l'assurance de dommages (ChAD).
Interested in renting a moving truck?
Protect yourself if you are using a heavy vehicle that does not belong to you.
Ask your insurer to give you details on rider 27 which you can add to your car insurance policy to cover you for damage caused to the leased truck.
Compare the price of this rider to the cost of protection offered by the truck rental company.
You may be surprised at the savings you can make with the option offered by your insurer.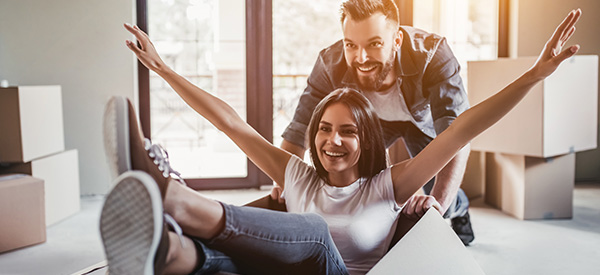 There are ways to easy ways to find the best home insurance.
Ensure coverage of your property in the event of a breakage, damage, loss, or injury associated with your change of residence.
Whether before, during, or after a move, obtain protection with an appropriate home insurance coverage.
Nowadays, insurance companies and direct insurers offer a wide range of home insurance products that covers relocation.
Take advantage of market competition to evaluate and compare up to three (3) offers from insurers and insurance brokers by completing the short online form on this page, free of charge!
In less than 48 hours, receive home insurance quotes from partners of our online platform.  Don't worry because this service is absolutely free and no obligation!