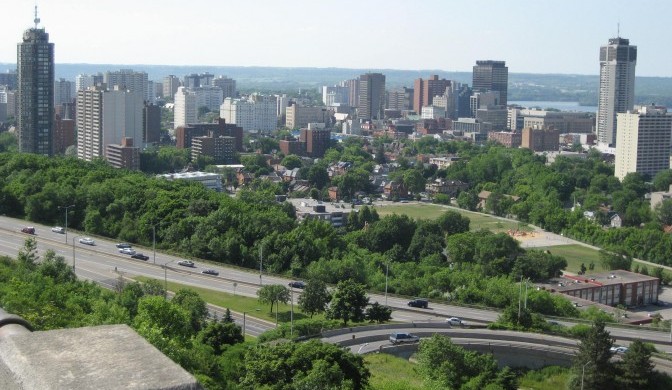 20 October 2015,
Hamilton is listed as Canada's ninth largest city and the third largest in Ontario. It is a great city to relocate in as it boasts of a diverse cultural and arts scene, a bustling economy, and an attractive place to live and work.
Whether you are moving to Hamilton from nearby or across states, you need to plan and prepare to make the experience as least stressful and efficient as possible. www.5moversquotes.com has prepared for your convenience everything you need to know to make moving to or out of Hamilton as positive and organized as it can be. With our moving tips and a list of preferred Hamilton moving companies, you can save on time and effort in planning your move.
People move for different reasons – new job, getting married, better living conditions, or retirement. Whatever the purpose of your move, you will find in this comprehensive guide everything you want to know about moving to or out of Hamilton.
Find what you need about:
Moving checklist
How to move on a small budget
Answers to questions about moving rates
Reasons to hire professional movers
Best Hamilton moving companies and customer reviews
Moving expenses that can be tax deductible
This moving guide can take the stress out of moving by helping you plan and prioritize your needs, reduce your moving expenses, and choose the most suitable moving company.
Whenever you are ready, you can obtain free of charge 5 of the most affordable quotes from leading moving companies from www.5moversquotes.com.
Getting Started with Planning your Move – Where to begin
Once you have decided to move, your life will be filled with a flurry of activities. There are many details you need to consider and it can be easy to feel overwhelmed. Take heart because this guide will help you through the planning process with easy to follow tips to help you get started.
The first thing you need to do is to sit down and assess the following:
When do you do need to move?
How many belongings are you taking with you?
How much of the preparation and actual moving can you manage on your own?
When you have answered these questions, you are now ready to organize your move.
Answers to the most common questions about moving rates
Moving companies charge differently and depending on who you talk to, you may find drastic changes in pricing. Moving rates are usually based on:
Distance of the move
Size of the move
Size of truck
Number of movers required
Miscellaneous services such as packing, storage, etc.
It is important to understand known and unknown moving costs to avoid paying more than you anticipated. Many companies only provide estimates so you could be charged double what you thought you would owe after the move. Always ask for an in-home estimate from your moving company.
You can keep your moving costs low by choosing the right moving company and moving service based on your individual needs. Check this article   for types of moving services you can obtain to lower your moving cost.
How to move on a small budget by lowering moving expenses
Some moving expenses cannot be avoided but there are ways to keep your expenses down with good planning. When it comes to moving, there are 5 things people spend money on that you can save on.
1. Packing your own things
If you want to save money, you can customize your moving services by doing your own packing. Do it yourself moving is a good way to reduce moving expenses. This means you do more of the work and only get the moving truck and movers which is usually paid per hour. You can start collecting packing materials beforehand. It is also a good time to get rid of things you don't need any more by giving them away or holding a garage sale.
2. Hire Professional Movers
Moving services are not cheap but you can do diligent research and hire experienced movers that offer reasonably priced services. You can start your research by asking for your free 5 moving quotes from www.5moversquotes.com.
3. Consider Do it yourself moving or consolidated moving.
There are moving companies that offer DIY moving services. You can choose to rent a moving truck only instead of getting the whole moving services package. Hire an adequately sized truck for your belongings to avoid making multiple trips. If you don't have a lot of things and moving on your own, you can also consider consolidated moving. This means you get to share a rental truck and movers with someone else. Ask your moving company about these options.
4. Move during off season.
Most people move during the weekend and in the summer and spring. You can get lower or discounted rates when you move during weekdays and off season.For more information you can check our article about 10 Tips to save on hiring mover and on your moving costs.
6 Good Reasons to hire professional movers vs. getting help from friends
Many people ask friends or family members to help with the move to save on costs. While this may be true, it can also cost you more. Here are some reasons why you should get professional movers than rely on friends or family members to help you out.
1. Professional movers are punctual and arrive at the same time. Friends have different schedules and can be difficult to get together all at the same time. Your move can be done more efficiently when the people you need to help are coordinated in their schedule and available when you need them.
2. Professionals know what to do. They are trained to pack even valuable things properly to avoid damage. Friends mean well and want to help but may get much less done compared to professionals.
3. Movers have the right tools. They can dissemble and assemble your furniture quickly.
4. Professionals work fast. Since they usually get paid by the hour, they will work as fast as possible without compromising on the quality of their work.
5. You don't have to make them feel comfortable or feel obliged to feed them. When a friend helps you out, you think about their comfort and well-being. It can delay your progress when you have to give them time to rest, chat with them, and feed them multiple times.
6. Professionals carry moving insurance. If something gets damaged during the move, you can get full replacement value.
While you may think you are saving on money, you can also be jeopardizing the speed and efficiency of your move when you call on friends to help rather than professional movers.
Below is a list of top choices for moving companies in Hamilton for you to consider. You can decide which one is most suitable by asking for binding quotes and checking on customer reviews.
Top Choices for Hamilton Moving Companies
Smart Movers
As a top relocation company in the NCR, this company provides specialized services for residential and commercial moves.
This is one of very few companies who claim responsibility for damage of items during the move. They self-insure your goods to give you peace of mind and make sure to use only experienced and licensed staff.
They provide on-site appraisal to give you an overall estimate of the cost of your move. As a unique service, they provide after-the move customer care with assembly of furniture and equipment as a separate service.
This company enjoys high customer ratings on Google with a 4.8/5 out of 24 reviews and a rating of 10 on Homestars.
Safeway Movers
This moving company services Hamilton, Stoney Creek, Grimsby, and other nearby areas. They specialize in residential and commercial moves, both local and long distance. As a fully insured company, they guarantee the safe delivery of your belongings at very competitive rates, offering 10% off based on the difference between their estimate and the written estimate of a competitor. They also offer a referral program and get a discount on your move.
This company charges hourly rates, beginning with their crew's departure from their facility until their return. The minimum charge is 4 hours on all moves and a deposit of $100 is required upon booking.
Safeway Movers is accredited with the Better Business Bureau since 2013 with a rating of A+. It scored 9.7/10 in Homestars.
Falla Movers and Storage
This moving company can help you if you are moving across Hamilton or to the United States. They have been in business since 1945 which speaks of experience and stability. It is also affiliated with Atlas Van Lines which makes it capable of international moves. It is also accredited with the Better Business Bureau with no complaints received so far.
For local moves, they calculate costs based on hourly rates and the number of moving crew required, including travel time to and from their warehouse. For long distance moves, rates are charged based on mileage and weight.
Local moves require a deposit and final payment becomes due upon completion of the move. For long distance moves, payment is by cash, certified check or credit card.
Aside from moving services and supplies, they provide palletized storage at their warehouse.
Swan Moving and Storage
This company has been in the moving business for more than forty years. The company prides itself in being senior friendly and assists with inventory, packing, and storage. They offer a discount on their website for customers who read the tip sheet and clip a $25 coupon.
The business has been accredited with the Better Business Bureau since 2001 and has an A+ rating. They specialize in antiques moving, piano moving and providing discounted moving services to senior citizens.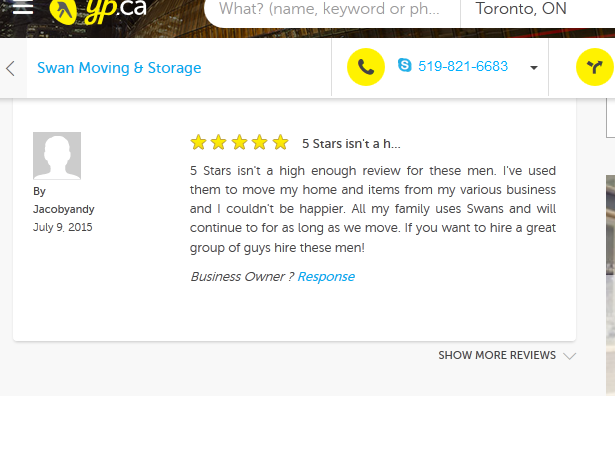 Mountaineer Movers Limited
This company has been in business since 1978 and accredited itself with the Better Business Bureau in 2013 with a rating of A+.
This is a multi-awarded company, receiving the 2015 Readers Choice Award for Hamilton Community News 2015. (Platinum Award for Moving, Diamond Award for Storage)
It is family owned and independently operated. The company offers private storage at reasonable rates, ranging from one day to long term, and secured with surveillance cameras.
It also operates a box and supply moving equipment store which is a one stop shop for all moving supplies.
For do it yourself movers, you can opt to rent their fridge cart, moving pads, piano cart and more to save on your expenses.
Mountaineer Movers has an average rating of 9.5/10 in Homestars.
Are moving expenses tax deductible?
Moving to another location is expensive. However, you don't need to stress yourself out trying to do everything yourself when moving expenses may be tax deductible. Employees and students moving to another location in Canada can claim some moving expenses. Knowing this, you can make your move as confortable and efficient as possible.
Criteria for tax deductible moving expenses
Individuals taking post -secondary courses at a college or university full-time can claim if their new residence is a minimum of 40 miles closer to their educational institution. The deduction can be made at the beginning of the school year.
Student tax deductions also allow moving expenses for co-op students. The individual must hav taxable income from scholarships, bursaries, fellowships or research grants from which to deduct moving expenses. If the move is due to a new work location including a summer job, moving expenses can also be deducted from the income tax payable from that income.
Individuals who move to a new work place or relocated by an employer at least 40 km closer may also claim moving expenses from their income earned at their new location. It must be the place where the household members would usually live. Even employees working from home or those that need to provide a home office as part of their employment conditions can also claim moving expenses.
Moving expenses that are tax deductible include:
Transportation and storage of household items
Travel from old to new location
Meals, accommodation, and temporary living expenses near the old or new residence
Lease cancellation of the previous residence as well as expenses for the sale of the old residence
Expenses for the purchase of a new residence
Cost of address change for legal documents including driver's license
Disconnection and hook-up of utilities
For more information about claiming tax deductibles related to relocating in Canada, you may click http://www.cra-arc.gc.ca/tx/ndvdls/tpcs/ncm-tx/rtrn/cmpltng/ddctns/lns206-236/219/menu-eng.html.
Armed with all these information, you are now ready to finalize your move. Once you have carefully evaluated yourmoving needs, you should start contacting moving companies from your short list and interview potential movers. Keep a detailed record of your moving expenses you can claim as tax deductible. Also you may be intesterested to in our post about Ottawa Movers and moving Companies.
Enjoy your move with www.5moversquotes.com!