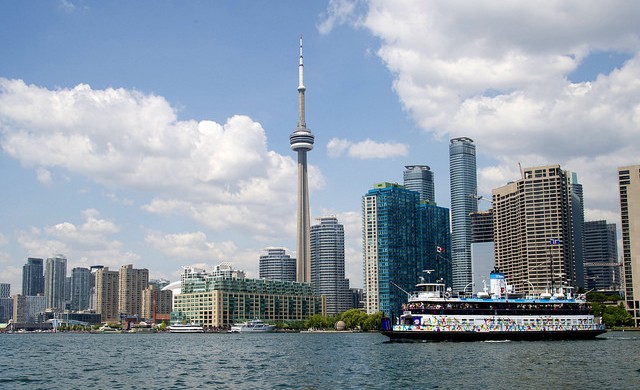 24 November 2015,
If you are moving to Toronto or relocating from there, you will love this complete moving checklist. We have compiled everything you need to know – from moving tips, best moving companies, and how to save money from your move. You can save a lot of time and money by simply using this guide free of charge from www.5moversquotes.com.
Moving can be a very stressful experience because you are not just packing all your belongings in boxes but actually planting yourself in a whole new city where nothing is familiar. We want to take the stress out of moving by helping you every step of the way.
Here's what we prepared for a stress free and well organized move:
Planning your move
6 moving hacks that can save you money
How to choose a moving company
Most common things billed by moving companies
Top Toronto moving companies and customer ratings
How to choose the right moving package
Moving day tips
Have a pleasant moving experience starting with your 5 free quotes from www.5moversquotes.com.
Do you need a professional moving company?
Moving involves a whole gamut of steps that need careful planning. The moment you decide to move to a new city, you will need to ask yourself several questions to find out how to get the job done as efficiently and as economically as possible.
Some of the things you need to consider when planning your move include:
How big is your move? Are you a single moving to a new city or a family of four? Are you relocating an entire office? The bigger the move, the more complex your needs are. Even if you are only moving a few blocks away, a big-sized move will require a lot of moving supplies, manpower to help with loading and unloading, and the appropriate sized truck.
Where are you moving? If you are moving long distance, you need to ensure everything is packed carefully to prevent damage. You will also require a truck that can accommodate everything in one trip to reduce expenses.
How much is your budget? Your budget will tell you what type of services you can obtain in order to get the work done. For small budgets, you can customize your move by obtaining only what you can afford such as truck rental, or moving supplies and truck rental.
When are you moving? You may not know it but the timing of your move can affect your moving expenses. It is best to move during low season and during weekdays as moving companies can offer lower rates during off peak hours.
Who can help with your move? If you are doing most of the work, you may need more than just a truck rental. You can obtain complete moving services that include packing services, loading and unloading, truck rental with driver, and many more to reduce the work you need to do on your own.
It is best to plan your move as early as possible. For a detailed checklist of things you need to do three weeks from the date of your move, visit tips from Canada Mortgage and Housing Corporation at http://www.cmhc-schl.gc.ca/en/co/reho/yogureho/salewo/salewo_006.cfm
6 Moving Hacks that can save you Money
Moving to a new city is expensive but with these moving hacks, you can reduce moving expenses without sacrificing the quality of your move.
1. Don't buy moving boxes too early.
You can save money on moving supplies by not buying boxes early. Check out office supply stores and duplicating services because they have a lot of strong and stackable boxes. You can also ask from bars and restaurants for liquor boxes. When you decide to hire a moving company, they may be able to provide you with free boxes or re-usable boxes that cost less.
2. Donate unneeded stuff.
The cost of your move also depends on the volume of your belongings. You may have accumulated a lot of things in your closets or attic that you don't actually need. This is a great time to unclutter your life and save money by donating the things you no longer need. Create a donate pile as you start packing up your stuff.
3. Customize your moving services.
If you can do some of the tasks like packing your belongings, customize your moving services. Many professional companies in Toronto allow you to choose only services you need such as packing services or truck rental with movers only. Just make sure you can do it by yourself and don't take on more than you can handle.
4. Go all the way with complete moving services.
You may think this will cost you a lot of money but depending on the size of your move and the distance of the move, complete moving packages may actually save you money. Professional movers can supply you with moving supplies for lower rates and often give them free when you get a complete moving package. Their trained and experienced staff knows how to pack your valuables safely to prevent damage and work faster to save you time. You don't need to feed them so you save money on food and drinks that you will provide if you ask friends for help.
5. Save your receipts for tax deductible moving expenses.
Did you know that you can deduct moving expenses from your taxes? Keep your receipts and save money. You can check out http://www.cra-arc.gc.ca/tx/ndvdls/tpcs/ncm-tx/rtrn/cmpltng/ddctns/lns206-236/219/menu-eng.html for details on claiming tax deductibles for moving in Canada.
6. Obtain the lowest rates for moving services from www.5moversquotes.com.
You can save a lot of time and money by obtaining your 5 free quotes for moving services from www.5moversquotes.com. Once you have a short list of your potential movers, you can request for free in home estimates to get a clearer picture of your moving expenses.
Things to consider when looking for a moving company
The stress and unease associated with moving is only temporary – you can choose to be happy and excited rather than anxious. The best way to do this is to know you have planned your move well and hired the best professional movers.
As a consumer, you have rights that need protection. Don't believe verbal promises or assurances from your mover. Always obtain a written quote or contract.
For top questions that you should ask your potential mover, please visit http://5moversquotes.com/experience-the-best-move-to-gatineau-moving-tips-moving-quotes-and-top-moving-companies.
Keep in mind that planning is critical. Professional moving companies, phone and cable companies, and other related services may require months in advance for booking, especially during month end. Don't forget to arrange for disconnection services to avoid additional utility bills. Book your moving company early so you can make the best choice.
Most common things moving companies charge their customers
Not all moving companies are similar. Each one strives to offer unique value to their customers and come up with innovative moving products and services. What are the usual charges of these moving companies?
Depending on the type of moving service you choose, you can be charged with any of the following:
Travel time
Most companies charge for their services beginning from the time they leave their office, arrive at your pick-up point, take you to your new address, and get back to their office. Many companies also have a minimum number of hours charge, which can vary from 2-3 hours.
Gas/Toll
For long distance moves, most companies charge for gas and toll fees.
Truck and crew
Many companies design their rates depending on the size of the truck and the number of movers you need with the truck.
Insurance
Most companies provide basic insurance. This type of insurance won't cover full replacement value if something gets damaged along the way. You should check the type of insurance cover your moving company provides and if you need to obtain additional cover.
Top Toronto Moving Companies to Choose From
We want to make your move as easy as possible so we are providing you with a list of the best movers in Toronto, complete with customer feedback, for your careful consideration. Remember to choose companies that are registered with the Better Business Bureau or the Canadian Association of Movers for your protection.
We-Haul Moving
This moving company offers complete moving services for all of GTA and Ontario. Established in 2005, they have earned a reputation for excellent services as evidenced by numerous positive reviews. They offer various discounts and coupons to help customers save money.
Take advantage of a free in home estimate so you can find out your best money saving options for moving. They also offer flat rates for commercial and residential moves.
Manhattan Moving Service
This moving company opened in the United States in 1935 and in Toronto in 1993. Owned and operated by Entrac Transportation and Services Corporation, it has earned a sterling reputation among its satisfied clients.
This company has won, year after year, the Toronto Community Readers' Award for the best Toronto Moving Company for its excellent services.
This moving company has obtained countless positive customer ratings that earned it a high recommendation from Homestars – 9.8/10.
You Move Me
This is a local, full-service moving company, has more than 25 locations across Canada and the US. Because of their excellent services, the company has gotten very good reviews from its customers. They offer customized services such as packing services and moving supplies only. The company also offers a flat rate, one time travel fee from the pick-up location until they arrive at their office. The rate is for a minimum of one hour, much less than what other companies charge.
For larger moves like offices or homes, they also provide fixed rates based on detailed list of all items.
You Move Me has an almost perfect rating from Homestars based on customer reviews —- 9.6 out of 10 stars.
Great Toronto Movers
This moving company is fully insured and promises no hidden fees. In fact, they guarantee to beat any competitor quote by 10%! As a family owned business, they are able to give flexible packages such as flat rates and by the hour relocation. They provide 10% discount to moving services for senior citizens, the disabled, and students.
If you have only a small budget, you can choose to get what you need help with such as assemble/disassemble furniture, or full/partial packing services.
Cargo Cabbie Moving
This company was voted Toronto's best moving company. They offer single item moves or just a few items for customers who need to do small local moves. They offer express furniture pick-up which is a great convenience for local customers.
This multi-awarded moving company also rents bins if you want to get started on your packing and has a cargo cabbie box shop that delivers your moving supplies anywhere in downtown Toronto. You can request for your free moving estimate when you schedule a visit from their cabbie express team.
This innovative moving company has a 10/10 rating on Homestars and awarded Best Moving Company in 2012, 2013, and 2014.
For small moves to long distance and commercial moves, this company is a great choice for the budget conscious.
El Cheapo Movers
This Toronto moving company has become popular for its 1-hour minimum charge that comes with a moving crew, a truck, and the tools needed to get you safely to your new location. In addition, it also gives you with basic insurance cover. This is great for small apartment moves as they charge a fraction of an hour in excess of the minimum one hour with no other hidden charges. This is a huge advantage as most moving companies charge a minimum of two hours.
Customers are provided with a contract at the beginning and end of the move so that charges are transparent. For local Toronto moves, you will get billed $29.00 for local travel and calculation of the time begins when movers arrive at your location and begin loading your boxes up to the time they are unloaded.
For moves outside Toronto, they charge additional travel time and gasoline. This is a BBB accredited company with a rating of A+.
Viktoria Professional Movers
This professional moving company has 20 years of experience as a family owned Toronto movers. They offer a one stop shop for packing, storage, moving, delivery, assembly and installation for all types of moves including long distance and cross border moves. They accept local Toronto moves and also anywhere in North America.
This company is accredited with the Better Business Bureau and a member of the Canadian Association of Movers and the Canadian Federation of Independent Business. It has earned a 9.9/10 rating on Homestars from more than 325 customer reviews.
We Move GTA
This professional moving company is unique because it publishes its rates. This means you get your moving price upfront with a guarantee of no hidden charges. The company also guarantees you get your moving quote in writing. To make their services even more affordable, they offer various incentives and discounts to customers. You can check for special offers and discounts published on their website.
They charge a minimum of 3 hours plus the truck fee, as follows:
You can be charged for additional mileage outside GTA, applicable taxes, stairs and heavy items, and credit card surcharge.
My Ninja Movers
Ninjas are known for their speed and great skill and this moving company has certainly lived up to its name. As Toronto movers, they provide fast but efficient moving services and bill their customers based on time spent on the move. They service residential moves, small office moves and long distance moves.
Clients are so happy with these movers they gave the company 4.9 out of 5 stars with Google reviews.
This moving company is one of the few that dare to publish their rates, assuring customers of the transparency of their charges.
For more moving companies, you can visit http://5moversquotes.com/moving-to-ottawa-a-detailed-guide-about-moving-needs-moving-costs-and-moving-companies.
Choosing the right moving package you need
When planning your move, it is important to know whether you need to go all the way with complete moving service or if you can save money and customize your move.
Moving companies offer different types of moving packages, depending on your needs and budget. Small local moves would be very different from long distance or cross border moves.
Below you will find different moving packages to choose from that can help you save money.
Do it yourself move
Many moving companies offer hourly rates for truck and moving crew only. There are also moving companies that offer rental of containers you can pack with your boxes until ready to be delivered to your new address. This option is definitely good for individuals who have the time to do the packing up of their stuff and loading into the truck.
Consolidated Moves
If you don't have a lot of belongings, you can choose to do a consolidated move. You can save on truck rental and moving crew by sharing the trip with another customer.
Full or partial packing services
Many people own valuable antiques, glass and mirrors, paintings, or art collections that need careful packing. You can choose to have your movers pack up everything or just a few select items.
Truck rental with movers
Did you know that you can rent a truck with 2 or 3 movers? If you can do most of the tasks but need help with loading and unloading and transport, this is a great option that can save you tons of money. Most movers have a minimum number of hours charge such as 2 hours. You can ask about this option from your selected movers from our list.
Complete moving services
Complex moves may require more men to do the job, especially if you are moving from a large home or moving a long distance. Your movers will take care of everything you need when you obtain complete moving services.
Comparing Movers' Quotes – How it works
Now that you have a clearer idea of what to do to organize your move, you can go ahead and request for your 5 free quotes from www.5moversquotes.com. No matter where you are moving from, we can put you in touch with the most qualified movers in your area.
Once you have your list of potential movers, do your own research and phone interview. With your shortlisted candidates, schedule an in-home assessment to get a written quote based on the inventory of your belongings.
Make sure to book the date well ahead so you can choose the company you really want. As soon as you have a copy of the contract or quote, check the insurance value and their reimbursement process in case something untoward happens to your things.
It is better to know how insurance works when you are moving valuable possessions such as expensive appliances, furniture, art works, etc. Click http://5moversquotes.com/moving-to-ottawa-a-detailed-guide-about-moving-needs-moving-costs-and-moving-companies for a better understanding of how you can protect yourself and your belongings during the move.
Tips for the Big Day – Moving In and Out
When the day of your move arrives, make sure you are ready with these practical tips.
Check the mover's inventory to make sure nothing has been forgotten. Be at the pick-up point while movers are loading.
Once empty, do a final sweep and clean-up of the old address. Go through all the rooms to check for things left behind, close windows and turn off the lights.
Turn down the thermostat and turn off the water heater.
At the new address, check for damage of your belongings and immediately notify the moving company, if any.
Since you have everything you need for your move, you are definitely ready to start packing. With good planning using this comprehensive moving guide, you can have the best moving experience.
Enjoy your move!