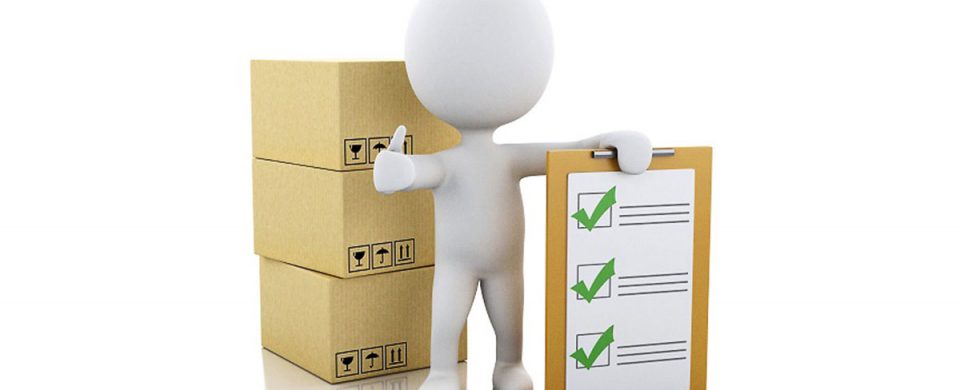 16 January 2019,
Find all the supplies you may need for your move in this checklist.
Moving supplies
Characteristics and use
Small box
2 pi3
Easy to carry, even for children

Suitable for small, heavy objects such as books and book presses, and other items such as bathroom items

Medium box
4 cubic ft.
Suitable for various items such as:

Small appliances
Kitchen items
Decorative objects
Books
Shoes
Laptops

Large box
5 cubic ft.
Suitable for big but lighter objects such as:

Covers
Quilts
Towels
Bathrobes
Clothing
Games
Pots, pans
Toys

Extra large box
6 cubic ft.
Also suitable for bulky and very large objects such as:

Pillows
Linen
Clothing
Decorative objects such as lampshades

File box
With lid included (tape not needed)

Equipped with handles for easy handling

Moving box specially designed for:

Important documents
Books
Notebooks
Binders
And even collectible items

Flat box
19-63 po
Telescopic format

Suitable for flat objects, frames, and fragile items such as:

Glass
Mirrors
Paintings
Flat screen TV

Wardrobe box
Box designed as a portable wardrobe

Usually with 1 or more rods (metallic bars) to arrange clothes flat on hangers

Can also be used to store other items such as carpets or small Christmas trees

Special cardboard box for plates and glasses
Very durable

With braces (element of protection)

Can have 2 levels using a spacer especially designed for this purpose

Suitable for:

Plates
Glasses, stemware, bowls, flutes
Other porcelain items like cups
Glass bottles
Vases

Special moving box for crystal objects
Very durable

Suitable for crystal objects such as :

China crystal trinkets
Collectible crystal figurines

Mattress bag
Protects mattresses from dirt, dust, and other damage

Small size (1 place)
Large model (2 places)
Queen size
King size

Sofa cover
To pack and protect your couch or armchair
Wax paper
Allows you to pack and protect your furniture
Moving cover
Also allows you to pack and protect furniture
Wrapping paper
For packing and protecting fragile items and valuable objects for a move

Prevents dust accumulation

Can also serve to fill a void in a moving box

Bubble wrap
Packing material that better absorbs shock than wrapping paper

To pack and protect fragile items and valuable objects from impact, scratches, and friction

Stretch Film (wrap)
Allows you to fix items against each other for protection
Packing peanuts 
Fills a void in the moving box

Anti-shock and anti-vibration

Prevents objects in the same box from rubbing against each other

Floor runners
Neoprene protective mats

Non-skid

Protects floors (from the van, for example) from dirt and furniture friction

Box cutter
With retractable blade

Facilitates the opening of cardboard boxes

Easily cuts into cartons to make handles

Felt or marker pen
To label what each box contains
Self-adhesive color labels
To be affixed to the boxes to label the part (with the same color) in which they must go
Adhesive tape
To seal the moving boxes
Screwdriver set (flat, cruciform)
Choose from the most common sizes to assemble and disassemble furniture
Moving gloves
For a better grip of the load and to protect your fingers
Moving strap
A flexible and robust strap worn by the mover to reduce the effort of carrying or moving a load if it is impossible to use rolling moving equipment
Dolly
Foldable or modular

Rolling equipment to lift and transport loads more easily

Can receive multiple loads stacked on top of one another

Trolley
With tray and small wheels

Also, for lifting and carrying loads

Other accessories

Cooler (to bring something to eat)
Bottled water to cool off
Paper towels
Garbage bags
Printable version: Checklist – For your boxes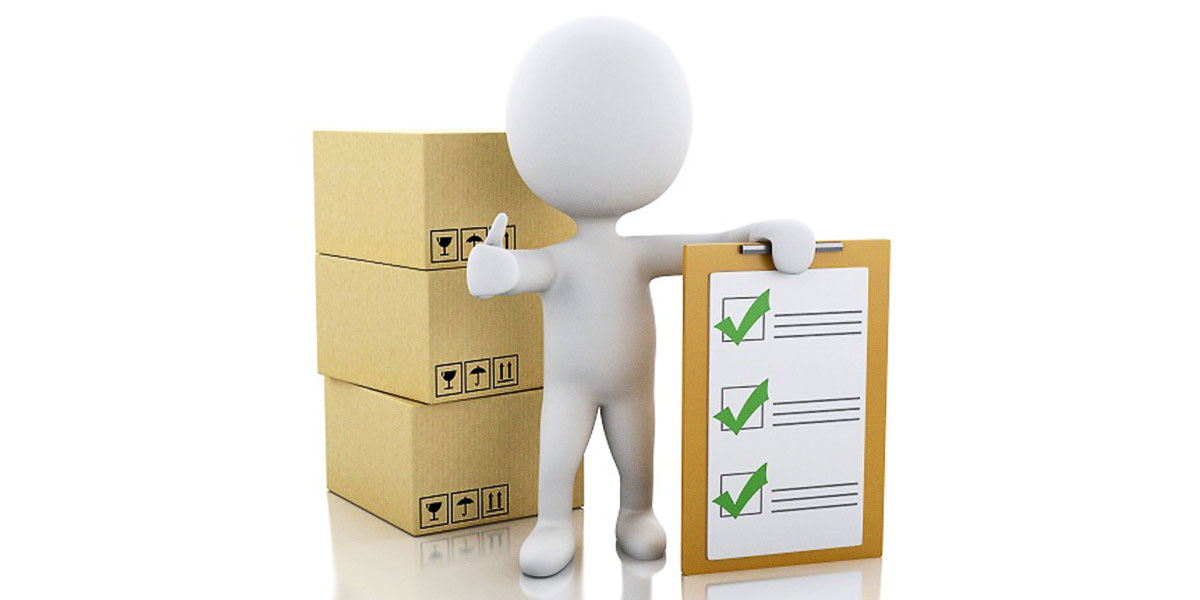 Packing materials for a successful move
A successful move involves, among other things, goods and furniture that need protection during all stages of the move to prevent damage, being broken, or torn. Investing is in quality packing materials is key to a successful move: avoid broken plates because of a worn-out box that gave way because of the weight, clothes wrinkled when they arrive at the destination, or a damaged sofa due to contact with other objects inside the moving truck because it was not properly protected with a cover.
Good moving supplies must be made of durable and solid materials. It is possible to opt for used boxes but be selective.
How many boxes do you need for an efficient move?
Your moving equipment needs will vary depending on the items you need to move and the size of your home.  The best thing is to speak to professional movers.  Based on the information you provide, he can tell you what you need for an efficient move.
In addition, moving professionals usually sell moving kits that correspond to different sizes of homes. Thus, the requirements for a 1½ and a 2½ are roughly the same, as for a 4½ and a 5½. You can also buy a moving kit for a 3½, a small house, or a big house.
Here's a guide to give you a better idea of what you need for your moving supplies:
9 to 20 boxes of 1.5-3 cubic ft., 5 boxes of 2.5-3.5 cubic ft. and 2 to 7 boxes of more than 3.6 cubic ft. for a studio
18 to 29 boxes of 1.5-3 cubic ft., 10 boxes of 2.5-3.5 cubic ft. and 4 to 9 boxes of more than 3.6 cubic ft. for a 3½
27 to 38 boxes of 1.5-3 cubic ft., 15 boxes of 2.5-3.5 cubic ft. and 6 to 11 boxes of more than 3.6 cubic ft. for a 4½
36 to 47 boxes of 1.5-3 cubic ft., 20 boxes of 2.5-3.5 cubic ft. and 8 to 13 boxes of more than 3.6 cubic ft. for a  5½
45 boxes of 2 cubic ft. and 30 boxes of 4 cubic ft. for a small house
75 boxes of 2 cubic ft. and 50 boxes of 4 cubic ft.for a big house
Buy your moving boxes at the best price
To properly protect your items during the move, it is best to choose cardboard boxes that can effectively withstand the side impacts as well as the vertical load of what they contain.
A cardboard box is sufficiently resistant from an ECT (Edge Crush Test) of 32 and with an average thickness of 3.5-4.5mm. To purchase reliable and durable moving equipment, contact reputable moving professionals.
With Soumission Boîtes Déménagement , you can buy moving supplies online of excellent quality at a good price/quality ratio. You also have the option to request an online quote for everything you need for your move.