13 December 2021,
Last update:  December 13th 2021
If you are all set to move in 2022 to a new home or a new city, the next step is to find your best mover.
There are many movers and moving companies all across the country. How do you pick the best one for your move?
Your choice of mover will have a huge impact on your moving cost and overall moving experience.
Whether you are moving locally, long distance, or abroad, we have 2022 Best Movers in Canada based on highest customer rankings.
Compare moving companies serving your area and check out their best offers with our free moving quotes.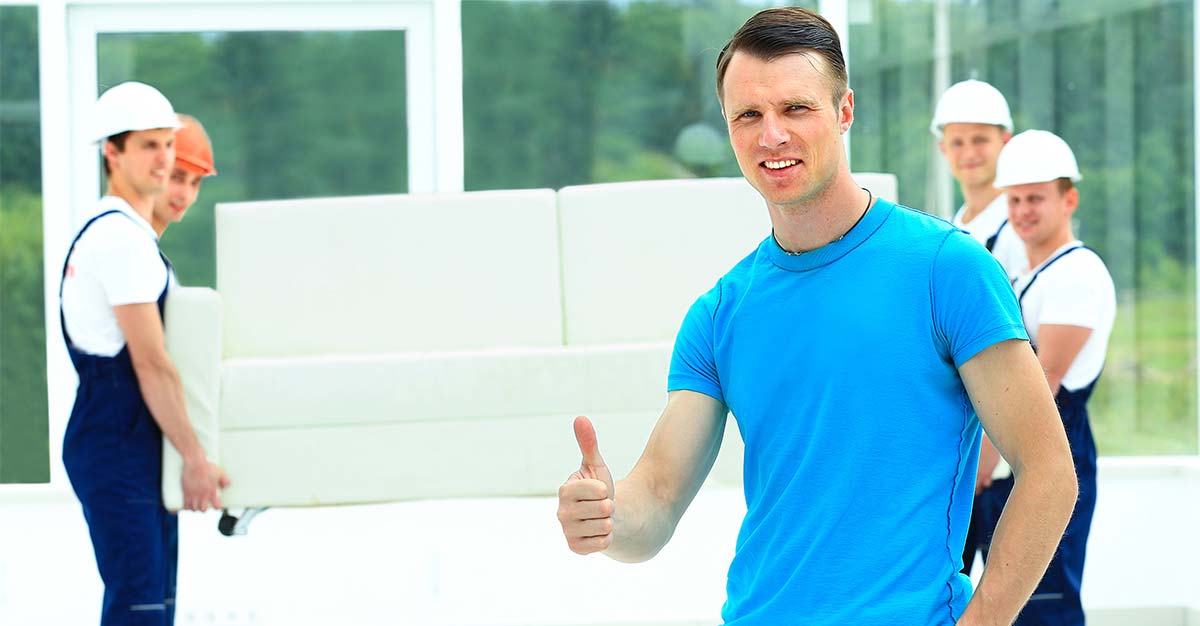 Hottest Moving Trends in 2022 for Zero-Stress Moves
Forget about renting a self-drive truck and driving cross-country with the wife and kids. That's a thing of the past.
In 2022, you can move with zero-stress with hot and new moving options that fit even those with a small budget.
Here are a few clever ways you can beat paying for expensive moving services while taking advantage of professional moving services.
Packing Services Only
If you feel like you can't do some or all of your packing, feel free to get packing services only.
Local movers offer packing services at low hourly rates and can provide high-quality packing materials for your convenience.
Many moving companies specialize in packing hard to pack items, odd-shaped items, and bulky or heavy items.
Packing and Transport
Hiring a mover to do your packing and transport your household goods is a great way to have a perfect move.
You can let movers do all or part of your packing and take care of transporting your boxes and household goods to your new location. Depending on the distance of travel, your household goods can arrive on the same day of departure with express moving service.
Local moves are charged hourly rates while long distance moves are based on weight of your cargo, along with other factors like insurance, number of movers, distance of travel, and other services you request.
Truck and Movers
This service certainly beats having to load and unload heavy boxes onto a truck and drive hundreds of miles.
Movers offer packages for truck and movers that can take care of all the heavy lifting and delivery of your household goods.
All that's left for you to do is your packing and unpacking. This is perfect for individuals who want a professional moving service at a fraction of the cost.
Movers Only
If you have alternative means of transporting your household goods but need muscle to lift and carry, you can hire movers only. They are paid by the hour per mover.
For instance, if you have rented a portable moving container but can't do the loading and unloading by yourself, you can get movers only to help you out.
Portable Moving Containers
Moving companies understand that customers want to save on moving expenses. While portable moving containers have been around for quite a while, they have become more and more affordable as well as convenient.
For the budget-conscious mover, portable moving containers offer many advantages. You can do your own packing, loading and unloading, and the moving company will deliver your portable container to your new address.
Check out the biggest portable moving container companies in Canada.
Consolidated Moving
Not everyone can use a portable moving container as some people don't have space for it in their yard.  Self-moving with a rental truck is also not an appealing option because of the long driving but their moving budget is a bit tight.
For such individuals, don't despair as moving companies offer a unique moving service called consolidated moving.
This is particularly useful for people moving long distance with not a lot of goods, not in a rush to get the household goods, or want to find a cheaper alternative to a regular moving service.
Consolidated moving means sharing a moving truck with other individuals moving in the same direction so that expenses are shared and kept to a minimum.
Many moving companies have regular runs to specific destinations like Toronto, Ottawa, Montreal, Vancouver, and other major cities in Canada.
Fastest and Easiest Way to Find Movers
It's easy enough to find a mover for your relocation if you are not choosy.
If you want a mover close by, a quick look at the Yellow Pages or your local newspaper ads will point you to a local mover.
You can ask a friend or relative to refer the last mover they used
If you prefer to look online, a few searches would also point you to a few movers depending on your keywords.
But is that the best way to find a moving company? If you are moving long distance, you'll need to get a mover that specializes in moving from your origin to destination.
For example, many movers specialize in moves from Montreal to Ottawa or from Vancouver to Toronto with special rates. These movers make regular trips from both points, allowing them to give customers preferential rates.
You'll also need to find movers who specialize in moving pianos or other specialty items like a pool table or hot tub.
The smarter and more efficient way to find movers for your type of move is to use free moving quotes to compare movers.
Get Quotes Based on Your Moving Needs, No Guesswork
The beauty of using a moving platform to compare movers is that these companies have been pre-screened. You get the assurance that movers bidding for your move are all licensed and qualified to provide moving services.
Free moving quotes allow licensed movers to submit quotes for your move based on:
location and destination
items you have in your inventory
size of the moving truck needed
number of movers needed to efficiently handle your move.
With moving quotes in writing, you can easily compare prices for the same moving service. This easily beats spending hours on the phone with movers giving off-the-top-of-my head figures that may be way off the mark.
There's no guesswork involved, making it easy for you to choose the right moving company for the job.
How to Compare Moving Companies
Customers who hire movers to handle their relocation usually look at the price of moving services and go for the cheapest one.
It's no wonder then that many would end up disappointed, or even extremely upset, when things go wrong. You must keep in mind that you get what you pay for.
Basing your choice on price alone, especially when you go for the cheapest rate, means you are compromising on many other important considerations.
When hiring a moving company, it is critical that you compare movers based on criteria such as reliability, experience, customer satisfaction, and integrity.
When hiring a moving company, it is critical that you compare movers based on criteria such as reliability, experience, customer satisfaction, and integrity.
It is also advisable to check a moving company's standing with the Better Business Bureau. You can find a complete list of BBB provincial offices here, courtesy of the Canadian Association of Movers.
Customers Rate Movers Post-Move with These Factors
It seems unfair that people choose to hire movers based on price then rate movers post-move with factors they didn't consider in their choice.
After a move, customer satisfaction, based on online moving reviews, show that people rate movers' performance and their level of satisfaction using these criteria:
| | | |
| --- | --- | --- |
| Punctuality | Speed of movers | Professionalism |
| Transparency with moving charges | No Damage to Goods | Complaints Handling |
| Affordability | Timely delivery | Customer Service |
It goes to show that level of satisfaction post-move is not only about the price but more so with the quality of the service provided.
Keeping this in mind, ensure that you also compare movers based on their reputation and quality of service.
Who wants a sofa's legs broken after a move? How about delivery of your goods delayed for weeks on end?
To help you find the best movers in 2022, based on highest customer ratings, we have compiled a list below for your consideration.
Highest-Rated Moving Companies in Canada Per Province
So who are the highest-rated moving companies in Canada? Because your point of origin and destination are important in your choice of mover, we have broken down our featured movers per province.
Top Moving Companies in Ontario
According to U-Haul's statistics analyzing Canada's migration patterns in 2016, Ottawa remains as the #1 destination in Canada, with more than half of one-way truck rentals bound for the nation's capital.
Ontario cities continue to lead as top moving destinations.
Its cities are a mixture of city hustle and bustle to the more laid-back bedroom communities in suburbs outside metropolitan areas. Combined with the milder weather, Ontario certainly appeals to many new arrivals, retirees, and families.
If you are moving anywhere in Ontario, consider any of these professional moving companies for a perfect move.
Below are outstanding movers in Ontario as ranked by customers in a variety of moving review sites.
Move Ottawa
This moving company is based on Ottawa and serves local and long distance moving needs.  It provides moving services between Greater Ottawa to Montreal, Toronto, and other cities in between.  It also offers student specials for Ottawa to Toronto for $1250 plus HST.
It is a highly-rated mover with a score of 9.2/10 in Homestars and 4.7/5 on Google reviews.  Customers say it is very professional, provides fair pricing, and provides great quality moving.
The company has an A+ rating with the Better Business Bureau.
First-Rate Movers
This moving company is well-known in the Ottawa area and has been in business since 2003.
As a member of the Canadian Association of Movers and with an A+ rating from the Better Business Bureau, you are assured it is highly professional and experienced in all types of moves.
One of its unique qualities is transparency with its moving rates which are published in its website.
Customers give it a big thumbs-up with positive reviews. It has 4.8/5 rating on Google and 4.5/5 on Yelp.
Frost the Mover
Over in Kingston, this moving company has over 100 years of experience and has earned a glowing reputation.  As a partner of North American Van Lines, it can move you anywhere in Ontario and across the province.
It has 2 locations – Kingston and Belleville.  The company is a member of the Canadian Association of Movers and is in good standing with the BBB.
Expert Moving
Based in Mississauga, this moving company has a high level of customer satisfaction based on reviews online.  With 9.6/10 in Homestars, 5 stars in My Moving Reviews, and 4.7/5 in Google reviews, customers are giving it very positive evaluations.
It specializes in residential and commercial moving services for local and long distance moves.
Transline Moving Toronto
This Toronto-based moving company is at the top of movers' reviews in Toronto. 5 stars in Google, in My Moving Reviews, and 411.ca, customers are affirming the company's claims to zero-stress moving services.
It specializes in residential moving and serves all Ontario cities for long distance moving.
In and Out Moving
This Toronto-based moving company is a superstar, with 5 stars in Google reviews, 5 stars in Yelp, and 8.6/10 in Homestars.
Although new in the industry, having started in 2012, it has already built a great reputation in Toronto and nearby areas.
Robson Moving and Storage
Founded in 1979, this moving company provides courteous and professional moving services in partnership with North American Van Lines.
As a London, Ontario moving company, it serves local moving needs as well as long distance moves within the GTA and beyond.
Customers are highly satisfied with this company's services, giving it 4.9/5 in Google and 5 stars in My Moving Reviews.
Metropolitan Movers
Serving Markham, Richmond Hill, Vaughan, Oshawa, and other GTA cities, this moving company is top-rate.
Offering flat rates with no hidden charges, the company guarantees honest and excellent moving services within your budget.
Customers are happy with this moving company, with 5/5 ratings in Google. (rating may vary per location but quite high on average).
Looking for an Ontario mover? We can help you connect with the best movers in Ontario with our free moving quotes.
Top Moving Companies in Quebec
Demenagement Tandem
With 245 reviews and a rating of 4.9 in Google reviews, you can't go wrong.  This moving company in Montreal is loved by customers for its low prices and high quality services.
It provides local moving and packing services in Longueuil, Montreal, Laval, South Shore and North Shore areas.
Demenagement Myette
This moving company in Montreal does not want you to experience the usual horror stories in moving.  With 4.9/5 stars in Google reviews and Facebook, they aim to give high quality moving services that won't hurt your wallet.
Demenagement CA
This moving company in Laval, Quebec has more than 25 years of industry experience.  It provides moving services in Laval and across Montreal for homes and businesses.
It is a CAA Quebec-approved moving company and is a member of the Canadian Association of Movers and Quebec Trucking Association.
It is a partner of Mayflower Canada.
Customers are happy with this moving company, giving it 4.7/5 in Google reviews and 5 stars in Facebook.
For moving in Montreal, Quebec, Laval, and other areas in Quebec, request for free moving quotes from leading Quebec movers.
Top Movers in British Columbia
Vancouver, B.C. as well as surrounding cities are top picks for relocation among immigrants, retirees, IT professionals, and families. With scenery that takes your breath away and mild climate, it continues to draw flocks of new arrivals daily.
Below are favorite moving companies in the B.C. area chosen by customers.
Ferguson Moving & Storage
This BC Moving company is a local and long distance moving company and is an agent of Great Canadian Van Lines. As a BBB accredited mover, it offers guaranteed quotes and aims to exceed your expectations in quality.
For more affordable moving services, it also offers portable storage containers that they can load and unload and deliver to your location.
Rated by customers 4.9/5 stars in Google reviews and 9.7/10 in Homestars, this moving company is a top choice in BC.
Best Choice Moving & Storage
This moving company serves the entire Greater Vancouver and Lower Mainland.  It offers local, long distance, and international moving services.
The company is rated A+ by the Better Business Bureau, and has 5/5 customer ratings in Google.
Metropolitan Movers
This moving company also operates across Ontario and Quebec.  Totally upfront with moving costs and dedicated to delivering excellent services, this company has earned the trust of customers across the country.
Customers have given it 4.8/5 in Google reviews and 3 stars in Homestars.
Top Moving Companies in Alberta
Alberta Pro Movers
In Calgary, this moving company is proud of its reputation. Customers give it 4.9/5 in Google, 4.8/5 in n49, and 9.8/10 in Homestars. This is pretty impressive because customers expect a lot.
The company has more than 30 years of industry experience and provides full service moves locally and long distance.
Premiere Van Lines
It was formerly Classic Moving and Storage and has been a mover in Calgary for more than 3 decades.  It has received numerous awards for National Quality Service from Atlas Van Lines.
It offers local and long distance moving, Canada to USA moving, and international relocation.  It is a member of the International Association of Movers and the Calgary Chamber of Commerce.
It has an A+ rating with the Better Business Bureau and customers have given the company 5 stars in Google reviews.
Reputable movers practice Safe Moving
With the health scare in our midst, consumers are most concerned about the safety of a move, particularly how moving companies protect their customers from COVID-19. Since early 2020, the Canadian Association of Movers (CAM) has given updates to its member moving companies regarding the safe conduct of their business.
Many movers don't run at full-staff complement for social distancing measures and may have limited capacity issues.
For instance, Edmonton has a mandatory mask bylaw which has been extended until the end of 2021 to contain the spread of COVID-19.
Moving companies practice safety measures such as this to keep your move as safe as possible. Don't be afraid to ask questions about safety from your moving company. In times such as this, it is even more critical that you consider safety and security when choosing a reputable moving company.
Wait, there are more Outstanding Movers to Choose From
These are but some of the most highly-rated moving companies in the country and we can't feature them all for lack of space.
To find the best mover, compare actual moving prices from leading moving companies with our free moving quotes.
It only takes 2 minutes – just 1 request form to receive multiple moving quotes to compare.
Choose your Mover from 200+ Movers Across Canada
It can be confusing to pick the best company but we make it easy with our free moving quotes.
For moving anywhere in Canada, or even to the US and other destinations, fill-out our online request form to choose from the best movers within your budget.
With more than 200 licensed moving companies in our network, you have qualified and professional movers in your fingertips to choose from.
Our moving quotes are free and no obligation!