1 septembre 2015,
For every moving activity, there are costs involved, whether they be travel costs or costs required for hiring professionals movers and moving companies. This industry is a most active one, since many people nowadays tend to change their current location to a new one, whether it's for work purposes or they just want to get away from their current environment and start anew in a place where all things are open to exploring. Of course, moving is a very intricate manner when discussing money. It is very wise for everyone to plan ahead their moving and try to reduce the costs by as much as possible while ensuring the safe moving of their goods and themselves.
Tip #1: Make sure you're ready to move
In order to ensure absolute control over your moving budget, you need to be certain that you are taking the right decision by moving. No matter if it's for a local moving or long distance moving, You need to make sure it's clear. Be sure to keep track of what you need to move, pack it early and avoid any last-minute packing, since moving companies will charge extra for helping you pack things when they arrive and some also add waiting fees for when the movers arrive and have to wait for you to be ready to load the stuff and get going. If you happen to have any type of object than needs to be disassembled, you should ask the moving company beforehand if this service is included in the price, else it will show up as an extra fee on your bill. Extra fees mean extra money you have to take out of your pocket, and you don't really want that when moving.
Tip #2: Make a list of things you want to move and get rid of the old stuff, that may be considered "clutter"
In every household there is clutter. Everyone has a few items (at least) that they do not need and won't feel that they are missing when moving. To reduce both the load of your move and also, more importantly, the cost, you can hold a garage sale to sell off anything you have that you do not need or use anymore. The extra cash is certain to come in handy! Books can be given to friends, or sold at a used book store or even donated to a charity. Be on the lookout for any book collectors, they can offer more money for certain books that you may have, that could otherwise be sold to people for as little as 1$.
Tip #3: When to move
The best time to move to a new place is, of course, when you feel like it and when you need it, but, there are some other things involved in making this decision. It is best to move during the off-season, that being outside June-July, since this is when moving companies tend to be busiest and charge more for the service they offer. Another great tip is to avoid moving close to the end of the month and the beginning of the month. Moving in during the third week of the month is possibly the most advantageous for the mover, since they have enough time to start fresh in the coming month and also to get settled in the new place and neighborhood.
Tip #4: Have everything ready at the endpoint
This includes having the new place paid for in full and available to move in the day that you get there. This is very important when moving, since not paying in full often means that you cannot access the place until after the payment is made and confirmed, which can take up to 2 or 3 or even more days. Plan ahead and take note of this aspect! Most moving companies offer storage-in-transit fees, these fees are applied when you need to store your stuff into their trucks before you can move in, due to the issues stated above. They can reach pretty steep prices, especially if you have fragile objects, that need to be handled with care and stored in special conditions. Depending on the time that they need to be stored for, the fees also go up, so you want to avoid these fees as much as possible.
Tip #5: Book the moving company ahead of time to ensure lower prices
Just like when you book a flight ticket, it is much cheaper if you do it a couple of months ahead of time, or even more. If you have to move and didn't book a moving company early on, chances are that you'll get charged way more. For instance, say you want to move on May 7th, but it's already April 28th. If you call and book a moving company, you are at high risk of getting charged up to 80% more on your move simply because they will cram your move somewhere in between the other moves they have planned for that particular date. Always plan ahead and your costs will be minimal! To help you, we offer to send you 5 free moving quotes from 5 movers in just a few clics.
Tip #6: Large items
If you own a boat, a snowmobile, a small yacht, or any other big item that needs to be moved, they will cost you extra. This is because they require special moving conditions to be met. If you happen to be driving to your destination, it's best if you can move the items yourself or ask for the help of a friend or a relative. You should ask the moving company about the prices they have for such items and once you know them, look for alternatives, whether is hiring another moving company to take your big items or even renting a trailer so you can take it to the destination yourself, thus saving quite a big load of much needed money.
Tip #7: Moving Pianos
If you own a piano and need it to be moved to your new place, ask the moving company about the specialty moving quote. Once you have that, start looking for alternatives and see if you can find better ones. It's best to look into specialty moving companies, since they are cheaper than regular moving ones, as the latter do not usually have staff for moving such items and need to hire ones from other places. Hiring from other places costs them money and they need to get it back, plus some profit, of course, so they will most likely charge you extra for this.
Tip #8: Work around the moving company's time frame
Some moving companies have strict time frames, while others do not. It is best to negotiate the date and time for the movers to pick up your stuff and the date and time when they should deliver them. If you work around the company's schedule, you can ask for a toning down of the price in exchange for this. Also, this will make the movers feel more good about your move, since you don't force their frame and will most likely take extra care that you are satisfied with their services when they'll come and help you move.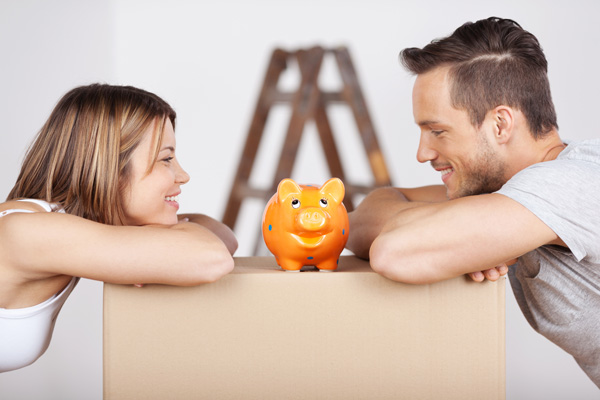 Tip #9: Moving appliances
Appliances often require special packaging and extra care when moving, so you need to keep an eye on every detail that comes into this.
For instance, your refrigerator needs to be unplugged from any power source at least 24h before moving, needs to have all the ice thawed and all the perishables removed from it to ensure the most safe way of moving it. The cable needs to be handled with care, since if it dangles and comes loose, it may suffer damage during the moving process and finally may work faultily, damaging your refrigerator or not at all. Also, the racks need to be properly stored so that they do not shift, fall or break during the move. The fridge and freezer doors are best to be kept sealed shut and the whole unit should be packaged in a proper box, if possible.
The stove should be properly cleaned before the move, as to prevent any odors' from instilling in it and should also have the racks removed from it before you package it. If you have a gas stove, remember to turn off the gas before unplugging the pipe and make sure that all the necessary precautions are taken. If you are unsure on how to disconnect your pipe from your stove, it's best to call your gas company for assistance, as to prevent any incidents. Make sure you tape the knobs and the elements to ensure they're not lost on the way to your new place.
The dishwasher should be emptied, have the racks removed and stored separately and the door taped closed. For the washer and dryer units, you should consult the user manual before disconnecting any tubes or, if you are not sure you can handle it, it's best you contact the manufacturer to help you through this process. The drum of the washer needs to be secured, so it's best to either consult the manual or ask for assistance from the manufacturer, as it is a very important part of the washer and if it breaks then you will have to buy a new one, which can be expensive and a pain to install. Don't forget to empty both the units before attempting to package them! Use special, bigger boxes, for this kind of appliances.
Tip #10: Services and fees
Different moving companies offer different services and different pricing for each service. It's best for you to look around and get quotes from at least 5 companies before deciding which one you'll go for. Some of the services these companies can offer include, but are not limited to:
Accessorial charges, referring to services such as packing, unpacking and extra pick-ups.
Expedited service charges, referring to having your goods transferred on a specified date, that you didn't establish beforehand.
Flight charges, referring to a fee that is applied to your bill for every flight of stairs the movers have to carry your goods. For instance, if you have a new place on the 5th floor, then four flight charges may be applicable. If there is an elevator available while moving your goods, there generally won't be any flight charges, but it never hurts to ask. You know, just to be sure.
Long haul charges, referring to charges applied to your bill based on the distance that your goods need to travel and their weight.
Long carry charges, referring to the charge applied for moving the goods from the truck to your residence. Usually, there is a distance limit between the moving vehicle and your residence's entrance and if it's exceeded, you are charged extra for it.
Shuttle service, referring to the charge applied when using a smaller vehicle is necessary to deliver your goods in a place otherwise inaccessible by the bigger moving vehicles, such as trucks or vans. This will also cost you extra and you should keep an eye on it.
There you have it! Now that you have read these tips and have learned a few new things, your next move shouldn't be much of a hassle, financially speaking. Remember, it's best if you look for alternatives when moving and have specialty items moved by specialty moving companies, since they cost less, you should be sure that all your payments are fulfilled, you should ensure maximum safety to your goods, especially your appliances and everything than can be charged extra to you should be settled before hiring one moving company or another. Attention to details is paramount to ensuring that you're both below or very little above your budget and also have your goods delivered safely to your new place.
Here's an extra handy bonus tip! Most markets dispose of used boxes at the end of the day and they can give them out for free if you ask for them. It's much easier this way, since buying new boxes can cost you from 1$ upwards to 20$, depending on the type of box you need.