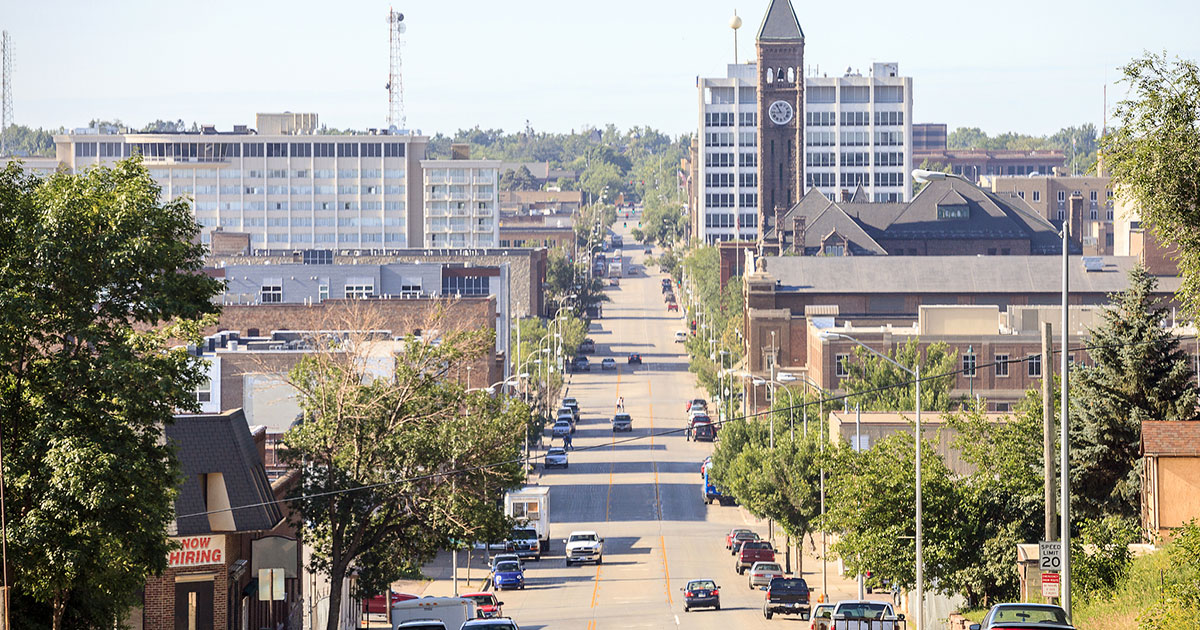 RELOCATION TO SIOUX FALLS WITH TOP MOVING COMPANIES – COMPARE MOVING COSTS

If you are moving to Sioux Falls, South Dakota, you would definitely want a seamless move. More than that, you also want to have an affordable one.
You can find great moving companies that specialize on local and long distance moving services online. Request for 5 free movers' quotes to check on moving company prices and compare costs.
When you fill out our quick online form with your moving details, our moving partners will provide the lowest possible moving bids for you to choose from.
SIOUX FALLS FACTS: CULTURE, ECONOMY AND NEIGHBORHOODS
Locals are very proud of their city. The incredible beauty of water washing down South Dakota Land as a backdrop is a unique sight.
With its excellent education, entertainment, and vibrant economy, Sioux Falls appeals to many individuals and families as a place to live.
The climate is continental, with temperatures changing from high to low. Coldest month is January while July is the hottest.  During spring, it is common for thunderstorms and tornadoes to roll in.  Occasionally, blizzard conditions require shoveling. Residents, however, enjoy around 211 sunny days a year.
Affluent areas include South Cliff Avenue, Anderson, and Tuscan Club Estates.  Families with young children may consider living in Shindler, Kiwanis, or North Cleveland where schools are nearby.
With over 70 parks and recreational sites in the city, locals have lots of options for play.  Falls Park is a popular hang-out as well as Yankton Trail Park.  Downtown also features many entertainment options for dining, shopping, arts, and music.
The city also has abundant jobs available, considering that unemployment rate is only 3.7%.  It is an attractive place to do business because there is no corporate income tax.  Some of the biggest employers are Citigroup, Wells Fargo, Western Surety Company, Capital One, and National Life Insurance.  There are also 4 major hospitals providing excellent access to quality healthcare.
The cost of living in Sioux Falls is 4.2% lower than the US national average and also lower than other parts of the state.  Forbes Magazine listed the city as one of Best Small Places for Businesses and Careers.
Are you ready to plan your move to Sioux Falls?
Check out the best moving companies offering local and long distance moving services in the area. Request 5 free movers' quotes to find the most economical and reliable movers for your relocation.
COMPARE MOVING COMPANIES FOR RELOCATING TO SIOUX FALLS
You may be feeling anxious about your move to Sioux Falls because you have not found a suitable moving company yet. Did you know that there is an easy way to connect with local or long distance movers?
With 5 free movers' quotes, you can receive low moving bids from 5 movers in your area.  These no obligation quotes will give you a good idea of how much it costs to move from your location to Sioux Falls, South Dakota.
But before you book a moving company, it is better to study your options so that you know what you want and can choose an affordable move.
Below are some moving companies serving Sioux Falls and its surrounding areas with a breakdown of their moving services.
BROUWER RELOCATION
This is a moving company that is owned and operated by the Brouwer family from 1969.  It provides commercial, residential, and specialized moving services in Sioux Falls, South Dakota, southwest Minnesota and northwest Iowa. They also have a 15,000 sq. ft. facility in Sioux Falls that is approved by the military.
This company offers residential moving, commercial moving, international moving, and storage.  It is also an interstate agent for Atlas Van Lines.
DIAL-A-MOVE
This moving company understands how stressful it can be to relocate to a new city.  Their aim is to reduce that stress with personalized moving services.
From day one, you will receive a firm bid and not an estimate which will be based on your destination and inventory.  They will tailor their services to your needs to allow you to choose the service you want such as simply handling large items or doing the entire move.
They provide residential and commercial moving services and storage.  No matter where you are moving in the region, this company can help with your relocation.
MOVIN' ON OUT
This moving company in Sioux Falls has been in business since 2001 and provides professional moving services.  By working with them, you can save time and money from your move.
They have set high standards of quality and service which has made the company the # 1 mover in Sioux Falls. They charge hourly rates for their services which include the drive time from the company to your home, then to your destination and back to the company.  They also charge a one-time fee of $25 with the hourly rate.
For residential or commercial moving, this company can help make your relocation stress-free.
DAKOTA MOVING
This is a locally owned, full-service moving company in Sioux Falls offering moves across the country.  They provide all residential and commercial moving services.
For their services, they charge a flat rate with no hidden charges for fuel, tax, transport, or truck.  They also offer convenient scheduling.
If you already have a truck and just need extra hands, the company also offers moving labor.
It is fully bonded and licensed and is a member of the American Moving and Storage Association.
TWO MEN AND A TRUCK
This moving company is part of a national franchise with over 350 locations across the country and the globe.  They provide professional moving services with movers that are background checked and drug-tested for your protection.
The company opened its doors in Sioux Falls in 2015 and is the first franchise in South Dakota.  They offer residential moving, commercial moving, local and long distance moving, senior moving services, and expert packing.
In case you just need moving labor, they can also help with that.
They move apartments, homes, condominiums, and everything else, large or small.  They can make your relocation easier and affordable with their very reasonable rates.
ADVANCED MOVING
This Sioux Falls moving company partners with you from start to finish of your move.  They create a moving plan designed to make your moving process easy, regardless if it is across the street or another state.
Their services include local and long distance moving, corporate moving, professional packing, and short term climate controlled storage.
The company is also ensured to protect your belongings in case something goes wrong.
On moving day, they guarantee there won't be any hidden costs.  You will be informed before the move of the cost involved in your relocation.
PARKER TRANSFER AND STORAGE
The company began hauling items in the city for local customers and over the years, it became the first movers in the country to use cargo tie-downs for securing household items.
They handle home and apartment moves, corporate relocation, and offer secure storage. Whether you are moving to Denver, Chicago, or in South Dakota, their dedicated movers will get your belongings there on time and within your budget.
2 GUYS ON THE MOVE
This is a full-service moving and storage company offering residential and commercial moving, storage, packing services, and moving supplies.  Established in 1999, they focus on giving the best moving experience to their customers.
In Sioux Falls, they have built a reputation as an excellent moving company.  They can pack, load, and haul your precious belongings to get them safely to your destination.
They offer fair moving rates and were voted as Best Movers in Sioux Falls.
AFFORDABLE MOVING
This moving company offers residential and commercial moving services in South Dakota. It is licensed and insured and provides affordable moves in Sioux Falls.
Their trucks are always clean and they guarantee that your belongings won't get damaged or become dirty during the move.  They handle moves to Sioux Falls, Mitchell, Brookings, Vermillion, Harrisburg, and other parts of the state.
Their hourly rate starts when movers arrive and ends when your move is completed.  They charge $80 for 2 movers per hour with trip fee of $20 and 6% sales tax.
You have now seen some moving companies offering moving services in Sioux Falls and how they charge for their services.
To compare actual moving rates, you can request for 5 free movers' quotes by filling-out our short online form.  Our moving partners can send you low moving estimates for your move to Sioux Falls.
You should know that moving expenses can be a tax write-off so there's no need to burden yourself with all the hard work just to save money.
By choosing one of our moving partners, you can enjoy a stress-free and affordable moving experience.