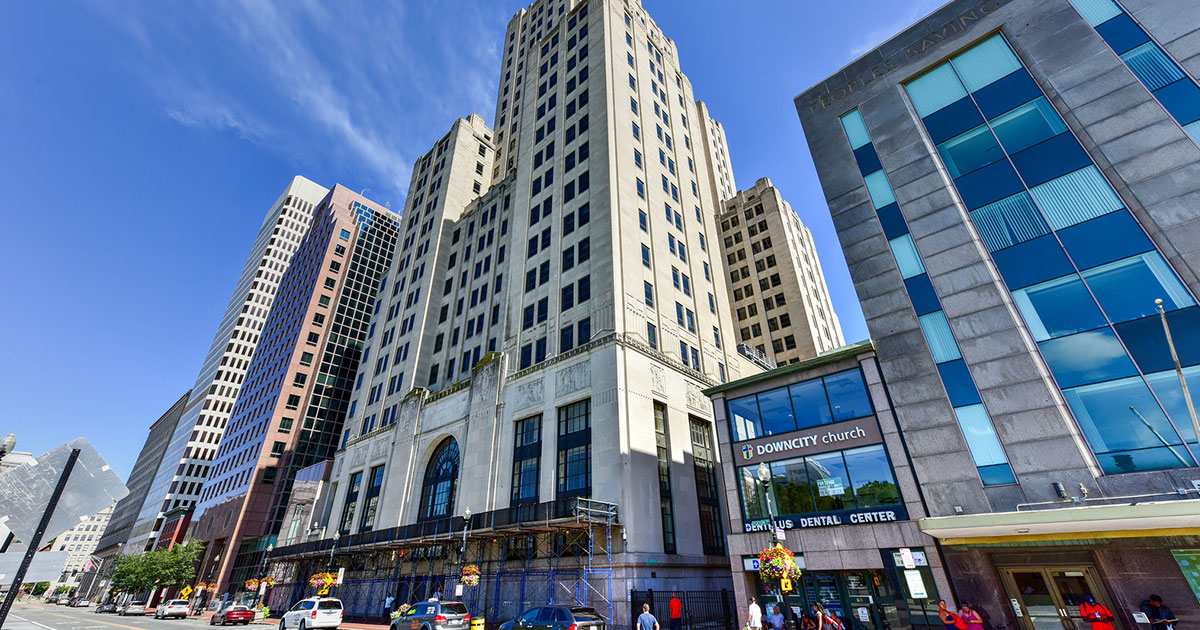 GUIDE TO TOP MOVING COMPANIES IN PROVIDENCE FOR SMOOTH RELOCATION
Despite the fact that Providence is urban and the capital of Rhode Island, the city is an impressive green space with plenty of recreational opportunities.
Rhode Island State is proud of its amazing coastline which makes it ideal for seaside activities.  Providence is no exception.  It has easy access to many outdoor activities such as sailing in nearby Newport. Closer to home is Water Place Park, a 4-acre park around a tidal basin featuring a riverboat and gondola, an amphitheater, and landscaped terraces.
It is surely an exciting time when you are moving to a new city as perfect as Providence. But it can also be quite stressful when you need to do everything on your own.  With luck and dedication, you can easily find good moving companies with affordable moving services to help you relocate.
Request for 5 free movers' quotes and you will receive free moving estimates to Providence from reliable movers near you.
Provide us with your moving details through a quick online form and you will hear from moving companies offering local or long distance moving to Providence.
ESSENTIAL FACTS AND TRIVIA FOR MOVING TO PROVIDENCE
Providence, RI is a family oriented metro offering a lot in terms of education, recreation, and employment.
There is no shortage of fun things to do and see. Roger Williams Park is one of America's major urban parks, boasting of 430 acres and featuring walks, outdoor gardens, waterways, a Carousel Village, the Museum of Natural History and Planetarium, and a zoo.
The city is also a premier hub for higher education, having 8 universities and campuses.  Brown University is renowned for its world class faculty and ranks as a high class Ivy League institution.  Johnson & Wales University and Rhode Island College are also notable institutions offering high quality education.
The city's cost of living is well below the US national average. This means it is an affordable city to live in.
With easy access to New England professional sports teams, easy commutes, a variety of entertainment options, and a stable economy, new arrivals have much to look forward to.
We want to help you find the best moving company for your relocation to Providence.
Request for 5 free movers' quotes to get multiple moving quotes you can compare to choose what is convenient and affordable.
Book your moving date to Providence with the best professional moving companies from our network.
GUIDE TO LOCAL AND LONG DISTANCE MOVING SERVICES IN PROVIDENCE
If you are already feeling stressed and anxious with planning your relocation to Providence, we can give you a hand.
With more than 200 moving partners in our network, we have the right moving company to handle your type of move.
But before you choose a moving company, it is important to understand the moving services available for you to choose from. Your choice of mover and moving service will have a huge effect on the efficiency of your move and your final moving cost.
We have prepared for your convenience a list of Providence moving companies to be your guide in selecting the moving company for your move.
When you are ready to find the best mover for your relocation, request for your 5 free movers' quotes to compare costs for moving to Providence from your location.
JONES MOVING AND STORAGE
This moving company was established way back in 1893. Today, it provides superior customer services for all types of moving and storage needs.  It is a top-notch provider of local or long distance moving services in Rhode Island at very competitive rates.
They can handle your move from start to finish, pack and unpack your belongings and carefully load and transport your belongings. Whether you need a residential or commercial mover, this company will ensure that you experience a pleasant moving experience.
They also handle international moving, overseas packing and shipping, and corporate employee relocations.
If you are in between homes or renovating your office, the company also provides secure and clean storage for short or long term use.
FEDERAL VAN LINES
This moving company was incorporated in Rhode Island in 1893.  But the company's name was changed to Federal Van Lines only in the 70s. It has remained a family owned and operated company for more than 80 years.
It is an interstate agent for Allied Van Lines and provides local, long distance, and international moving services.  It handles residential and commercial moves and offers complete packing services to make your move as easy as possible.
ECONOMY MOVERS AND STORAGE
This moving company serves all of Rhode Island and New England and focus on one thing which is to make your local move as pleasant as possible.
They provide expert moving services for residential and commercial customers. They also provide packing services, piano moving, and craning.
It is family owned and since 1976 has been a reliable and trustworthy mover in the region.  The company also offers moving labor for loading or unloading a moving truck or container or even just to move furniture around your home.
The company is accredited with the Better Business Bureau and has a rating of A+.
GENTLE GIANT MOVING COMPANY
This is a multi-awarded moving company in Providence catering to individuals and businesses in the Southern Massachusetts and the Ocean State.
It has received accolades from many publications and associations. Their over 200 professional movers work hard to serve tens of thousands of customers. For 30 years, they have been providing outstanding relocation services in 15 locations across the country.
Their services include local and long distance moving, international moving, piano moving, commercial moving, packing and unpacking, and storage.
A ABLE AFFORDABLE MOVING AND STORAGE
This moving company handles all types of moving and storage needs in Rhode Island.  The company also specializes in reliable piano moving in Providence and Kent areas.  It has over a decade of experience in moving and storage and is one of the best movers in the state.
They specialize in residential, commercial, and piano moving with the lowest prices in town.
MURRAY'S VAN LINES
For over 90 years, this family-owned and operated company has served customers with their moving and shipping needs around the world.  In addition to shipping, they also provide packing, crating, moving supplies, and warehousing.
Since 1923 it has built a stellar reputation across town and the country.  It is a licensed and insured moving company offering apartment moving, commercial and residential moving, moving labor, packing services, and piano and organ moving.
ALL MY SONS MOVING AND STORAGE
This Rhode Island moving company is family-owned and has 4 generations of experience in the industry.
They provide white glove experience for every client.  Their movers provide the packing supplies, protect floors, walls, and furniture, and each piece of furniture is wrapped carefully at no extra cost.  They also handle disassembly and reassembly of your furniture.
They specialize in residential moves, office moves, and local and long distance moving.
COUTU BROTHERS
This is a highly experienced and trusted moving company.  They specialize in packing, loading, wrapping, and all other types of moving services. They even transport cars anywhere in the country.
They provide residential moving, commercial moving, short notice moves, and storage.  It is a fully licensed and insured moving company that is a member of the American Moving and Storage Association and the International Association of Movers.  It is also accredited with the Better Business Bureau.
Their moving rates start at $125 for truck and 3 movers or $135 for truck and 3 movers.  For moving a baby grand piano, they charge $350 with moving and commercial moves are charged $147 per hour.
These are but some of the moving companies in Providence providing local and long distance moving services.
To see actual moving quotes for moving to Providence from your current residence, fill-out our short online form with your moving details.  You will receive the lowest moving bids for your type of move from the finest moving companies near you.
Whether you prefer a full-service move or a semi-DIY move, our moving partners will be able to offer you moving solutions that suit your needs and your budget.
Connect with the best moving companies using your 5 free movers' quotes today and book your moving date with the mover of your choice.