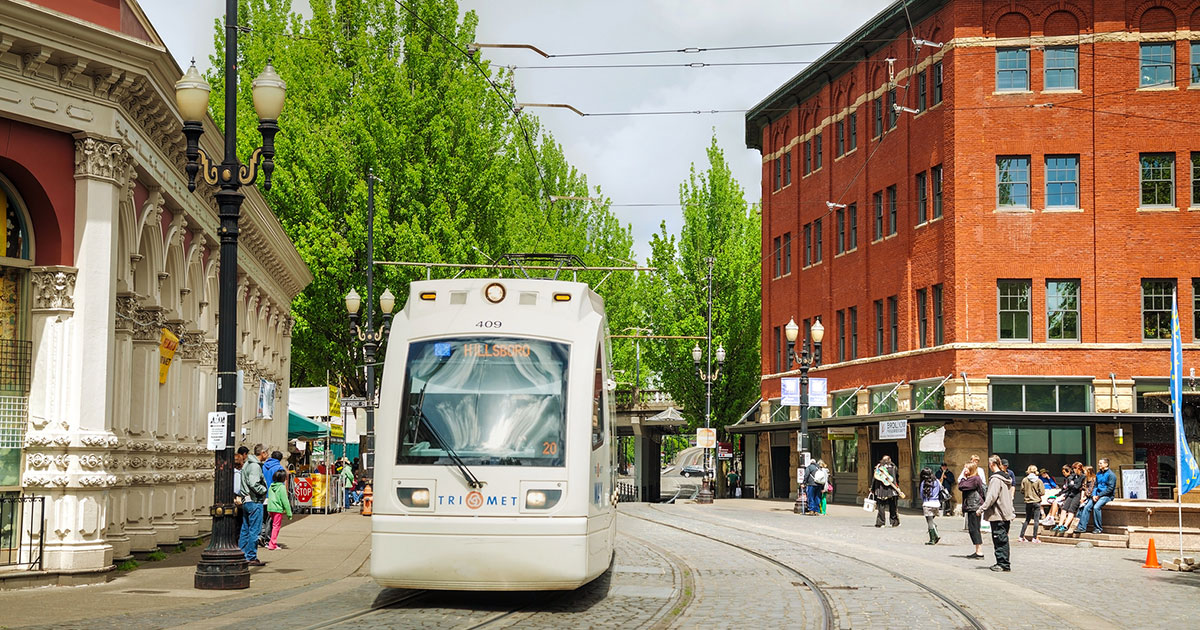 Every year, many people decide to move to Portland, Oregon for many good reasons.  Its endless acres of forests, proximity to the Oregon coast, St. Helens, and organic meats and produce attract thousands of new residents.
If you plan to move to Portland soon, you would surely want to find affordable moving companies for your relocation.  You just need to be sure to hire the right moving company that you can trust with your valuable possessions and will charge you a reasonable moving price for their services.
The easiest way to search for good Portland moving companies is with 5 free movers' quotes.  When you fill out our short online form with your moving details, you are guaranteed to receive the lowest moving estimates from local and long distance movers in your area.
By comparing multiple online quotes, you get to choose the most affordable moving rates that suit your budget.
You will also need to be familiar with your new city to ensure a smooth transition to your new life.
Did you know that Portland is famous for its biggest open air market where you can find the freshest produce?  It is also famous for local Oregon breweries and considered one of the best places to get a great cup of coffee in the country.  The state of Oregon is also famous all over the world for its wines and has over 300 wineries and 500 vineyards.
Another great reason people move to Portland is its fantastic mass transit system.  While the city is not so big, it does have everything you could hope to find in a big city, including famous restaurants.
When looking for the ideal place to live in Portland, you will discover that it has 100 urban neighborhoods, each offering something different to please varying tastes.  The Pearl District was listed as one of the best places to retire by CNNMoney.com.  The Piedmont neighborhood provides easy access to other popular Portland residential areas such as Alberta, Arbor Lodge, Humboldt, and Kenton.
Now it does rain a lot in Portland and there will be long periods of no sunshine, particularly from November to April.
Surely, you will need to make adjustments to your new home but there is definitely much to see and do here.
No matter where you decide to live in Portland, we are sure to have a reliable and affordable moving company for your move.
Start planning your moving day by requesting for your 5 free movers' quotes and compare moving company prices.
We wish you a pleasant move to Portland with the best movers from our network.
Check our complete Moving to Portland Guide below for more moving tips to help save on moving costs.
HOW TO GET LOW MOVING RATES TO PORTLAND
Many people decide to move to Portland, Oregon and for good reason.  Its proximity to the Oregon coast, St. Helens, Mt. Hood, and many acres of forests for camping and hiking are enough to tug at the hearts of nature lovers.  The city is as green as you can get.
If you are planning a move to Portland anytime soon, you would want to discover the best ways to relocate to the city without stretching your budget or losing your sanity. That's right, moving can be so stressful when you don't have help or when you have little time to prepare for the move.
5 free movers' quotes aims to simplify the process of relocation by helping you find the best moving companies that suit your needs and your budget.  Whether it is a local move or a long distance one, our moving partners offer a wide variety of moving services tailored to meet your needs.
It is natural for people to fear moving companies, what with all the horrible experiences you hear in the news. The truth is that professional movers are not all the same and it lies in your power to choose a mover that you can trust and won't overcharge you.
We have also prepared a list of moving tips to Portland that can be very helpful for you to become familiar with your new city. From jobs, schools, and neighborhoods, and fun things to do, you will feel like you are already there.
Last but not least, we have also prepared a quick guide to 12 of the best moving companies in Portland to give you an idea of what they offer and how much moving to Portland will cost.
As soon as you are ready to start shopping for your moving company, we invite you to fill out a quick online form with your preferred moving date and other details to receive free moving estimates for your type of move.
MOVING TO PORTLAND – A QUICK PEEK AT THIS FABULOUS MOVING DESTINATION
The city of Portland offers a high quality of life – mild winters, coastlines and mountains, clean and fresh air, a stunningly beautiful natural environment, and a variety of cultural attractions.  Over the past decades, it has become an attractive retirement community, an entrepreneur's paradise, and a foodie's haven.
The number of people relocating to Portland has spiked in the last few years.  In 2013 and 2014, it ranked # 1 for Top Inbound States according to United Van Lines.  It replaced Washington DC which had been lording over this category for 10 years.
Locals like to brag that Portland is one of the best places in America to get a cup of coffee.  It also has one of the biggest open air markets in the country as well as countless Oregon breweries famed for craft beer. Aside from being the Craft Beer Capital of America, it is also known for exceptional wines produced in the Willamette Valley.
There are but some of the many things to look forward to when you move to Portland.
It is a runner or cyclist's dream as well as outdoor lovers who want an endless list of recreation opportunities not limited to the city.  Surrounding rivers are terrific spots for fishing, kayaking, and windsurfing.  At nearby Mt. Hood, one can find 4 ski resorts while the Oregon Coast is a mere 90 minutes away for a refreshing ocean view.
Portland is an extremely bike-friendly city and was rated # 2 in the USA by Bicycling.com.  Multi-colored marking on the streets designate bike lanes.  People are very passionate about biking and you'll probably be a convert very quickly.
It is a leader in terms of urban planning and has won many accolades for being environmentally conscious.  Residents raise chickens and grow vegetables in their backyards, and buy locally sourced produce.
The city has a serious supply of food carts and mobile eateries.  It's better than New York where hot dog carts are in every street corner.  The over 400 food carts offer a wide variety of eats.
Mass Transit. Relocating to Portland also means an easy commute.  With its efficient mass transit system not found in other cities, everything is accessible.  In fact, the city always makes it to the list of best cities with comprehensive transportation system which includes light rail, streetcar lines, buses, and commuter rail.
Portland Weather.  Compared to major American cities, Portland ranks 3rd for most number of rainy days in a year. The period between November to April can be a long stretch of rain. Clouds usually hide the sun for months while a constant drizzle keeps the city green but the skies really gray.  Imagine a faucet that someone's left on that just keeps dripping. Nine months of continuous rain is not an exaggeration.  It is best to be prepared for the weather and who knows, you might even get to like it.
Jobs and the Economy.  The city likes to think it is different and fiercely independent.  Portland makes headlines for local businesses that have just opened and takes pride in promoting locally owned businesses.  This is a big city with a small town atmosphere where people like to shop local.
Portland, Oregon is a progressive metropolis with 2.2 million people.  Greater Portland which includes the cities of Portland, Vancouver, Hillsboro, and Gresham, is an export-oriented and globally integrated marketplace.  More than 18% of its GDP comes from exports and is the 2nd fastest growing export market among major metropolitan areas.
Although the city has a high income tax rate, it does not have any sales tax.  This offsets the income tax rate and makes Portland more affordable as a city to live in.
Neigborhoods. Portland has 5 sections: Northwest, North, Northeast, Southwest, and Southeast.  Each of its neighborhoods has a bit of something different to accommodate every type of preference and budget.
Downtown/Pearl District has most of the educational, business, and retail establishments.  You'll find plenty of high rise and loft style apartments.  Forbes named the Downtown area one of the "America's Best Downtowns.
Nob Hill and Arlington Heights are in the Northwest section and full of interesting shops, restaurants, and Victorian style homes.  It is ideal for taking a stroll and is adjacent to Forest Park which is perfect for hiking.  Its 23rd street is a major shopping venue and filled with upscale cafes and restaurants.
The Hawthorne District appeals to younger crowds and offers an abundant choice in parks, shops, restaurants, and nightlife.  Mt. Tabor, an inactive volcano, is now a scenic and popular sightseeing spot.
Wherever you decide to settle in Portland, you can be sure we have the right moving company to help with your relocation.
Check out the Best 12 Movers in Portland from our quick review below to have an idea of types of moving services and moving rates to Portland.
REVIEW OF TOP 12 MOVERS IN PORTLAND – QUICK GUIDE TO MOVING COMPANIES AND SERVICES
Contrary to what most people think, not all moving companies are the same.  While they generally have the same kinds of moving services, they offer different moving packages and moving rates. Some movers are more expensive than others. It is therefore important to analyze factors such as experience, insurance, customer service, moving equipment, and pricing to choose the right moving company.
Check out the top 12 professional movers in Portland to have an idea of moving services you can choose from and the average cost of a residential move.
PORTLAND MOVERS COMPANY LLC
This Portland moving company is a full service mover offering local and long distance moving services.  With its fair moving rates and high quality service, it delivers satisfactory moving services to Portland, surrounding communities, and Washington.
Aside from full moving services, it also provides labor only moving services or a moving truck that is of the right size for your move.
Whether you need a residential or commercial mover, this moving company can do the job in an efficient and affordable manner.
It is a licensed and insured moving company and accredited with the Better Business Bureau.
2 BROTHERS MOVING AND DELIVERY
This moving company is one of Portland's best movers offering local and long distance relocation.  As a leading residential mover, it provides affordable moving rates for small apartment moves or long distance to or from another state.
For local moves, they offer $89 per hour on weekdays plus drive time. The rate includes moving boxes. For weekends, the rate is $117 per hour plus drive time.
The company also offers lower long distance moving rates compared to van lines for moving anywhere in the USA.
BRIDGETOWN MOVING & STORAGE
This family owned local moving company is an expert at Portland relocations.  It serves the Portland Metro area the Vancouver, WA.
Licensed by the Oregon Department of Transportation and fully bonded, they are qualified to deliver moving services for local and long distance moving.
The company charges flat hourly rates based on number of movers required.  They also require a 2-hour minimum charge.
For residential moves less than 1,000 sq. feet, they charge $105 per hour for 2 workers during weekdays.  Weekend and holiday rate is $115 per hour.  Additional worker means an extra charge of $40 and $45, respectively. For moves covering houses with more than 1,000 sq. feet and not over 1,800 sq. ft., they charge $145 per hour with 3 workers for weekdays and $160 per hour for weekends and holidays.
WILLAMETTE VALLEY MOVING
This Portland moving company has been in business for more than 13 years and provides moving services in Oregon, Washington, Idaho, and California.
The company aims to make moving as stress-free as possible at affordable prices.  As an accredited member of the Better Business Bureau, it ensures that their services are totally satisfactory to customers as evidenced by the many positive customer reviews they have.
For a 2-mover package, they charge $ 105 per hour which already includes a 15 ft., 18 ft., or 24 ft. moving truck and basic moving equipment needed.  For a 3-mover package, they charge $145 per hour.
MASTER MOVERS MOVING AND STORAGE
This moving company can streamline your long distance, commercial, or industrial move.
Locally owned since 1992, it is a member of the Better Business Bureau, the American Moving and Storage Association, and the Oregon Moving and Storage Association.  As a professional relocation company, it is committed to operating at the highest ethical standards and providing unmatched customer service.
It is also an agent of Stevens Worldwide Van Lines.
ALL AMERICA MOVING COMPANY
This moving company offers dependable moving services to Portland and the Vancouver Metro since 1994.  As specialists of commercial and residential moving services, they can be counted on to handle professional packing, unpacking, and moving services.
As fully authorized DOT movers, they offer very reasonable rates:
For 2 movers and 16 foot truck with equipment – $85 per hour (Mon to Sat)
For 2 movers and 24 foot truck with equipment- $85 per hour (Mon to Sat)
Each additional mover is charged $33 per hour, with 1 hour minimum charge for all moves.
The company also has a $10 travel charge for Oregon and special rates for Washington.
This licensed and insured moving company also accepts last minute moves.
REDEFYNE MOVING
This is a locally owned and operated moving company based in Portland.  Their goal is to eliminate moving stress with their reliable packing and moving services.
It offers residential and commercial moving and storage units.
For small moves, the company offers pack and load service for $65 per hour and $30 trip fee for no truck.  For 2 movers with truck, they charge $101.65 per hour and a flat travel fee.  For medium sized moves, they offer pack and load for $105 per hour and $45 trip fee for no truck.  For 3 movers with truck, they charge $139.70 per hour plus a flat travel fee.  All moves carry a 3- hour minimum charge.
THREE STAR MOVING
This moving company began in 2011 as an efficient and trustworthy company serving the Greater Portland area.  As licensed and bonded relocation experts, they offer affordable local and long distance moving within your budget.
From apartment moving to full residential moving, their movers can take care of packing and transporting your household goods as efficiently as possible.  They also provide moving labor, commercial moving, and moving supplies.
They don't charge holiday rates and no extra cost for assembling or disassembling furniture.
NORTHWEST MOVERS
This moving company began in 2012 as a Portland moving company offering a wide array of services including packing, loading and unloading of goods.
As a BBB accredited company, it adheres to strict ethical standards and offers excellent moving services to the Greater Portland Area.
Their moves include a 24-ft moving truck and equipment, with rates as follows:
Their moving rates are quite affordable such as 2 movers and truck for $101.65 per hour for small moves.  You can also choose 3 movers with moving truck for $139.79 for medium sized moves.  They do charge higher rates for moving after 7 pm for example 2 movers with truck for $132 per hour.  They charge 3 hour minimum for moves.
You can definitely depend on this moving company for residential, commercial, or specialty moves.
ALL SERVICE MOVING
This moving company says what separates them from their competitors is quality.  Their professional crew knows the ins and outs of moving and how to deliver a safe and efficient move.  The company is accredited with the Better Business Bureau and is licensed and fully insured.
The company also wants to be different from cheap or new moving companies as they boast of being the best and with the right level of experience.
Their local and long distance moving services are affordable and serves the Oregon and Washington areas.
Their local residential moving rates are for 50 miles distance from their office.  Full service moves include 10-26 ft. moving truck and complete moving equipment.
OREGON LOCAL MOVERS
This moving company serves Portland, Oregon with the best moving services and prices.  They provide packing with care and do everything possible to make your move smooth and efficient.
They provide tier one moving which means moving items from one storage to another. They have a tier 2 moving package that is ideal for people who want to do their own packing and just need help with the actual relocation.  Their tier-3 system includes full service moving services for those who want a completely stress-free move.
AUGUST MOVERS
This moving company offers moving labor only for those who prefer to rent a moving truck but need some muscles.
They also provide a handtruck, 4 wheel dolly, moving pads and other moving tools needed.  This can help you save money from renting equipment and make your move easy and safe.
Their services are available in the Portland and Vancouver areas.
When you want to choose a moving company for your move, get ready with your moving information and request for 5 free movers' quotes.
MOVE TO PORTLAND WITH PROFESSIONAL MOVERS – COMPARE 5 MOVING COMPANIES
It is easy to find a trustworthy and reliable mover when you have 5 free movers' quotes to compare.
Find the right moving package by checking multiple moving quotes based on your moving needs and budget.
Whether you need a premium moving service or a more economical one, we have moving partners that can meet your needs.
Industry experience
Reputation
Customer Service
Price
These are just some of the factors you need to consider when choosing your mover.
Our moving partners are all licensed and insured which gives you peace of mind that your household goods are in good hands.
Obtain free moving quotes by filling out our quick online form for your moving day.
We wish you a pleasant move to Portland and hope you will have a positive and enjoyable experience.