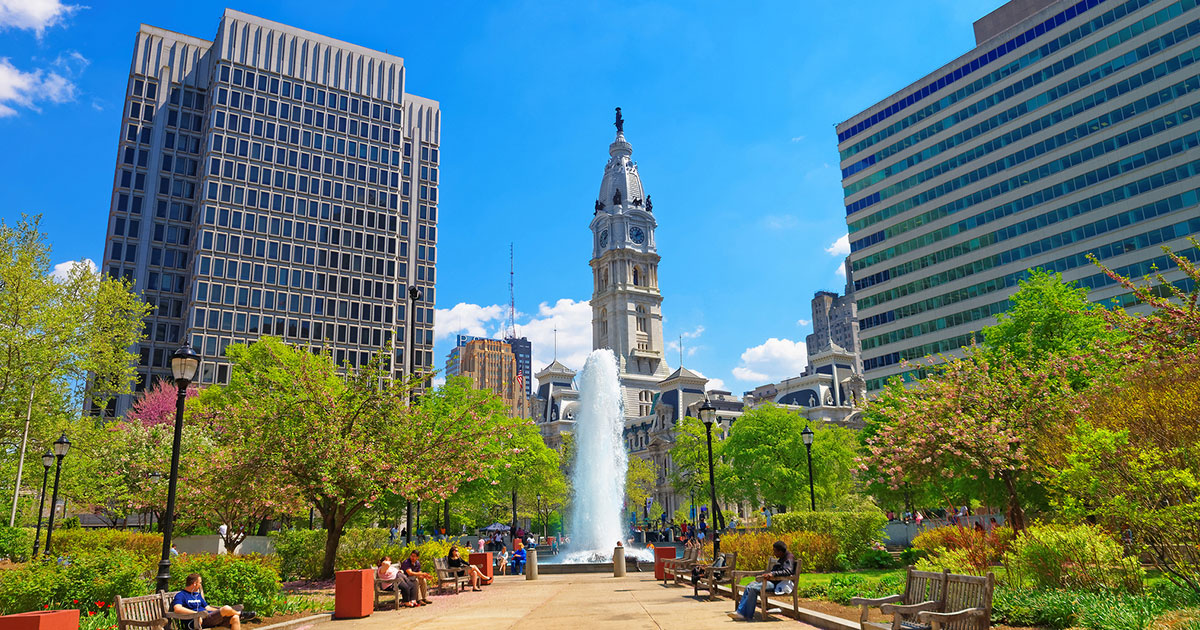 EASY PHILADELPHIA MOVING – FIND LICENSED PHILLY MOVERS WITH FREE MOVING QUOTES
Philadelphia, also called Philly, and City of Brotherly Love, is famous for a lot of things starting with the Philly cheesesteak and places like Liberty Bell and Independence Hall.
When moving to Philadelphia, it is important to look for the most convenient and affordable ways to relocate your home or office.  Moving can be difficult and stressful but with help from an experienced moving company, even a long distance move could be easier.
You can easily find reliable moving services using 5 free movers' quotes. Compare moving estimates to choose more affordable moving packages that suit your needs and budget.
Fill out our online request form with your moving details. It will only take a minute; you will receive the lowest moving bids from licensed moving companies near you.
Moving to Philadelphia does not have to be expensive when you choose from our wide network of moving partners.
QUICK MOVING FACTS FOR MOVING TO PHILLY
Winters are cold and snowy so make sure to dress warmly if moving in winter.  The best times to move to Philly are in late fall and spring when the weather is more pleasant. The summers are hot and humid and all four seasons bring rain.
The city features many historic neighborhoods beginning with Downtown where you will find 300 year old structures along with a pulsating nightlife.  Fairmount is famous for iconic Rocky Balboa, while University City is a hub for academic and research institutions.  Washington Square is well known for its large gay and lesbian communities.
The cost of living in Philadelphia can be high or low, depending on where you are moving from.  You should check on housing costs, utilities, food, and transportation with those in your city.  You could have a lifestyle of living large, enjoying tasty treats daily, as costs are relatively low compared to some major cities.
The city does have a high unemployment rate so it is smart to have a job lined up before your move.
It is often said you can eat your way through Philadelphia where every corner has an appetizing treat. Local foods are simply delicious so make sure to keep yourself active and fit.
Plan your moving date with 5 free movers' quotes to enjoy a stress-free moving experience.
Depending on your needs, you could hire a full-service move where your movers take care of your packing and everything else.  You could also customize your moving services and opt for just a moving truck and 2-3 movers.
Choose from our moving partners offering local, long distance, and interstate moving services for the safe transport of your household goods.
A QUICK LOOK AT PROFESSIONAL MOVING COMPANIES IN PHILADEPHIA
It is crunch time and you need to make your decision about how to handle your move.  You would need to first understand what types of moving services are out there to choose from so you can pick the right one that suits your needs and your budget.
You can obtain 5 free movers' quotes to compare actual moving prices for moving to Philly from your location. These no obligation quotes will give you a clear idea about your moving cost and help you make important decisions.
When you fill-out our online request form with your moving information, you will receive from 5 of the finest movers in your area their best moving estimates.  Whichever one you choose, you get peace of mind that you are working with a licensed and insured moving company who can take care of your valuable belongings.
Before you make your choice, take a look at some of the moving companies in Philadelphia.  This list can be your guide in selecting the best moving company.
EVERSAFE MOVING COMPANY
This Philadelphia moving company is fully licensed and insured and is known for sending expert movers who are on time.
They know that a lot of planning goes into every move and they plan accordingly.  They make sure that your moving cost is within the estimated range and have a price lock guarantee.
They also provide wrapping services, disassembly and assembly, proper loading and unloading, the right-sized moving truck, and complete moving equipment.
They charge 2 fees – labor fee and a travel fee. There are no other fees for fuel, mileage, tolls, stairs, or holiday hours.  They charge $88 per hour for 2 movers and $132 for 3 movers.
They handle local Philadelphia moves and long distance moves to the East Coast.
PHILADELPHIA MOVING
This Philly moving company is licensed to conduct moves for local, interstate, and international customers.  They ensure their services are exceptional and that they move your home or business with the best moving services.
With a decade of experience, they deliver household moves locally or long distance and commercial relocation.  They also provide packing services and storage.
ELVIS DIRT CHEAP MOVING
This moving business in Germantown, Philadelphia has been in business for over 15 years and serves the tri-state area and surrounding areas.
They provide a multitude of moving services to make relocation easy and affordable.
They offer competitive pricing for commercial and residential moving as well as storage needs.  They also offer 5% discount for student moves and senior moving services.
RILEY AND SONS MOVING
This professional moving company offers local and long distance moving services in Philadelphia and surrounding areas. Established in 1972, it is locally owned and operated and specializes in moving and storage services.  It is licensed and insured and accredited with the Pennsylvania Moving and Storage Association as well as the American Moving and Storage Association.
As a family-owned and run business for more than 40 years, they have become Philly's affordable movers and consistently rank as one of the best movers in the city.
The company also provides international moving services such as door to door, origin and destination assistance, small air shipment, multiple container shipments, or vehicle shipping.
ISAAC MOVING AND STORAGE
This has been a trusted moving company in Philadelphia since 1988.  As a licensed and insured mover, the company has been moving residents locally in the Greater Boston, Philadelphia, and Houston areas for more than 25 years.
They also provide long distance moving from Massachusetts to Texas or any part of the country.  If you are relocating temporarily or permanently overseas, the company will also work with you hand in hand for an efficient method of relocation.
They also have a secure and climate controlled warehouse for your short or long term storage needs.
It is a member of the American Moving and Storage Association and the International Association of Movers.
BR MOVING
This company is a full-service moving company in Philadelphia that can handle small or large moves and any move in between.  It is fully licensed and insured to perform local and long distance moves.
Their moving rates are all inclusive and include travel time, mileage, truck, moving supplies, and anything needed to make your move as smooth as possible.
They move upright pianos but for an additional fee for the service.  They also offer packing as an additional service and done a day before the move.
They charge hourly rates for local moves with a 2 hour minimum charge.  The hourly rate varies depending on number of movers and whether with or without a moving truck.
ABC MOVERS
This moving company has been in business since 2007 and has built a reputation for being professional.
They provide local moves, long distance moves, commercial moves, and storage.  While it is a California moving company, it has grown rapidly and now operates in 20 other states, including Pennsylvania.
They offer a combination of experienced moving professionals with affordable pricing to achieve customer satisfaction.
MOVERS PHILLY
This is an established and respected moving company in Philadelphia.  It offers a full range of moving services for families and businesses.
They offer local and interstate relocation at very affordable rates.  For 18 years, the company has helped thousands of people move homes and offices.  They can safely move fine arts, pianos, antiques, and other valuables for local and long distance moves.
They are cheap movers in Pennsylvania offering packing and moving services you deserve.
LA ROSA DEL MONTE WORLDWIDE
This moving company has a 40 year history of success that ranges from small apartment moves across the block or large home moves across the globe.
They provide a personal touch to their moving services and will work with you from planning to packing, shipping, and storage.  They are experienced in overseas and interstate moving to make relocation a more pleasant experience.
As a full-service moving company, it provides door to door service, modern communications, and professional staff who are experienced in the moving industry.
It is a member of the American Moving and Storage Association, the International Association of Movers, and is an A+ company accredited with the Better Business Bureau.
We hope this list of Philadelphia moving companies have inspired you on how to make your move as simple and as affordable as possible.
But to get actual moving rates for relocating to Philadelphia from your location, it is best to request for 5 free movers' quotes so you can compare moving services and moving rates.
Fill-out our online request form with your exact moving details so you can receive fair and accurate moving estimates from the finest movers near you.
We hope you will have a pleasant moving experience with one of our moving partners!