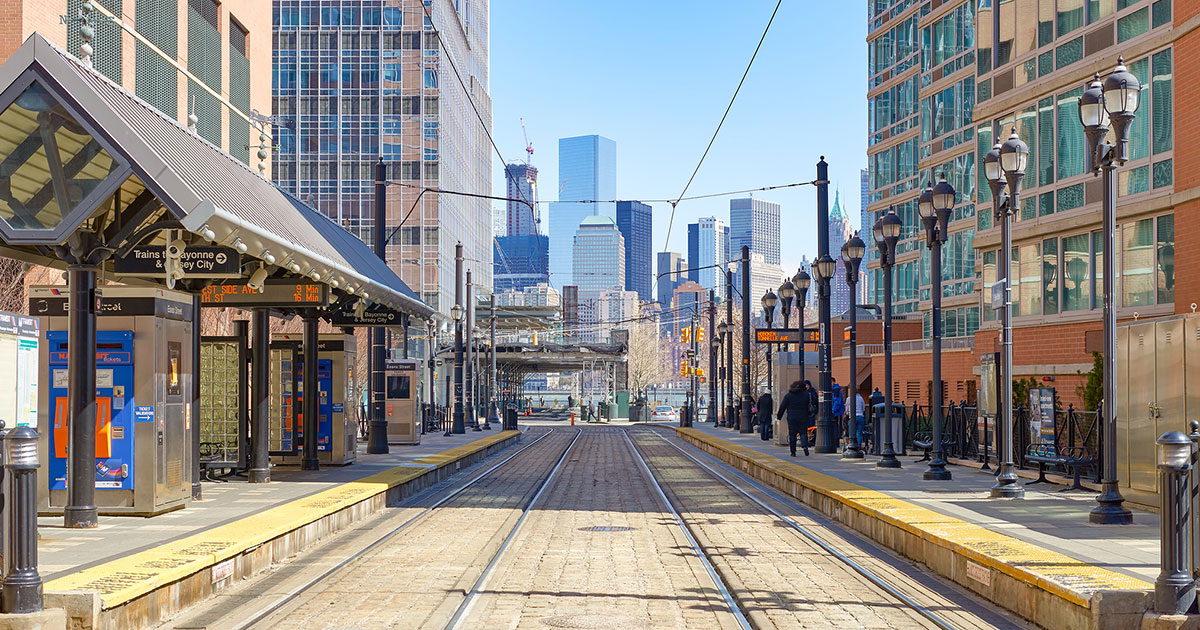 If you are moving to Newark, you must be bursting with anticipation of your move.  Because of its convenient location, it is an ideal place to live for people commuting to New York City.
Moving house is a big adventure but it can also be stressful, especially when you are looking for affordable movers.
We can help you find the most affordable moving companies in Newark with 5 free movers' quotes.
When you fill out our quick online form with your moving information, you are guaranteed to receive low moving estimates from movers in your area.
You can then easily compare moving company prices to choose the best moving deals.
Located on the North East coast, it is the largest city of the New Jersey State and also one of the most racially diverse.  It is divided into 5 wards – the east and south are industrial wards while the north, west, and central wards are more residential in nature.
The city boasts of many museums and art galleries as well as performing arts venues.  In the past, Newark had suffered a reputation for violent crime, delinquency, and poverty.  But the present administration has focused on cleaning up the city and has doubled the amount for affordable housing.
It is also the 3rd largest insurance hub after New York City and Hartford.  It is home to Prudential Financial, Blue Cross, Blue Shield, and the New Jersey Transit.  While there are thousands of jobs in the city, many also commute to Manhattan daily for work.
The cost of living is 30% above the US national average, making it expensive to live here.  But it is definitely more affordable than living in New York and it offers lower rental prices and lower median prices for purchasing a home.
As one of the country's oldest cities, it has a very rich history and has preserved its colonial, Gothic, and French renaissance architecture.  With its residents coming from a broad array of ethnic backgrounds, it hosts a multitude of festivals yearly.  It also boasts of the best Portuguese-Brazilian cuisine.
You can have a stress-free and affordable move to Newark with our moving partners of more than 200 licensed and insured moving companies.
Take advantage of 5 free movers' quotes to compare multiple moving services to choose the best movers in terms of price and reliability.
We are as excited as you are to plan your move. Get ready to meet the best New Jersey moving companies with your free moving estimates.
FIND THE FINEST RESIDENTIAL MOVERS FOR RELOCATING TO NEWARK
Now that you are finalizing the details of your moving day or preparing your moving budget, you will need to get moving quotes from moving companies serving Newark.
This is where the challenge comes in because moving companies offer varying moving prices for the same type of moving services.  You will probably wonder why that is.  Like any other business, some are better than others or provide higher value for their services for which they charge a higher price.  For example, a moving company whose movers are uniformed, licensed, insured and uses moving trucks that are regularly maintained and properly equipped would charge a higher rate than those who don't.
Rather than just looking at price, it is smart to also look into other factors like a moving company's experience, reputation, quality of service, and customer service.
We have prepared below a list of professional movers in Newark to give you an idea of how a moving company can help with your relocation.
When you are ready to choose your moving company, you can request for 5 free movers' quotes to begin comparing actual moving estimates from 5 moving companies near you.
DIVINE MOVING AND STORAGE
This premier moving company is located in New York but serves New Jersey as well.  It offers reliable relocation and storage services. For more than 15 years, the company has been a local, all-in-one moving company providing a full suite of moving services for a hassle-free experience.
They handle full moving services for short or long distance, residential or commercial, and also provide complete packing services and packing supplies.  They serve the Tri-State Area non-stop including nights, weekends and holidays.
It is a member of the American Moving and Storage Association and accredited with the Better Business Bureau.
GOOD LIFE MOVING SERVICES
This moving company in New Jersey understands how stressful it is to prepare for a move. They can take that pressure away with complete professional residential and commercial moving services across the Morristown area and beyond. Whether you are making a local or long distance move, this company has the resources and experience to deliver a smooth relocation.
They also provide complete packing services using specialized cartons, recyclable paper, bubble wrap and reusable quilted moving pads to protect your valuables.
OLYMPUS MOVING AND STORAGE
This New York and New Jersey moving company offers a wide selection of moving services for local and long distance relocation.
The company also offers partial or full packing services to allow you to focus on other aspects of your move and leave the difficult tasks to their capable moving team.
They can also handle last-minute moves or provide moving labor if you have your own truck.
For interstate moves, they send customers a free moving kit with 20 complimentary boxes by UPS upon booking.
The business is accredited with the Better Business Bureau.
GREEN LINE MOVE
This moving company specializes in professional residential relocation in New York and New Jersey.  For over 10 years, they have delivered excellent moving services at affordable rates.  They have regularly trained movers who will make your relocation as hassle-free as possible.
If you don't like estimates, the company can offer flat rates.  With this service, you are assured of your final bill at the end of your move.  They offer flat rate moves in New Jersey but will need to make an on-site assessment to price the move accurately. This rate will also include fuel, tolls, and supplies.
JUST IN TIME MOVING AND STORAGE
This moving company is a reputable mover serving the Tri-State area for many years.  Their team can handle all of your relocation needs.  They have moved thousands of families and businesses locally in New Jersey and other parts of the USA.  They are familiar with every borough in New York and all streets in the suburbs.
The company owns and operates their own fleet of trucks from 14 feet to tractor trailers.  The movers will ensure they use the right-sized truck for your move.
NICE MOVE
This local moving company in New Jersey is fully licensed and insured and specializes in local moving and coast to coast moving.
It has been in business since 1996 and serves all of New York and New Jersey. They provide outstanding residential and commercial moving services at great rates.
They also provide high rise moving, senior moving, small load, piano moving, packing and unpacking, and antiques and collectibles moving.
They charge the same rates even for holidays and offer discounts for military, police and fire department.
ALL JERSEY MOVING AND STORAGE
This moving company is a one-stop shop for all moving and storage needs in New Jersey.  They offer local, long distance, and storage for residential or commercial customers.  They also move antiques, piano, artwork and furniture anywhere in the USA.  They are affiliated with National Van Lines for moving customers more than 500 miles.
The company has been in business since 1992 and is one of less than 20 moving and storage companies in New Jersey State that has been given the Circle of Excellence by the New Jersey Warehousemen and Movers Association.
They own a climate controlled and containerized storage facility where your belongings can be stored in case you don't need them delivered immediately.
They serve all of New Jersey and moves within the contiguous USA.
As you can see, there are many Newark moving companies to choose from and each moving company differs when it comes to experience, pricing, and quality.
To make it easier for you to choose your movers, we invite you to request your 5 free movers' quotes and receive moving bids from the finest moving companies near you.
With your no obligation moving quotes, you can conveniently compare licensed and insured movers to help you relocate to Newark at the best possible price.
Book your move today with one of our moving partners to be sure of a pleasant moving experience for you and your family.