29 avril 2016,
If you are planning to move to Dallas soon, you want to know how to make your move as easy and low-cost as possible.  Every decision you make about your move will have an impact on the efficiency of your move and your moving cost.
We understand how important your decision to move to Dallas is so we have put out all the stops to give you everything you need to make it as efficient and stress-free as possible.
5MoversQuotes prepared a lot of things to help you in your move. In this article you will find:
Useful facts about Dallas and what it's like as a new arrival
Moving tips to Dallas for a comfortable, stress-free and affordable relocation
How to evaluate moving companies and check their credentials
Review of 20 professional moving companies in Dallas to choose from with verified customer reviews to help you choose
Must-Dos and Must-Sees Before and After your move
Stick around and check out what we have for you so you can begin to plan your move to your new home. When you are ready to hire your movers,  you can request free of charge your 5 free moving quotes for the best moving experience with our network of moving companies.
WHY MOVE TO DALLAS WITH PROFESSIONAL MOVERS
Anybody who needs to move house, especially to a far location, will always dread the prospect of having to pack up an entire house, load and unload heavy stuff into a vehicle, unload and unpack everything, and get things spic and span.  It takes time to organize a move, and when you are moving a household of 4 members, the job gets even harder.
While some people continue to make Do it yourself moves, more and more individuals are realizing the greater advantages of hiring professional movers. Let's take a look at how movers can make your move less stressful and efficient.
The #1 reason people choose to make DIY moves is money. People think that it is cheaper to hire a rental truck like Budget or U-Haul and do everything themselves than to hire a full service moving company.  The truth is that this can only work if you don't have a lot of things to move and you are moving just a few miles away.  If you are making a big sized move and a long distance one, you could actually be spending more.  Many moving companies offer flat rates for their moving services which covers moving truck, moving crew, disassembly/assembly, loading and unloading, packing supplies and free use of moving equipment.  Always compare at least 5 moving quotes to get best moving rates and reduce the amount of work you need to do for the move.
Moving companies have the expertise in packing even fragile items to avoid damage during transport.  Improperly unpacked items can break or get damaged. Valuables like expensive entertainment systems, glass, art work, and china needs proper packing and handling during the move.
Moving companies carry liability and insurance.  This protects customers in two ways – liability against accidents on the road and protection against damage or loss of belongings.
 Experienced movers take less time to execute a move, saving you time and effort.
When you hire professional movers, they can take everything off your hands so you won't need to lift a finger. You can use the time and energy into overseeing your move and making sure your new location is ready for your arrival.
HOW TO CHOOSE A MOVING COMPANY – THINGS TO CHECK WHEN YOU HIRE MOVERS
Not many people know the right way to check and hire movers.  It is definitely not a good idea to hire movers on the spot or at the last minute.  Here are some effective and proven ways to get the best movers for the job.
Verify moving company's background. It is best to hire movers that are accredited with the Better Business Bureau and professional moving associations as this ensures the company is legitimate and complies with licensing requirements and moving industry standards.
Read customer reviews online that are verified.  It is true that not all reviews are factual and some may even be "manufactured" for purposes of creating a good impression. There are, however, sites online that do verify customer reviews to provide consumers with reliable and truthful feedback.
Always interview movers and ask the right questions about inclusions, pricing, surcharges, and whether quote is binding or guaranteed.
Compare moving rates by asking for free 5 moving quotes to check the best moving deals.
Always check company license and insurance for your protection.  Under the law, movers in Texas need to be licensed with the Texas DMV.  You can check if your moving company has the right state license at https://apps.txdmv.gov/apps/mccs/truckstop/ where it is easy to get a company's license file.
With this in mind, we have made it easier to evaluate moving companies in Dallas that you can choose from based on company's industry experience, price, customer service, and competence to carry out their responsibilities as a moving company.
BEST REVIEW OF MOVING COMPANIES IN DALLAS – WHO DO YOU HIRE?
It is important to hire the best moving company for your move to Dallas.  You can enjoy a worry- free move without overspending when you get affordable moving services from a reliable moving company.
To help narrow your search for the right movers, we have prepared for you a review of 20 moving companies serving Dallas, complete with business information and customer reviews.    With this information, you can easily determine what companies offer the type of moving service you need at the best price.
#1 –  AB MOVING
This local Dallas and Fort Worth movers is family owned and has moved households and businesses for more than 20 years.  The company offers low cost, hourly or flat rate pricing. Its services include same day service, loading and unloading, cleaning services, assembly and break down service (quoted as separate service) and free shrink wrap.  Quotes cover a moving truck and 2-3 man crews, depending on size of move.
It is accredited with the Better Business Bureau with a rating of A.  It is also a member of South West Movers Association.
# 2 – BEST DALLAS MOVERS
This professional moving company services apartment, household and office moves.  It offers competitive hourly rates and do not charge any fees for in-home assessment, service fees, fuel fees, etc. Your bill starts from the time movers get to your location and complete your move to your new address.
This company is accredited with the Better Business Bureau since 2007 with a rating of A+.
# 3 – AM MOVING COMPANY
This is a specialty moving and delivery services company for commercial, apartment and residential moves, storage needs and loading and unloading services in Dallas/Fort Worth and even in or out of state moves.  The company offers hourly or flat rates, depending on the customer's preference or budget.
They also offer eco-friendly packing totes to replace old-fashioned carton boxes to help you save on your move and also save the earth.
# 4 – Monarca Movers and Deliveries
This moving company offers commercial and residential relocations, truck loading and unloading services, packing and unpacking and storage services.  The company services downtown Dallas and nearby cities.
This local movers enjoys good ratings with its customers. It is fully bonded and licensed and is a member of the American Moving and Storage Association.
# 5 –  A PLUS QUALITY MOVERS
This Dallas moving company offers home and apartment moves, office moves, and moving supplies in the Dallas area and surrounding cities.  It was established in 2004 and puts an emphasis on their customer service.
It is accredited with the Better Business Bureau with an A+ rating and a licensed mover in the state of Texas.
# 6 –  BLACK TIE MOVING SERVICES
This local moving company offers residential moving, commercial moving, and storage.  They provide uniformed and courteous moving crew for all types of moves, big or small.  Their moving rates start at $89 per hour for local moves which includes moving truck and crew. For long distance moves, their rates start at $99 an hour, really affordable compared to other moving companies.
It is accredited with the Better Business Bureau with a rating of A+ and is a fully licensed and bonded moving company. The company was voted Best Mover in North Texas in 2014 as featured in Bravo and Million Dollar Listing and enjoys favorable customer reviews.
# 7 – FANTASTIC MOVES
This moving company is based in Dallas and offers full moving services for intrastate and interstate moves.  It is accredited with the Better Business Bureau with a rating of A+ and has been in business since 1995.  It has a Super Service Award from Angie's List. As a fully licensed and bonded moving company, it can safely delivery your belongings to your new location at affordable rates.
It offers 5% discount to senior citizens.
# 8 – VETERANS R MOVING US
This moving company is military owned and operated specializing in local and long distance moves.  It was established in 2011 when a group of veterans came together to start a business amid tough economic times.
As part of long distance moves, the company offers free delivery of moving materials, expert packing and unpacking services, disassembly and assembly services, crating, and moving inventory.
# 9 –  DALLAS MOVERS PRO
With over 50 years of experience, this Dallas moving company has earned the trust of many residents who have tried their moving services.  They service local and long distance moves, corporate moves, and international moves.
It is an agent of Mayflower Transit, Inc., and also affiliated with United Van Lines. It can handle your move to any part of the globe.
# 10 –  POWERHOUSE MOVERS
Voted best moving company in Dallas in 2015 by Dallas A-List, this moving company is a family owned and operated business serving located in McKinney, Texas serving the Dallas Fort Worth Metroplex. It is affiliated with the Better Business Bureau and licensed as local and long distance movers.
The company also offers senior relocation, packing services and storage.
# 11 –  TRICO LONG DISTANCE MOVERS
This premiere long distance moving company offering expert packing services, crating, storage, long distance, cross country, residential and commercial moving, and auto transport.  In business since 2005, the company has more than 2 decades of moving experience to get you to any part of the United States.
The company also offers guaranteed rates for out of state moves that includes wrapping of furniture, packing, and free use of wardrobe boxes.
# 12 –  Flat Price Moving and Auto Shipping
This company offers long distance and cross country moving and auto transport.  In business for more than 12 years, the company can move you from Texas to any part of the United States.  They can also move a single vehicle or a multiple carrier load.
This company can be your ideal moving partner if you are bound for Dallas from far away cities like New York or Chicago or vice-versa.
# 13 – METRO MOVING COMPANY LLC
As a Dallas moving company, it offers free moving estimates, no hidden charges and no problem moves for your total convenience.  When you hire the company, you get 2 personnel and a 24' moving truck for only $95 for the first 2 hours. Unlike other moving companies, their bill starts from the time movers arrive at your door, and not from the time they leave their office.  This can be really affordable for people making small and quick moves.
Customers can choose between hourly rates and flat rates which the company will confirm by email.  Only flat rates are guaranteed and will include a visual inspection of your home by the company's moving professional before the move.
The company is accredited with the Better Business Bureau with a rating of A+.
# 14 –  DUMBO MOVING AND STORAGE
This moving company has more than 6 years in the business.  Checking on its business information disclosed it started in New York City and branched out to other US cities, including Dallas.  The company charges a flat rate for local and long distance moves.
On their website, it is stated that they charge by the ITEM and not by the hour.  If you are interested in hiring this company, it is advisable to confirm the moving rate you are offered and have it in writing to avoid surprises.
# 15 –  WE MUV YOU
This moving company offers dorm moves, residential and commercial moves, senior move management, long distance and international moves, and deliveries.  It also offers concierge services for individuals who don't have time to be too involved in the move and would rather hand in their keys and let the movers do everything needed for relocation.
This company is accredited with the Better Business Bureau with a rating of A.  There has been no complaints filed with the BBB which has opened a file on them only in November 2015.
#16  – On the Spot Moving
This is a local and family owned business that aims to make your move as painless as possible.  It offers competitive hourly rates with free assembly and disassembly of furniture and installation of washers and dryers.  They specialize in local and out of state moves and offers discounts to seniors and military.  They also accept last minute and late hour moves.
Check out the company video below for more details.
# 17 – Einstein Moving Company
This company offers Dallas moving services for residential and commercial moves. The company offers low hourly rates with time billed starting from when they begin work at your location and complete the move. There are no extra charges for assembly or disassembly and no stairs or other charges. The company charges a flat and easy rate for your protection and convenience.
As an additional service, they introduce your movers to you before the move so you can feel comfortable about strangers in your home.
The company is also fully licensed and insured to handle your move.
#18 – 1ST CHOICE MOVING
This moving company is a local and family owned business located in the Dallas Fort Worth metroplex that offers labor only services for commercial and residential moves. Established in 2009, it helps Texas move at affordable prices with courteous and efficient moving crew. The company can help with loading/unloading, wrapping, and assembly/disassembly. If you prefer to get your own moving truck and need only labor for lifting the heavy stuff, this company can help you out and keep your moving expenses down.
# 19 – EXPERT CITY MOVERS
This moving company has been in business since 2015 offering local and long distance moving in Dallas. It also offers packing/unpacking and storage services.
The company is new but its founders have experience as movers before establishing the business. There is not a lot of information about the company on the website or about its moving rates.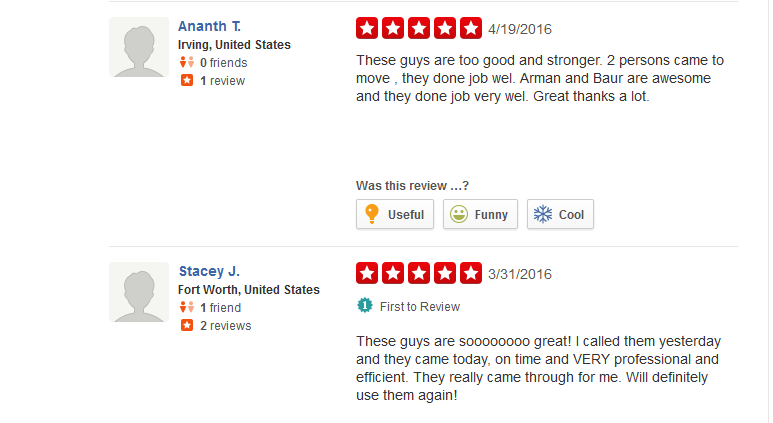 #20 – MOVESTAR, INC.
This is a moving and storage company in Dallas that is owned and run by off duty Dallas firefighters since 1978. The company offers a wide range of moving and storage services including residential and office moves, furniture repair, and climate controlled storage.
This company is accredited with the Better Business Bureau since 1991 and has an A+ rating. It serves Dallas and surrounding areas.
Living in Dallas – The Essential Things every newcomer needs to know
Mention Dallas and you immediately think of cowboys, oil, and cattle ranches.  And who wouldn't know the Dallas Mavericks, Dallas Stars, NASCAR and Indy racing?   This bustling city is indeed what JR Ewing showed us in the iconic Dallas TV series – a city of wealth, large spaces, and a uniquely American way of life. But as much as it is full of tradition, it is also a hub for technology as the first microchip was invented in this city by Texas Instruments.
Dallas is the 9th biggest city in the United States with a population of more than 6 million.  While there are some downsides to living in Dallas, as in every city, the pros outweigh the cons.
Fort Worth and Dallas together is called the Metroplex, a culturally diverse and vibrant area with a pulsating economy, affordable housing, and lots of attractions.
The Weather
Many people choose to relocate to Dallas because of the subtropical climate.  It almost never snows and is generally warm all year round.  It may sound silly but people find the thought of not having to shovel snow really appealing.  It can get really hot in the summer, with temperatures reaching 100 degrees Fahrenheit and the winter is mild with temperatures in the 50s and 60s.  Spring and fall are really comfortable but as Dallas is within the Tornado Alley, one can experience severe spring weather and stormy conditions.
Retirement Choice for senior citizens
Forbes.com named the Fort Worth –Arlington area as the most favorable place for retirees in Texas because of low health and housing costs, temperate weather, and access to medical care and leisurely activities.  Dallas county residents aged 65 and above are offered opportunities for volunteer work and educational opportunities through free tuition from Richland College every semester.  There is also a wide array of retirement communities in the area where senior residents can enjoy a comfortable and convenient lifestyle.
Housing in the city
Dallas has 11 districts with attractive and affordable housing options.  In general, housing costs and cost of living is lower in Dallas compared to other US cities.  The city is divided into Uptown, Downtown, South and Northwest, and East and West.  It also has more suburbs like Addison, Irving, Grapevine, Lake Highlands, Oak Lawn, University Park and Oak Cliff.
East Dallas has many neighborhoods featuring old-fashioned homes and vintage shops.  North Dallas has more upscale communities while Oak Cliff has a mixture of low income housing and upscale homes.
Employment in Dallas
Many people move to Dallas because job opportunities here are plentiful.  It ranks as one of the fastest growing cities in America in terms or job growth.  Its unemployment rate is lower than the national average.  Its economy is truly diversified with banking, technology, energy, telecommunications, and healthcare, being active players.  The presence of Fortune 500 companies like Texas Instruments, Southwest Airlines, American Airlines, Dr. Snapple, among others, offers many employment opportunities.
Recreational Opportunities
Dallas and Fort Worth provide more than sufficient recreational opportunities to make Dallas quality of life pleasurable.  It has hundreds of parks, including entertainment venues like Six Flags , more than 200 golf courses,  and popular cultural amenities such as the Kimbell Art Museum, Dallas Museum of Art, Morton Meyerson Symphony Center, and more.  It is also home to professional sports teams so residents get plenty of excitement from live sports events.
Getting Around
There are many options for public transportation available to Dallas residents who don't or can't drive or walk.  The Dallas Area Rapid Transit Authority (DART) operates light rail, commuter rail, and buses all around the city. In 2015, Phase 1 of the street car line which runs from Dallas Union Station to Oak Cliff opened to the public.  The rail line connects downtown Dallas to Fort Worth. Also, 121 regular bus routes are serviced daily in Downtown Dallas to ferry passengers, including those bound for the suburban neighborhoods.
Food in the city – What and where to eat
Dallas is popular for barbecues, authentic Mexican and Tex-Mex cuisine.  One well-known product from Dallas cuisine is the frozen margarita.  The city is famous for nationally ranked steakhouses.  Fajitas were made popular by the Spanish ranch hands from South and West Texas.  Since pecan is the official health nut of Texas, here you can find the very best Pecan pies.  The official dish of Texas is chili so you will find a lot of versions here.  For breakfast, tacos are a favorite in many local joints.
For a listing of the best restaurants in Dallas, visit http://www3.dmagazine.com/content/100-best-restaurants-in-dallas/.
License and Vehicle Registration
Any new arrival in Dallas is going to be really busy the first few weeks.  It is important to ensure you register your vehicle as soon as you arrive.  You will need a local car service provider to inspect your vehicle for proof of vehicle inspection but be ready with your insurance and license.  You will also need to apply for a Texas driver's license at the license division office of the Texas Department of Public Safety. You have up to 90 days upon arrival to get your new driver's license.
Schools
The city has over 337 public schools, more than 80 private schools and around 38 universities and colleges.  The public school system is probably one of the best in the Southern United States.
For information on public schools in Dallas, you can visit http://www.dallasisd.org/ and learn more details and news from the Dallas Independent School District.
Dallas Relocation Cost
There are many Dallas moving companies you can choose from. While most people get moving estimates on the phone, it is better to schedule in-home estimates for an accurate moving quote.  Moving cost is generally based on the weight and cubic foot of your cargo.  Long distance moving can cost around $4000 for a 3-bedroom home with plenty of furniture, appliances, and other belongings.
Have a quick look at the city of Dallas and what to expect about living in the city from the video below.
Get started with your Moving Plan with our affiliated Movers
You can get hot moving deals when you request 5 free quotes online and compare moving prices. You can also lower moving costs by moving during off-peak times, getting rid of unwanted items, and hiring professional moving companies with affordable moving services.
We have tried to cover as much about Dallas relocation you need to know in our moving guide. We hope you will find this useful in planning your move.
After reviewing moving companies in our list and reading useful information you need before and after your move, you will surely decide on the best way to relocate to this beautiful Southern city. If you are moving from the other end of the US or abroad, you will need to take time to organize your move.
Feel free to take advantage of free moving quotes when you click the Request button to get access to the best moving companies in Dallas.
We hope you will have the most pleasant move to the Lone Star State. Happy moving!