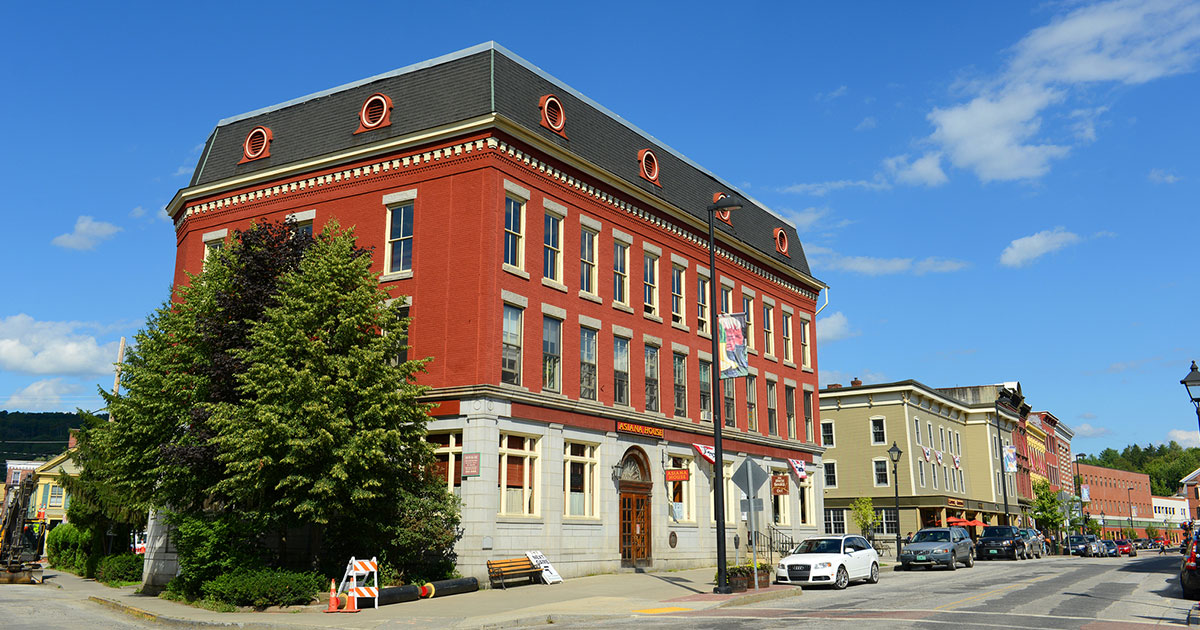 MOVE AND LIVE IN MONTPELIER – BEST RELOCATION GUIDE FOR AN EASY MOVE
Moving to Montpelier is a great decision. It is the capital of the State of Vermont and while it has a small population (estimated at 7,855 as of 2010), it swells to more than 21,000 during the work week due to the large number of jobs in the city.
Moving is always challenging and exhausting.  Nobody really enjoys packing up boxes or driving cross country with all their belongings.  When you hire Montpelier, VT moving companies, relocating to a new city can be reliable and even enjoyable.
To find great movers, it is best to compare moving company prices with5 free movers' quotes.
By filling out a quick online form with your moving information, you will receive low moving estimates from 5 best moving companies near you.
You can choose your movers at your leisure and book your moving date with your preferred movers.
ESSENTIAL INFORMATION ABOUT MOVING TO MONTPELIER
Vermont has held on to its small town New England values and Montpelier is no exception. Residents love simple pleasures in life such as swimming, golfing, snowboarding, and hunting, for weekend pleasures for the whole family.
Vermont's cost of living index is lower than other states in New England although it is higher than the US national average.
The city has a humid continental climate.  It experiences long, cold, and snowy winters while spring and autumn are short.  Winter temperatures dip to below zero and remain below freezing for most days from December to February.  During summer, the weather is hot and humid.
Being the state capital, its major employer is the government. Other principal businesses are in higher education, tourism, and insurance.  It is the base of several regional insurance companies.
The city is readily accessible to most cities and towns.  It is serviced by Amtrak daily from its rail station going to Berlin, on a route known as Vermonter and operating from St. Albans and Washington, DC.  Greyhound and Megabus also services the city.
Montpelier has 3 nature centers – Hubbard Park, Mill Pond Park, and North Branch River Park.  Here residents enjoy nature at its finest with acres of protected land that are perfect for outdoor activities.
Long Distance movers are required to have license and insurance to perform moving services in Montpelier.
Obtain 5 free movers' quotes to ensure you receive low moving estimates only from qualified and licensed movers for moving to Montpelier.
FAST FACTS ABOUT MOVING COMPANIES IN MONTPELIER
It is not easy to choose a moving company. Some movers seem really good but may be a bit expensive. Others offer cheap moving rates but don't impress you as being reliable. How do you find a good but affordable moving company?
The first step is in doing your research. It is important to know what moving companies and services are available and to weigh your options.  If you understand standard moving practices, you can have reasonable expectations and the right knowledge about your rights as a consumer.
Most individuals who are relocating want to reduce the stress and the work that comes with a move. At the same time, they want to reduce their moving expenses. By choosing a reputable moving company that offers affordable moving rates, you can really make your relocation a pleasant experience.
Below is a list of moving companies serving Montpelier and its surrounding areas with brief descriptions of their moving services.
VERMONT MOVING AND STORAGE
This moving and storage company offers the highest level of service for dependable moving services in the state. They tailor their services to your individual needs.  It is a family-owned and operated business that is independent and does not subcontract moving jobs.
They provide local moving, long distance moving, commercial moving, packing services, and storage.  For their local  moving services, it includes packing and unpacking, moving, crating, in-home rearrangement, cleaning services, and storage. Local moves are priced hourly with charges from the time the movers leave their base and ends upon their return.  Their minimum charge is 2 hours for local moves.
Their moving rates start at $98 per hour for 2 men or $145 for 3 men per hour.  Packing supplies and boxes are not included in the rates.
It is a member of the American Moving and Storage Association and has an A+ rating with the Better Business Bureau.
MORWAY'S MOVING AND STORAGE
This moving company is family-owned and operated.  They apply their expertise in packing and moving with every moving job to make the relocation as easy as possible.
The company provides local, interstate, and commercial moving services.  As a full-service moving company, it has professional movers who work fast and efficiently.  Their movers help with packing and unpacking, loading and unloading, crating, and specialty moving for piano, hot tub, and antiques.
The company also offers heated storage and portable storage units.
It is a member of the American Moving and Storage Association and the Better Business Bureau.
BOOSKA WORLDWIDE MOVERS
This family-owned moving company has celebrated 66 years in the business. It is a full-service and independent mover offering local moving, interstate and international moving, complete packing services, residential and commercial moving, specialty moving, and storage.
The company is dedicated to providing excellent moving services at fair prices.  They also have a location in Florida.
It is a member of the Florida Movers and Warehousemen's Association and is accredited with the Better Business Bureau.
MCLURE MOVING AND STORAGE
This moving and storage company in Essex Junction, Vermont serves all future Vermonters with excellent moving and storage services.  It is a locally owned and operated company that is dedicated to quality customer service.  It started as a business way back in 1915 and has earned a reputation for being a dependable mover.  This reputation is reflected in its various memberships and accreditations. The company has an A+ rating with the Better Business Bureau.
It is an agent for Mayflower Van Lines and offers local, long distance, interstate, and international moving services.
It also has an 8,000 sq. ft. warehouse for your storage needs.
The company is a proud member of the American Moving and Storage Association.
LOWELL'S MOVING AND DELIVERY
This moving and storage company is family-owned and operated with more than 20 years of experience in providing reliable and affordable moving services.  It serves Vermont, New Hampshire, and all of New England.
This is a go to company for full service residential moving and storage, office moves, packing and storage, and junk removal.  The company guarantees worry-free moves at affordable rates.
Their white glove service offers door to door delivery for your relocation.  They move valuable antiques and fine art, furniture assembly, and anything that you own but too heavy to move yourself.
CHASE MOVING AND STORAGE
This moving company based in Williston offers local services to areas including Winooski, Charlotte, Essex, Stowe, Hinesburg, Montpelier, Northfield, Waterbury, and beyond.  Their moving services are available far beyond the local region.  Their movers and packers will remove the stress of moving and assist you out of state or coming to Vermont from your location.
They are licensed, insured, and bonded.  Their movers are all certified and background checked for your protection.
The company offers local moving, interstate moving, long distance moving, and insured storage.  It is a member of the Lake Chaplain Chamber of Commerce and American Moving and Storage Association.
SARGENT'S MOVING
This moving company has been providing moving services to the Vermont community since 1987.  It offers reliable and high quality relocation services at reasonable rates.
Whether your move is across town or across America, the company can move you at prices you can afford.  Their goal is to deliver courteous and expedient relocation.  They can also transport cars and small to mid-sized tractors.
Their moving rates start at $120 per hour for truck and driver, $160 per hour for truck, driver and 2 workers, and $180 per hour for truck and 3 workers.
You have now seen some of the moving companies serving Montpelier and other communities in Vermont.  This list gives you a clear idea of moving services offered and the usual rates they charge.
If you are making a long distance move, your moving cost will be calculated based on distance of travel and weight.  For this reason, moving companies don't usually publish rates without your specific moving details.
To start planning your moving budget, it is best to request for 5 free movers' quotes to receive the best moving estimates from experienced movers near you.
Fill-out our quick online form with your moving details so we can connect you with licensed and insured moving companies that can handle your relocation.
We wish you the best moving experience to Montpelier with any of our moving partners!