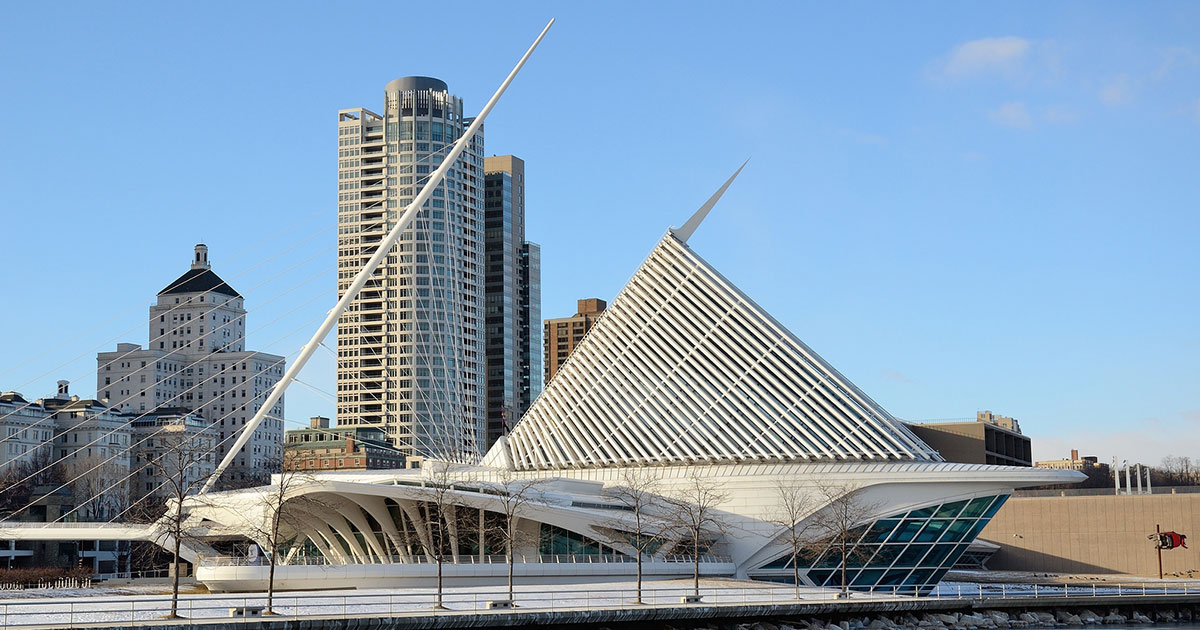 Milwaukee ranks high as a moving destination simply because it has everything you could want.  It is strategically located in the Midwest.  It has beautiful landscapes and a rich and vibrant economy.
If you are planning a move to Milwaukee, you have made an excellent choice.  But to ensure a successful move, you need to take time to plan your move well and prepare yourself for a new environment.
5 free movers' quotes offers free moving estimates so you can check out the lowest moving prices of professional movers.  It allows you to choose the most suitable moving services and rates that can minimize your moving costs.
When you fill out a quick online form with your moving details, you are guaranteed to receive fair and accurate moving estimates for your residential move.
ABOUT MILWAUKEE – AN EXCELLENT MOVING DESTINATION
The Greater Milwaukee metropolitan area is 90 minutes away from the famous North Woods of Wisconsin, Chicago, and Madison, the capital of Wisconsin.  Located on the shores of Lake Michigan, it is also a few hours' drive from important cities like Indianapolis and Minneapolis-St. Paul.  Its metropolitan area consists of the counties of Milwaukee, Washington, Racine, Ozaukee, and Waukesha.
The city of Milwaukee experiences 4 distinct seasons.  Spring is refreshing with apple blossoms, summer brings invigorating lake breezes, fall glistens with brilliant colors.  Although its winters are cold with heavy snowfall, it is ideal to move during the cold months.
The city's job growth has outperformed every Midwestern city of its size.  It is an important hub for manufacturing, financial services, food and beverage production, electronic commerce, and green technology.  In fact, the city has the highest number of best companies to work for, according to Great Places to Work Institute.
It is also one of a few cities chosen by the Wellness Councils of America for being a Well City.  Further, the state of Wisconsin has ranked consistently as one of the best states for excellent health care, according to the Agency for Healthcare Research and Quality.
It also has excellent public and private schools, with more than one dozen colleges and universities.
The city is ethnically diverse, with its residents having German, Irish, or Danish roots.  It celebrates a series of lakefront festivities each year showcasing the city's rich heritage. No wonder it is called the "City of Festivals".
You can request for your 5 free movers' quotes to choose the right relocation specialists for moving to Milwaukee.
Below is a comprehensive guide for relocating to Milwaukee Region complete with a review of the best movers offering reliable and affordable moving services.
RELOCATION TO MILWAUKEE REGION-
BEST MOVING ADVICE FOR A SEAMLESS MOVE
People describe living in Milwaukee as wonderful and full of good surprises.  This Midwest region has an ideal environment for living and working. With its abundant career opportunities, diverse communities, and endless recreational opportunities, life can be pretty good in Milwaukee.
If you have decided to move to Milwaukee,  you'll need to know as much as you can about your new city.  Preparation is critical in ensuring a stress-free and successful relocation. You would want to know about the cost of living, best neighborhoods, what jobs are available, and fun things to do around here.
We have prepared this comprehensive Milwaukee Relocation Guide to help you make a smooth transition.
We also include a listing of the most popular moving companies in Milwaukee with customer ratings so you can get a clear idea about moving services available and moving costs.
At the end of your read,  you will feel more confident about your move and ready to plan your relocation with a professional Milwaukee moving company.
Don't forget to request for 5 free movers' quotes to compare actual moving estimates from your location to Milwaukee so you can choose from our licensed and insured moving partners.
ESSENTIAL FACTS ABOUT MOVING IN MILWAUKEE TO LIVE OR WORK
Located in the State of Wisconsin on Lake Michigan, Milwaukee is a fertile land with lush vegetation.  It is a paradise with trees in bloom that creates a visually appealing sight. But it can also be a nightmare for people allergic to pollen.
Due to its economic opportunities and high quality of life, this city of 590,000 people has become a very attractive moving destination in the recent years.  It has received a variety of accolades like 2nd Safest City in America by Forbes, Best City for Commuters, Best City for Working Moms, among others. Forbes Magazine also voted Milwaukee as the second most relaxed city in America that allows its residents to enjoy a healthy work-life balance. People enjoy amazing lakefront festivals, an energetic nightlife, outdoor activities like biking in the hills of Kettle Moraine, and inspiring performances by artists throughout the year.
Called the City of Festivals, Milwaukee celebrates its diverse ethnic heritage with  huge summer festivals featuring cultures of the world. From Italian, Mexican, to Irish, German, and Indian Fests, these events attract thousands of visitors to experience unique music, wonderful cuisine, and get to know the people who have made the city of Milwaukee their home.
The Climate.  You will need to be prepared for changing weather conditions in the city.  Its humid continental climate, coupled with its proximity to Lake Michigan, accounts for humid and hot summers with thunderstorms and rain while winters are cold and with heavy snowfall. The huge water mass of Lake Michigan causes heavy winds with the change of temperatures and anything from icy rain to mist.
The spring and fall seasons are generally peak moving periods. It is best to schedule your move early with a professional moving company.
Cost of Living.  Milwaukee offers cultural and artistic opportunities that are affordable for residents. It is easy to get around the city on foot, by bike, or by using public transport.  The city's cost of living is relatively low compared to other major US cities. As the metropolitan area is 5th in most number of Fortune 500 companies based in the city, there are abundant job opportunities available.
Jobs and Economy.  The city used to have 4 of the world's biggest breweries and was #1 beer producing city for many years.  Today, Miller Brewing Company is still a vital employer with more than 2,200 workers.
Milwaukee is also the base of 6 Fortune 500 companies including Northwestern Mutual, Rockwell Automation, Harley-Davidson, Johnson Controls, Manpower and Joy Global.  The city also has several publishing and printing companies. Managerial and service jobs are also rapidly developing while the health care sector makes up 27% of city employment.
Thanks to its economic diversity, new arrivals have a wide multitude of jobs to choose from. Browse county-specific jobs from the biggest employers and great hourly based occupations from the Wisconsin Department of Workforce Development.
Culture and the Arts.  The Milwaukee Arts Museum is probably the most iconic cultural attraction in the city.  Its million dollar wing design, shaped like a bird's wing unfolding,  was the work of Santiago Calatrava.  Discovery World dedicated to science is along the lake front and attracts visitors with its high tech, salt and fresh water aquariums and digital theaters.  Milwaukee ranked # 11 among Top 25 Uniquely American Cities and Towns in 2009 on Newsmax Magazine.  The ranking was based on the city's number of outstanding historical structures including the Milwaukee Public Museum and the Pabst Mansion.  The Harley-Davidson Museum showcasing its motorcycles is the only one of its kind in the whole world.
The city also has various arts and performance venues such as the Milwaukee Opera Theater, Wisconsin Conservatory of Music, Marcus Center for the Performing Arts, and Milwaukee Ballet.
Neighborhoods.  The Downtown area is proud of its unique river walks, its incredible loft districts, a wide array of museums and academic institutions, and easy access to the beach of Lake Michigan.   When moving to the city, you will find many unique neighborhoods to call home.  East Town is the city's center for culture and business, Historic Third Ward is definitely bohemian and hip. Westown has arts and crafts homes while Brady Street is the most ethnically diverse.  Other popular neighborhoods include Bay View, Brewer's Hill, University Hill, and the suburbs of Cedarburg and Brookfield.
Healthcare.  The state of Wisconsin ranks # 2 for best healthcare in America based on findings of the federal Agency for Healthcare Research and Quality.  Residents have access to the safest and best medical care.  The Children's Hospital of Wisconsin also ranked 4th best children's hospital in the country, according to popular magazine Parents.  Last but not least, the Froedtert & Medical College of Wisconsin was cited as one of the top 100 hospitals in 2013 by Truven Health Analytics.
It is easy to see why thousands of people flock to Wisconsin to live and work. Ideal for raising a family, best place to start a career, and one of top 25 fun cities in America, there really are a myriad of reasons to relocate here.
It is time for you to start planning your move to ensure a successful relocation to Wisconsin. Check out the listing of best Wisconsin moving companies below and find out more about the types of moving services you can use.
THE BEST WISCONSIN MOVERS AND THEIR
MOVING SERVICES
Anyone who has moved will tell you that moving is a lot of hard work and can be really expensive if not carefully planned.  The ultimate stress-buster for any household move is hiring a professional moving company.  The big question is: How do you select a good moving company?
We have prepared a list of some of the biggest moving companies in Wisconsin for you to consider. You can check the types of moving services they offer and compare moving rates, when available. You can also see their customer ratings to get a clear idea about the quality of their services.
At the end of the review, you can easily request for your 5 free movers' quotes to see how much it will actually cost to relocate to Wisconsin from your location.
C.H. COAKLEY & COMPANY
This moving company has served southeastern Wisconsin since 1978.  It has a proud history of handling thousands of business relocations for companies in the area.
It specializes in business management solutions and offer commercial relocation services.  With their decades of experience, they understand commercial moving needs and have the expertise to get your relocation project done on time and within your budget.
While it is not accredited with the Better Business Bureau, the company was given an A+ rating based on length of business and no complaints filed by customers.
COAKLEY BROTHERS
This premier moving company in Wisconsin has a reputation that spans 125 years.
It is an agent of Allied Van Lines and specializes in residential and commercial moving services for local, long distance, or international moves.
The company provides an in-home inspection to check the scope of the work. This allows them to provide you with a fair moving estimate and suggest ways to minimize your cost.
They also assist with senior moving, student moves, and employee relocations.
J C TRIPLETT AND SONS MOVING
This moving company offers local and long distance moving services in Greater Milwaukee.  It has more than 38 years of experience in delivering, moving services, and packing.  They are proud of their efficient and friendly team of movers that can handle any size of move.
Their moving services are available at very reasonable costs.  For Milwaukee moving services, they offer office relocation, household moving, delivery of industrial goods, quick parcels, freight forwarding, and industrial relocation services.
ANCHOR MOVING SYSTEMS
This moving company is a full-service mover specializing in business, library, and executive relocations.
They offer executive and physician household relocation services for hospital employees and executives with personalized and high quality moving services.  It also offers packing, storage, and warehousing.
The company also has a premium service called COWS – Container on Wheels- for your storage needs. It is a perfect solution for households and businesses and best of all, these trailers are delivered to your doorstep.  This lets you pack your home or office at your own leisure.
The company is accredited with the Better Business Bureau and has an A+ rating.
BROTHERS MOVING AND STORAGE
This moving company started as a small local family owned moving company in 2012.  Serving  Milwaukee, Waukesha, Racine, Kenosha, Mequon, West Bend and other nearby areas, the company is one of the most reliable and affordable Milwaukee moving companies.
They provide residential, commercial, moving labor only, packing services, and storage.  It is recognized by the Better Business Bureau as a moving business with high standards of service and is a member of the Wisconsin Movers Association.
As a licensed and insured moving company, they offer transparent rates.  Their charges start from the time movers leave their office and until they return to the facility upon completion of the move.  They also have a 10% fuel surcharge for all moves which is calculated based on total labor charges.  They require a minimum of 3 hours.
YOU MOVE ME MILWAUKEE
This is a professional moving company that is part of a national franchise.  Their movers move fast and efficiently to ensure everything goes smoothly during your move.
It is accredited with the Better Business Bureau and has a rating of A+.
As a Milwaukee moving company, it can take care of your packing needs, loading and unloading, and safe delivery of your household goods.
With their upfront and transparent moving rates, you are in good hands.
TWO CAN DO IT
This moving company began in 2008 and provides moving services in Milwaukee, Racine, Kenosha, and across the country.  It offers residential moving, commercial moving, piano moving, and debris removal.
They offer 10% discount for military moving and senior moves.  You can count on these movers for full service residential or commercial moves.
CROSS COUNTRY LONG DISTANCE MOVERS
This long distance moving company consists of professional movers who are experts in relocation, packing, shipping, and storage.  It was founded in 2005 and offers prompt and efficient moving services in all 50 states of the USA.
Their moving services include packing, moving, storage, auto shipping, and international moving.
The company offers affordable cross country moving cost based on the size of the move, location, and weight.  They give a flat price based on your exact inventory.
BEHRENS MOVING COMPANY
This moving company is one of the most established relocation experts in Milwaukee. It has been moving households and businesses in Southeast Wisconsin since 1926.  It is an agent of Allied Van Lines.
It also handles intrastate Wisconsin moves.  They provide residential, commercial, and international moving services.  As an Allied Van line agent, it can transport goods locally or anywhere in North America and the world.
FIVE STAR MOVERS AND STORAGE
This moving company is focused on moving services to Milwaukee residents moving their homes or offices.  They have the skills and equipment to get the job done efficiently.
They can also take care of packing and unpacking your belongings.  They handle local moves, long distance moves, and storage.
Five Star Movers is a licensed and fully bonded and insured moving company.
TWO MEN AND A TRUCK
The company's slogan is "Movers who care".  This moving company is part of a national franchise with over 30 years of experience in the industry.  It has offices domestically and internationally in 350 worldwide locations.  In the USA, it operates in 40 states with more offices to open in the USA, Canada, Ireland, and the United Kingdom.
It has had consecutive growth in its Milwaukee operations and aims to continue providing efficient and dependable household and office moving services in the region.
The company offers local and long distance moving services for any size of move.  Whether it is a condo move, an apartment move, or a retirement community, this moving company has what it takes for a successful relocation.
LA CROSSE MOVERS
This moving company is based in La Crosse, Wisconsin and offers affordable and reliable moving services to Milwaukee, other parts of Wisconsin, and throughout the Midwest.
The company has rapidly become Wisconsin's preferred moving company offering top of the line moving services. These include packing, moving, trucking, storage, moving supplies, and shipping.
The company is affiliated with local and international companies including truck rental companies like Budget and Penske, and ABF to serve the needs of their customers.
They aim to make your move affordable for local and long distance moving.
These are but 12 of the best moving companies serving Milwaukee and its surrounding areas.  You have seen what types of moving services they provide and their level of experience and customer service.
To get fair and accurate moving estimates for your own move, it is best to request 5 free movers' quotes so that moving companies near you can send you actual moving costs for your type of move.
HOW TO BENEFIT FROM FREE 5 MOVING QUOTES FOR YOUR MOVE
All moves are different; to get the best moving quotes, it is important to understand what you need for your relocation.
You can choose a premium, full service move for a totally stress-free relocation experience where you don't lift a finger.  Your moving company can design a moving plan for all aspects of your move from start to finish.
For a more customized moving service, you can also opt to get just a moving truck with the right number of movers to help with your loading and unloading, disassembly and assembly of furniture, and safe transport of your goods.
Depending on what you need, we can help you connect with the most reliable and affordable moving companies for relocating to Milwaukee.
Fill-out our short online form to receive moving quotes from 5 licensed and insured moving companies you can trust.