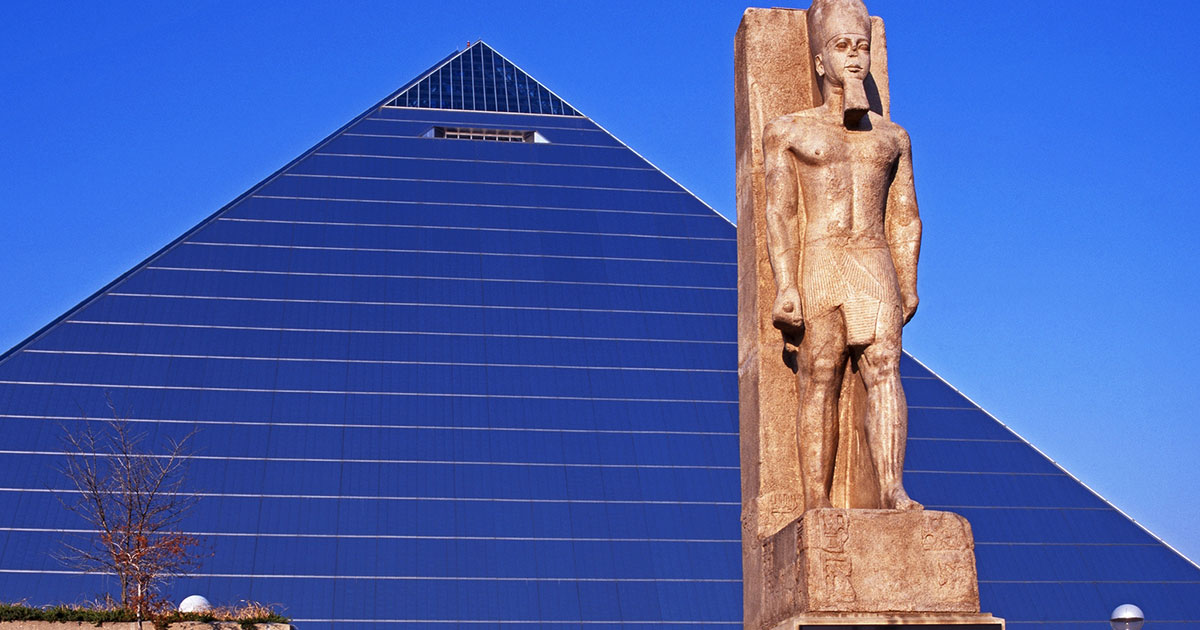 MOVING TO MEMPHIS – BUDGET MOVING SERVICES WITH FREE MOVING QUOTES
Moving to a new city is always a big adjustment.  But what makes it so exciting is the prospect of new opportunities and new relationships.
While planning your move to Memphis, it is a great idea to find a good moving company that can help with this big transition. You want a reputable moving company that can be trusted with your possessions and will charge transparent and fair prices.
You can check out licensed moving companies with 5 free movers' quotes. Compare moving services and how much they charge for local or long distance moving.
Fill out our quick online form to receive low moving estimates for your type of move.
RELOCATION TIPS FOR MOVING TO MEMPHIS
Before moving day, it is also important to plan and prepare for your new environment.
The Blues City, as it is fondly called, is the biggest city on the Mississippi River.  It has a population of 653,450, making it the largest city in Tennessee.
With its humid subtropical climate, the city experiences all 4 seasons.  Spring brings severe weather with hail and thunderstorms while winters are usually mild with occasional cold spells.  Summers are hot with high humidity while autumns bring rain and chill with spectacular foliage.
Memphis enjoys a strategic location along the Mississippi River and has played a huge role in shipping.  It is a vital transportation hub and has the busiest international and domestic airports.  In fact, FedEx is based in the city.
Some of the most popular attractions in the city are Memphis Walk of Fame, Elvis Presley's Graceland, Shelby Farms, and Memphis Zoo.  The Memphis Metropolitan Area also has over 30 public and private golf courses.  The Riverboat Cruise on the Mississippi River is also a charming experience.
The nice weather and sensational views encourage Memphians to spend time outdoors.  The Levitt Shell, Mud Island, and Peabody Rooftop are popular venues for performances.
Locals also like to boast that Memphis has the best beer.  Local breweries are aplenty and most bars offer local craft beer.
Cost of living in Memphis is 4.8% lower than the US national average which means you save money living here.  And of course, there is no state income tax.
Would you like to have a smooth move to Memphis?
Request for 5 free movers' quotes and start your search for Memphis and Tennessee moving companies.
Check below for more information about moving to Memphis and reviews of Memphis moving companies to guide you in planning your move.
YOUR EASY GUIDE FOR MEMPHIS RELOCATION
MEMPHIS MOVING TIPS AND MOVING COMPANY REVIEWS
Whether you have started packing your bags or still in the process of planning your relocation, we have the most essential information you'll need for an easy relocation to Memphis.
It is important to know as much as you can about your new city to ease the transition to a whole new environment and a new lifestyle. Below we have information about the climate, jobs and the economy of Memphis, arts and culture, and more.
We have also prepared a quick review of 12 best Memphis moving companies to guide you in your search for the right moving services and dependable movers.
When you are ready to plan your moving budget and choose a mover, take advantage of our 5 free moving quotes by providing your moving details through our short online form.
Let's get started with planning your relocation to Memphis, Tennessee.
IMPORTANT THINGS TO KNOW ABOUT LIVING AND WORKING IN MEMPHIS
From sunny days, easy commute, fantastic food, exciting sports, and original music, Memphis has it all.
It really is no surprise that people from all over the USA are attracted to relocate to Memphis, Tennessee. It has one of the lowest cost of living among major cities in the country.
Situated in the southwest of Tennessee in Shelby County, the Memphis metropolitan area includes Crittenden County in Arkansas, Benton, DeSoto, Tate, Marshall, and Tunica counties in Mississippi, and the Tipton and Fayette counties.
Memphis Weather.  Get rid of your snow shovel because Memphis is located at the center of the Sun Belt.  The city enjoys 64% of daylight hours, having more sunny days than Jacksonville.  May and October are the best months, with comfortable temperatures and beautiful scenery.  The weather all year round is actually comfortable and is best described as mild with blue skies.  The city's annual rainfall is well distributed throughout the year and very little snow to worry about.  Summers are warm, winters are short and mild, and the fall and spring seasons are long.  You can get ready to do outdoor grills anytime you want.
Memphis Economy.  The city's business climate consists of a diverse number of companies, from home-grown FedEx and AutoZone to smaller start-ups.   Due to its geographical advantages and excellent weather, the city is a favorite choice among major industries.  FedEx is the city's biggest employer with more than 30,000 employees in its ranks.  International Paper, a Fortune 500 company with global businesses in paper distribution, packaging, and forest products, is also based in Memphis.
Affordability.  One of the best reasons to move to Memphis is the city's very low cost of living.  Daily living in the city costs a lot less compared to other major US cities.  As it is also one of the lowest-taxed states in the country (0% income tax), residents have higher disposable incomes.  In fact, Memphis was named one of the least expensive urban areas based on a report by the Council for Community and Economic Research.
Memphis was also named the third best market for first time home buyers by Zillow because of the relatively low median price for homes.  Forbes Magazine named the city as America's "2nd most affordable city" while Kiplinger ranked it as one of the "top 10 cheapest cities to live in".
Neighborhoods.  One of your most pressing concerns when planning your relocation to Memphis is where to live.  In terms of choice and affordability, Memphis boasts of variety – from Shelby Forest's towering trees to metal and glass skyscrapers downtown.
If you desire suburban living, consider Cordova, a beautiful suburb on the eastern edge of the city.  It has shopping centers and retailers, small businesses, and other small town attractions.  As it borders Shelby Farms Park, residents benefit from wooded terrains, hiking trails, and a calming environment.
East Memphis is a powerhouse – with an eclectic mix of commercial and residential establishments.  It is surrounded by shops, restaurants, and boutiques. The Lichterman Nature Center, Memphis Botanic Garden, and Audubon Park provide natural beauty to the area.
Frayser has moderately-priced, elegant homes. Located near beautiful Shelby Forest, it is remarkable for its hilly terrain, sweeping trees and 10 local parks within its vicinity.
There are many other neighborhoods that would suit your lifestyle and your budget.  Find the perfect Memphis home for you and your family when you move to Tennessee.
Having Fun in Memphis.  From live music, opera, ballet, Broadway performances, and sports, there is so much to keep you busy and entertained in Memphis. It is also home to a huge number of award-winning restaurants and hotels.
In sports, Memphis has always been a basketball town. You'll have plenty of opportunities to watch the Memphis Grizzlies and the University of Memphis Tigers Men's Basketball Team at the FedEx Forum.  In the fall, the Memphis Tigers kick off the football season over at the Liberty Bowl Memorial Stadium.
Memphis is also the home of rock and roll and the blues which still resonates in Beale Street, Sun Studios, and numerous bars celebrating music.  East Memphis watering holes feature new rhythms nightly while outdoor stages showcase the world's biggest talents every now and then.
Statistics show that more than 10 million tourists flock to Memphis every year. Elvis Presley's Graceland attracts around 650,000 visitors from all over the world.  The Children's Museum of Memphis was named best children's museum by AAA Southern Traveler Magazine.  Mud Island River Park is home of the Mississippi River and features artists like Willie Nelson, Bob Dylan, and Norah Jones in spectacular summer concerts. Shelby Farms Park is the 2nd biggest urban county park in the country and has more than 3,250 acres of park land, 5 times larger than Central Park in New York City.
Fun is always around the corner in the city of Memphis. Plan your own city adventure to celebrate your relocation to this great city.
While planning your move, you will surely have questions about licenses, community services, utilities, homes for rent, and more. Find answers from this list of useful Memphis resources prepared by the Memphis Chamber of Commerce.
You are now ready to start shopping for moving services that suit your budget. Below is a quick listing of the best moving companies in Memphis to help you in planning your move.
12 TOP RANKED MEMPHIS MOVING COMPANIES
CHOOSING BUDGET FRIENDLY MOVERS
In the process of selecting your moving company, you'll need to consider a few more factors other than price.  You'll want to hire movers that offer transparent rates, offer great customer service, and above all, demonstrate reliability and trustworthiness.
A good strategy for measuring a company's reputation is checking their customer rankings and reviews.  They will provide you with a good idea about a company's average customer experience and whether they meet their customers' expectations.
We have listed 12 of the best moving companies in Memphis for your consideration.
LANIGAN WORLDWIDE MOVING AND WAREHOUSING
This premier Memphis moving company serves the Greater Memphis area, Southaven, Oxford, Olive Branch, Jackson, and West Memphis, AR.
Since 1955, the company has been providing local relocation, interstate moving, or international moving, for residential or commercial moves.
It is an interstate moving agent of Allied Van Lines and uses the latest technology for packing and crating.  It also offers modern warehousing solutions.
It is a member of the American Moving and Storage Association and accredited with the Better Business Bureau.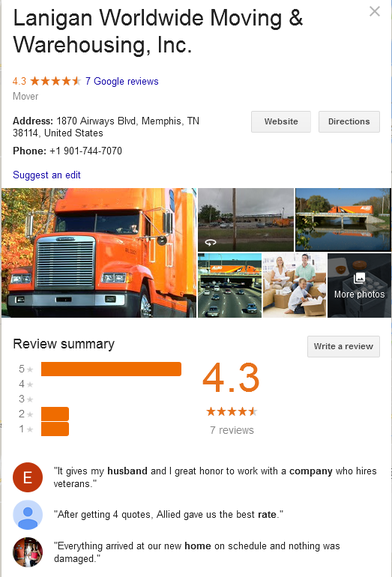 COOPER & COOPER MOVING
This local and long distance moving company in Memphis relocates customers across the South and Midwest and also licensed to perform moves across the continental USA.
As a full service moving company for households or offices, they can move your furniture and other household items and pack your home or office before your moving day.  The company also provides short or long term storage solutions in climate controlled facilities.
It is locally owned and operated and has been a licensed moving company for over 2 decades.
For local moving services, the company offers an hourly rate with a service fee which is applied from the time the crew arrives at your location.  They have a 2 hour minimum charge and a partial hour is prorated.  The hourly rates depend on the number of movers needed to complete your move.  There are no other additional charges on top of the hourly rate and service fee for relocation in the Memphis area.
If making a long distance move, the company performs an on-site assessment to give you a guaranteed flat price.  They can also offer flat rate pricing for packing services.
TENNESSEE MOVING AND STORAGE
This moving company offers Memphis moving services at competitive rates. In fact, they are very confident they can offer a moving plan to suit any budget.
The company has more than 30 years of experience in household and commercial relocation.  They offer packing services, loading and unloading services, container, or GO Mini portable units in Memphis.  They also deliver packing supplies free delivery in Memphis and the Mid-South.
Their workers have Workman's Compensation insurance for protection of customers and also have cargo insurance for all items inside a moving truck.
They service the following areas in Memphis:
The company is accredited with the Better Business Bureau since 2006 and has a rating of A+.
BIG LEAGUE MOVERS
This is a Memphis and Atlanta moving company offers household, commercial, local, and long distance moving services.
It first opened in Memphis and focused on strong customer service.  It is a fully licensed, bonded and insured moving company that serves commercial and residential customers.  It is also accredited with the Better Business Bureau.
The company undertakes a complete inventory of your household items to ensure an accurate and fair moving quote.
You can get full service local or long distance moving services, packing and unpacking, or moving labor only.
ARMSTRONG RELOCATION
Armstrong Relocation is a moving industry leader with experienced and well-trained movers that ensure a smooth move.  Regardless if your move is just down the street in Memphis or another state away, the company is ready to offer you the finest moving services in the Memphis area.
For local, long distance, or international moving, the company offers reasonable rates in exchange for efficient and dependable moving services.
It is an agent of United Van Lines which gives it the network of resources needed even for a complicated move.  It is also a licensed moving company that is accredited with the Better Business Bureau.
COUNTRY CLUB MOVING & PACKING
This is a Memphis moving company offering whole house moving, office moving, piano moving, apartment moving, and packing services since 1994.
They provide moving services in Germantown, Olive Branch, Collierville, and Bartlett as well the whole of Tennessee.
Piano moving is their specialty and they are experienced in moving a piano even on the 3rd floor.  They also boast about their professional packing services as they carefully wrap every piece of item to ensure nothing breaks.
This moving company is accredited with the Better Business Bureau and has a rating of A+.
ALLSTAR MOVING AND DELIVERY
This Memphis moving company is family owned and operated.  As a professional full service moving company, it can deliver residential and commercial moving services with honest and reliable movers.
The company is fully insured and guarantees the safe arrival of your goods at their destination.  Valuables are carefully wrapped and padded without extra charge.
The company offers exceptional services at very affordable prices and no hidden fees.
Their services include moving, delivery, packing, local and long distance moving, and short or long term storage.
BEST MOVING MEMPHIS
This moving company offers high quality moving and packing services at reasonable prices.  Their mission is to have 100% customer satisfaction.  They also sell moving boxes, provide loading and unloading of rental trucks, piano moving services, and short and long term storage.
The company is licensed, bonded, and insured and is a member of the Better Business Bureau with an A+ rating.
The company also has a commercial moving program to handle office or industrial relocation needs.
For small or big moves, this moving company can do the job affordably and efficiently.
BELLHOPS
If you need efficient and affordable movers, you might consider this moving company.  Their service is an ideal solution for those who require only moving labor.
With transparent pricing and fast booking, you can easily schedule your moving day. The company sends profiles of your movers before the pick-up date so you know who to let in your home.  Your bellhops can do everything – packing, lifting, loading and unloading, to get your move done as fast and as efficiently as possible.
They have 80 locations all over the country.
BLACK TIE MOVING
You can get a luxurious moving experience at a very affordable price. This moving company offers local moving, long distance moving, and commercial moving services in Memphis and the whole of Tennessee.
It was founded in 2012 and is now one of the fastest growing movers in the USA.  They provide unrivalled customer service, modern moving techniques, and many five star extras to make your move as smooth as can be.
For local moving, their rates start at $89 per hour. For long distance moves, their rates start at $999. Commercial moving rates start at $99 per hour. Their exceptional moving services already include packing and unpacking, all moving materials, concierge services, and even carpet cleaning.  They will take care of all aspects of your move to ensure the job gets done quickly and efficiently.
TWO MEN AND A TRUCK
Since 1998, Two Men and a Truck has been providing the Greater Memphis and Tri-State areas professional household and commercial moving services.
This moving company can help you move anywhere in Memphis or the USA.  They send their best movers for every local or long distance relocation.
They employ local movers that have a lot of experience in moving within the Memphis communities.   The company has been honored as one of the top 3 Best Moving Service by the Memphis Most Organization.
The company offers full moving services, packing services, loading and unloading, and storage.
MY TOWN MOVERS
This moving company is a full service, local and long distance relocation company.  It aims to make moving as simple as possible. It serves Memphis and Nashville metro areas as a locally owned and operated company.
In the Greater Memphis area including Collierville, Cordova, Germantown, Olive Branch, and Southaven, their team of experienced movers will get your belongings quickly and safely to their local or long distance destination.
Local moving services are charged at hourly rates. For long distance moves, the company provides a flat rate to protect you from price or weight increases.
They have a 2-hour minimum charge for all moves.
These are just some of the top moving companies in the Greater Memphis area. We can help you connect with the right moving company near you for your relocation.
Request your 5 free movers' quotes today to start choosing your moving company for your moving day.
HOW TO FIND THE BEST MEMPHIS MOVERS FOR YOUR RELOCATION
5moversquotes offers free moving estimates from 5 moving companies in your area.
The goal is for you to compare and select the right type of moving service and suitable moving package for your needs and budget.
We understand you are busy planning your relocation and don't want to waste time calling moving companies and getting moving quotes over the phone. That can be totally confusing and could lead to making hasty and bad decisions.
When you fill out our quick online form with your moving details, our moving partners will send you moving quotes you can compare in comfort and ease.
No sales talk and no pressure because our moving quotes are free and no obligation.
Check out the lowest moving rates for moving to Memphis from your location today.