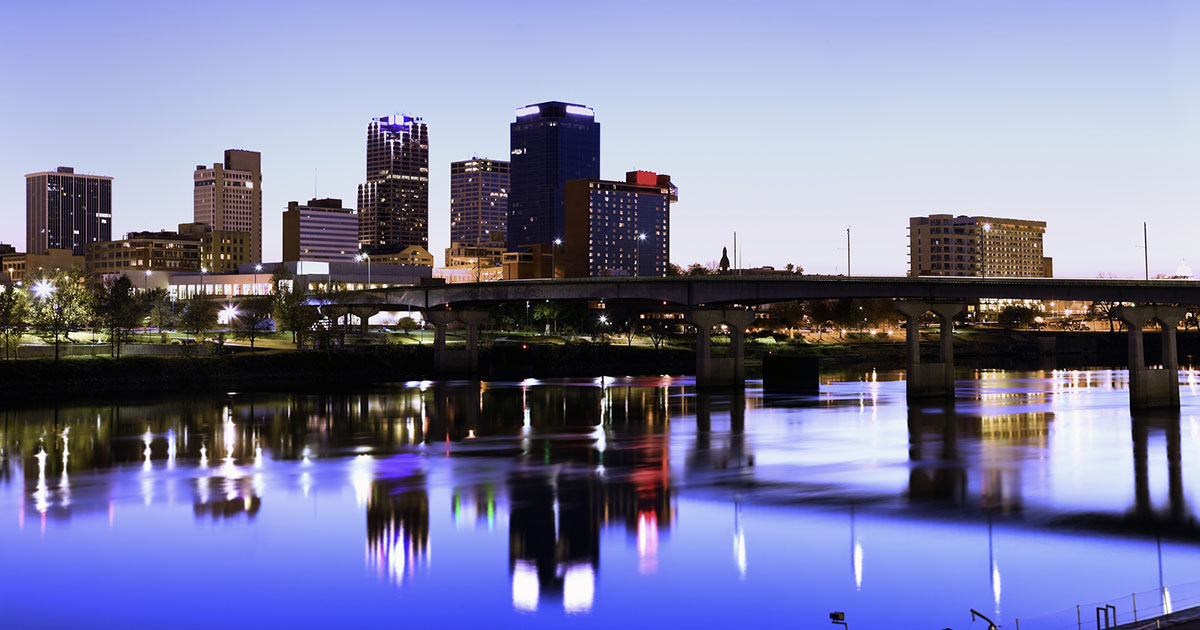 Are you moving to Little Rock, Arkansas?  With many types of moving services to choose from, you need to search for the best Arkansas moving companies to get the best one for you.  You are surely concerned about your moving costs and want to keep it low.  The best way to save money from your move and make sure all goes well is to get 5 free movers' quotes.
Why is it important to obtain free moving quotes to find the right moving company?
Not all moving companies are the same. While they may offer the same types of services, their prices and the quality of their services differ.
Comparing multiple moving quotes online is the easiest and quickest method for finding more affordable moving companies.
You can fill out a quick online form with your moving details and you are sure to receive the lowestpossible moving rates from professional movers in your location.
Moving is always stressful because there is just so many things you will need to do.  When you hire a professional mover, you can let your movers help with your packing, loading and unloading, transport of your household goods, and even transport your personal vehicle.
Depending on your budget, professional moving companies in our network can provide local orlong distance moving services tailored to what you need.
The city may be called Little Rock but the capital of Arkansas is by no means small.  It offers plenty of opportunities for education, business, and entertainment within its borders.
Based on CNN Money's report, the city has 3.7% lower cost of living than the US national average, making it quite affordable to live here.  Housing costs are also reasonable with rentals for 1-bedroom units available for as low as $575 to $900, depending on the location.
Many of its residents are employed in the retail or marketing technology sectors.  There are big employers namely Dillard's Department Stores, Acxiom, the University of Arkansas Little Rock, and more.
Summers are hot and winters really cold but with almost no snowfall.  Moving companies get booked pretty quickly during peak season such as the start and end of the school year.  It is a good idea to plan ahead and book your moving date early.
There are dozens of residential districts with family friendly areas like Hillcrest or the Heights.   McArthur Park features historical homes.  Apartments and condos congregate in Riverdale where the view of the river is scenic.  Most students prefer to settle near Midtown.
No matter where you choose to live in Little Rock, we are sure to have the best movers to help with your relocation.
Obtain your 5 free movers' quotes to start your search for the best moving companies in your area. Compare and select the most affordable moving solution for your relocation.
TOP MOVERS IN LITTLE ROCK FOR LOCAL OR LONG DISTANCE MOVING
When choosing your moving company, it pays to compare not only moving rates but average customer experience, customer service, experience, and reputation.  Below are some moving companies serving Little Rock to be your guide in evaluating a moving company.
MUSTARD SEED MOVING OF ARKANSAS
This moving company offers a variety of moving services including residential, commercial, piano moving, and more.
They are licensed and bonded so you get peace of mind that you are working with a reputable organization.
The company offers $57 per mover for one hour, $97 per hour for 2 movers and $127 per hour for 3 movers.  The total time charged is rounded up to the next minute and not the next hour for transparency.  This means you only pay for the exact time it takes to complete the job.
The 26' ft. moving truck, fuel, and moving supplies such as blankets, plastic wrap, dollies and basic insurance are already included in the rates.
For moving outside of Little Rock, moving cost is calculated at $.77 per mile to cover fuel.  For third floor moves, there is an additional flat charge of $27 per location.
ALL MY SONS MOVING AND STORAGE
This Little Rock moving company strives to exceed customer expectations with every move.  As a family owned and operated moving company, they have 4 generations of history in the industry and has earned a reputation for being dependable and trustworthy.  Their office services Maumelle, Sherwood, Bryant, Conway, and other cities in the metropolitan area.
They determine the size of your move and supply the proper movers and equipment to ensure a fast and efficient relocation.
This is a full service moving company offering residential and commercial moves, local, and long distance moving, and professional packing services and storage.
MERCHANTS TRANSFER AND WAREHOUSE CO.
This moving company doesn't use a one size fits all solution because they know every move is unique.  They personalize each detail to suit customers' needs and budget.
As a United Van Lines agent, they offer affordable quality moving services for local, national, or international moving.  They also provide convenient storage solutions for homes and businesses.
ADMIRAL MOVING SERVICES
This Arkansas moving company can be depended on for relocating anywhere in Arkansas.  Since 1980, it has helped thousands of families and offices move in Fayetteville, Bentonville, Springdale, Ft. Smith, Little Rock, and Conway.
It is affiliated with Mayflower Transit, one of the country's largest and oldest moving companies.  As a Mayflower agent, it is backed by a huge network of resources to undertake any type of move.
It provides household or commercial moving in Little Rock, anywhere in Arkansas, or across the United States.
RON'S DELIVERY AND MOVING
This is a family-owned and operated moving company that provides high quality customer service for residential and commercial moving.  They also provide professional packing and complete packing materials.
Their movers pad all your furniture and possessions to ensure their protection.  Their goal is to go beyond industry standards to be the best movers in the area.
The company offers moving services, foreclosure cleanups, delivery, junk hauling, and clean out services.  They can be depended on for local and long distance moving, interstate moving, loading and unloading services, and packing.
DANIEL MOVING AND STORAGE
This moving company is a full-service mover offering full service moves, packing, crating, moving supplies, residential and commercial moving, and storage.
It is a family owned company in Little Rock with over 50 years of experience in the business.  It is also an Allied Van Lines agent and has the necessary resources for delivery a quality move in Arkansas or around the world.
BLUE TRUCK MOVING
This moving company provides professional moving, packing, storage, and delivery services in Arkansas, Texas, Louisiana, Mississippi, Alabama and Tennessee.  They specialize in residential and commercial moving.
For household moving, they can load a rental truck if you prefer a do it yourself move. They can transport your belongings across town or deliver a complete full service packing service.  They can also handle your move from start to finish for a hassle-free moving experience.
BRANDON MOVING AND STORAGE
This moving and storage company has been providing high quality residential and commercial moving services in Central Arkansas since 1965.  Their moving solutions are sure to fit your needs, schedule, and budget.
As a Bekins Van Lines agent, it is equipped and experienced in handling residential moves, office moves, local or long distance moves, and packing and storage.
It is a member of the American Moving and Storage Association and is accredited with the Better Business Bureau with a rating of A+.
ALL THE RIGHT MOVES
This moving company is family-owned and has been in business since 1994.  It is a Little Rock mover and has been serving families and businesses for almost 20 years.
Whether moving across town or cross-country, the company can help you with packing services, crating or shipping, antique and furniture delivery, full service moving, and storage.
DOSS MOVING AND STORAGE
This moving company offers affordable moving solutions for relocating locally, long distance, or internationally.  They provide full service packing, fragile only packing, custom crating, vehicle shipping, piano moving, and loading and unloading services.
The company has more than 40 years of experience in providing moving solutions in Little Rock, Conway, and surrounding areas.
If you are in between moves, they also offer affordable and safe storage solutions.
This company is an agent for North American Van Lines and can be depended on for any type of move.
FIXED RATE MOVING
This moving company is a one-stop source for moving solutions. Whether you are moving across the street or from coast to coast, you are sure to receive extraordinary services at a great price.  For more than 10 years, the company has been a top-rated mover for Little Rock and surrounding areas.
The company provides residential and commercial moving and storage solutions.  For long distance moving, they provide door to door service and take full control of your inventory to make sure your goods are safe at all times.  Their rates are binding and guaranteed so you always know exactly what you will pay for. They have no hidden fees and don't abide by the 10% additional charge rule like other movers.
TWO MEN AND A TRUCK
This moving company in Little Rock has been serving the area since 2009.  As "Movers Who Care", their goal is to deliver a seamless relocation to every customer.
The company is part of a national franchise with locations all across the country.  They specialize in residential moving, professional packing, commercial moving, and more.
For long distance moving, their team of experts can expedite your move so that you receive your goods as quickly as possible.
This company is licensed and insured and accredited with the Better Business Bureau.  It is also a member of Little Rock Regional Chamber and North Little Rock Chamber of Commerce.
These are just 12 moving companies serving Little Rock, Arkansas.  To compare actual moving rates for moving to Little Rock from your current location, request for 5 free movers' quotes today. We have more than 200 moving partners across Canada and the United States who can help you obtain a stress-free moving experience.
With these no obligation quotes, you can safely and conveniently shop for the best moving package for your relocation.