MOVE TO JACKSON, MISSISSIPPI WITH EXPERIENCED RESIDENTIAL MOVERS
Jackson is the capital and biggest city of Mississippi State.  It has been named as the best "Bang for your Buck" by Forbes Magazine among America's 100 largest metro areas.  This means that Jackson scores high in overall affordability, housing rates, and cost of living.
If you are planning to relocate to Jackson or even just considering it, there are ways to make your move simple and affordable. You are surely concerned about the efficient and safe transfer of your household belongings.  You would also want to get reasonable moving rates to keep your expenses down.
The best way to find an efficient and affordable moving company is to use 5 free movers' quotes.   These no obligation moving quotes will help you compare moving rates, analyze moving packages, and enable you to choose the best one for your needs.  It is so easy; just fill out our quick online form and you will surely receive low moving bids from professional movers near you.
To make your relocation successful, you will need to do careful planning starting with your choice of mover.  This is critical because your overall moving expense will depend on which moving company you hire.
It is also important that you prepare for your move by getting to know your new city, becoming familiar with a new way of life, and getting yourself ready for a new home, and a new job.
We have prepared a short guide to Jackson, Mississippi which has all the essential things you need to know before your move.
We have also included a review of Jackson Moving companies to serve as your guide in choosing a moving company.  You can learn about the different types of moving services they offer and even read what customers think about their service.
But before planning your moving day, get to know your new city first.
ESSENTIAL MOVING FACTS FOR JACKSON, MISSISSIPPI
The city is named after Andrew Jackson, a US Army general who later became the 7th President of the United States.
Jackson is located atop Jackson Volcano.  The volcano's peak is 2,900 feet below the Mississippi Coliseum.  Jackson is the only capital city in America that can claim to have a volcano below it.  But don't worry because the volcano is dead and has not erupted in more than 75 million years.
The city experiences a humid subtropical climate. It has hot and humid summers but winters are mild.  It rains the whole year round although spring and winter are wettest seasons. There is rarely any snowfall.  It lies in a region that is prone to severe thunderstorms with resulting hail and tornados.
In 2014, the city had a population of 174,382.  Majority of residents are Black or African American.
The city is famous for its southern hospitality and southern cuisine.  Biscuits and gravy, shrimp and grits, and deep fried bread and butter pickles, and fresh catfish are just some examples of the kind of local cuisine you will enjoy here.  You will also be glad to know that Jackson was voted #7 Friendliest City by CN Traveler so you are sure to have good neighbors around here.
It has been the capitol city since 1944 and you will see gorgeous architecture such as the Governor's Mansion and the City Hall.  But while it is the largest city in Mississippi, it has retained its small town atmosphere.  To this day, it still has a slower way of life and family oriented and friendly communities.
The city also has a grand Mississippi Farmer's Market.  You can find all the freshest ingredients and produce to create delicious southern meals.
To become a new Mississippi resident, you'll need to accomplish a few tasks such as registering your vehicle and getting a driver's license.  You'll also need to register to vote in your county.
You have 30 days upon arrival to register your out of state vehicle or renew your license.  Failure to do so could cost you $250 in penalties.
JOBS AND COST OF LIVING IN JACKSON
Considered as the Best of the New South, the city of Jackson is a vital business force in the state of Mississippi.  Its success in attracting high paying industries can be attributed to the city's attractive workforce and good quality of life.
Jackson has several major industries such as electrical equipment and machinery, processed food, fabricated metal products, and agricultural development of poultry, cotton, soybeans, and livestock.  Some of its important employers include the State of Mississippi, University of Mississippi Medical Center, Nissan North America, the United States Government, and the Rankin and Jackson Public School Districts.  It also has 4 publicly listed companies – Ergon, Trustmark Corp, Eastgroup Properties, and Cal-Maine Foods.
It was listed in Forbes Magazine as the 3rd Best Bang for your Buck City.  While Jackson has a relatively low personal income rate per capita, its lower cost of living compensates for lower wages when compared to other US cities. Despite lower income, Jackson residents rank as one of the highest metro areas with charitable contributions.
The metropolitan area has 16 banks, 4 of which are based in Jackson.  Government jobs from municipal to federal employ around 40,000 residents.  Manufacturing is still an important sector with around 500 manufacturers in the area.  Other important sectors include healthcare, distribution and trade, telecommunications, and travel and tourism.
SmartMoney Magazine reported that the city of Jackson has the most underpriced housing market which means it costs less to invest in real estate in the city.
The average home price in Jackson is $95,000.
MOVE TO JACKSON, MISSISSIPPI TO STUDY
Jackson is also a popular choice for students from all over the country.  The city offers many great choices for higher education while its low cost of living makes it an affordable choice for students.
The city is the headquarters for the largest HBCU in the state and the only doctoral-granting research university in the region – Jackson State University.
Other colleges and universities include Antonelli College, Bellhaven University, Millsaps College, Mississippi College School of Law, Tougaloo College, and Virginia College, to name a few.
The city also operates 60 public schools and is one the biggest school districts.  Jackson Public Schools is the only urban school district in Mississippi.  It also has several private primary and secondary schools.
ENJOY SOUTHERN LIVING IN THE CITY WITH JACKSON ARTS AND CULTURE
Jackson is famous for its music such as Gospel Blues and R&B.  Notable musicians come from Jackson and there are many music venues across the city featuring live music.
Downtown offers attractions such as the Mississippi Museum of Art, the Mississippi Sports Hall of Fame, the Jackson Zoo, Alamo Theater, and the Mississippi Fairgrounds and Coliseum.
The city also hosts a number of festivals during the year including Crossroads Film Festival, the Celtic Fest Mississippi, and the Mississippi State Fair in October. Held in Jackson, the Mississippi State Fair features fun activities for the whole family with name performers, rides, exhibits, and hundreds of vendors.
The state fair is not the only big party around here.  You can enjoy the local cuisine at the Taste of Mississippi or the Dixie National Rodeo, the Gumbo Festival, and the Latin Festival.  This is just the tip of the iceberg.
The city didn't get the name City with Soul for no reason.  Feel the spirit of the Civil Rights Movement when you visit Smith Robertson Museum and Cultural Center.  Or you could lose yourself in the magic of world-class Mississippi Symphony Orchestra.
With more than 300 restaurants in the city offering anywhere from down home southern cooking to international cuisine, there is so much to taste, experience, and enjoy in Jackson.
BEST JACKSON NEIGHBORHOODS – WHERE TO LIVE IN THE CITY
Jackson is a comparably large city in Mississippi with 50 constituent neighborhoods.  It is not predominantly blue collar or white collar but rather has a mixed workforce.  Majority are service workers, sales and office workers, and professionals.
You'll discover that the city has a high number of young, single, educated professionals.  Many singles regard the city of Jackson as a great place to live without being in a huge city where life is too fast.
Here are some of the most expensive neighborhoods in Jackson.
Lakeland Drive has an average home price of $347,134, 99.7% more expensive than other Mississippi neighborhoods.  Average rental price in this area is $1.473. It has medium sized or large single family homes and townhomes.  Many properties are older and well established and owner-occupied.  Many of the residents are wealthy and upper level career executives.
Bellhaven has small to medium sized homes and small apartment buildings.  It has a mixture of owner occupied and rented residences.  Most of the homes here are older, built from 1940 to 1969.  The average home price is $216,870, which is 96.3% higher than other neighborhoods in Mississippi.  It is an ideal choice for college students due to its low crime rate and walkability.
County Line Rd features small studios to medium sized apartment complexes and single family homes.  Many of these residences were built from 1970 to 1999.  Some of the properties are owner occupied while others are rented.  The average home price is $166,021 while average rental price is $1,127.  It is a commuter neighborhood, with a high proportion of residents commuting daily.  It is a middle-income neighborhood.
Jamestown Way features medium sized to small single family homes or high rise apartments.  Most of the properties were built from 1970 to 1999.  The average home price is $140,798 while average rental price is $1,017.  This is a lower middle income neighborhood.
Hanging Moss Rd features medium sized to large single family homes and high rise apartments.  The average home price is $136,240 while average rent is $1,004.  If you are a professional or executive and want a neighborhood offering such a lifestyle, this neighborhood may be your ideal choice.  It also has a great mix of spacious homes and some of the residents are wealthy managers and professionals.
These are but some of the best neighborhoods in Jackson, Mississippi.  No matter where you choose to settle here, we surely have the right relocation company to relocate you safely and affordably.
CHOOSE YOUR JACKSON MOVING COMPANY – REVIEW OF MOVING COMPANIES
To have a successful relocation, it is important to identify what type of moving service you need and how much you can afford to pay.  By setting your budget, you can plan your moving expenses accordingly and make adjustments.
You'll be happy to know that professional moving companies understand about your budget and allow you to choose custom moving services that suit your needs.
You can choose a full moving service which is their premium service. This means your movers will do everything from packing, to disassembling and re-assembling your furniture, all the heavy lifting, loading and unloading, and the transport of your goods to your new location.
You can also choose only partial packing services, or just hire a moving truck package with helpers.
Below are some of Jackson's moving companies and their moving services. This review will give you a clear idea of what movers offer and charge their customers for local or long distance moves.
BOB WOOTAN MOVING & STORAGE
This is a family owned business in Jackson, MS since 1952.  It is an expert in packing and crating.  They guarantee that their services are delivered with integrity and professionalism and consider your needs as a priority.
It handles local and long distance moving and is an agent of North American Van Lines.
The business is accredited with the Better Business Bureau since 1964 and has an A+ rating.
COLLEGE HUNKS HAULING JUNK AND MOVING
This is a full service local and long distance moving company offering residential and household moving services in Jackson and surrounding areas of Lake County.
They handle home moving, office moving, packing, storage, and moving supplies.  They also provide moving labor only for furniture re-arrangement or transfer or other moving needs.
The company also picks-up items you want to donate.  Their team will sort, pack, and haul them.
E-Z MOVING COMPANY
This reputable, family owned and locally operated moving company delivers relocation services within 1200 miles.  They handle home moving, apartment moving, commercial or office moving.  They also provide safe and fully insured storage for short term storage needs.
They can provide complete moving assistance for local, long distance, or intrastate moves.  With more than 36 years of experience, they can deliver an excellent relocation service to your total satisfaction.
They safely move antiques, electronics, motorcycles, and other valuable equipment.  They can load and unload moving trucks and help with cleaning pre-move or post move.
McCorquodale Transfer, Inc.
This moving company began in 1995 specializing in antiques moving.  From high end antiques, the company expanded its services to include residential and commercial moving.  Today, it has offices in 4 locations – Birmingham, Jackson, Charleston, and Atlanta.
The company also offers excellent storage solutions where they wrap, catalogue, and containerize your goods for safe storage.
Their suite of moving services include apartment moving, residential moving, office moving, interstate moving, art and antique moving, and storage.
MISSISSIPPI VAN LINES
This is a family owned and operated moving and storage company since 1938.  They strive to provide quality moving services at affordable prices.
The company specializes in intrastate moving, interstate moving, local moves, office moves, and storage.
The company has been accredited with the Better Business Bureau since 2002 and has an A+ rating.
MY TWO MOVERS
This moving company supplies moving labor only.  This means you rent the moving truck and they will provide the movers
They specialize in small moves such as apartment moves.  They will take care of all the loading and unloading and can provide professional packing.
They have a very upfront pricing – $32 per mover, minimum of 2 hours plus travel fee.
This moving company could be your ideal choice if you only need helpers for packing and the heavy lifting.
TWO MEN AND A TRUCK
This moving company has been serving the metro area since 1999.  It now operates 12 trucks and employs 40 full time movers.  They provide excellent residential and commercial moving services for local or long distance moving.
Their goal is to customize their services to your specific needs. They are equipped to move apartments, condos, homes, and all kinds of moves.  They can make your home or office relocation stress-free and affordable.
For long distance moves, they provide expedited moving services.  They load your belongings and drive them straight to your new address where they also unload your items.  You will be working with the same team of movers from start to finish.
They service the areas of Ridgeland, Madison, Brandon, Jackson, and Flowood.
STORAGEMAX NORTHTOWN
This is a convenient self-storage company in Mississippi and Alabama.  They provide affordable secure self- storage solutions at affordable rates.  They offer a unique service – free moving trucks- to customers who will avail of their storage units.  This means you can use their moving truck, free of charge, to transfer your household goods into a safe and secure storage unit.
They provide household and commercial storage, RV storage, and boat storage.
But that's not all. They want to make your moving process easy and simple so they also offer boxes, locks, and moving supplies including bubble wrap and wardrobe boxes.
This one-stop moving and storage company is the best option for DIY moving.
SOUTHERN HERITAGE TRANSFER & STORAGE
This moving company provides various moving services including:
long distance moving
international moving
national moving
corporate relocation
residential moving
interstate moving
intrastate moving
packing services
It is an agent for Allied Van Lines and can help relocate you anywhere you need to go.  Their innovative services and advanced technology simplifies the moving process and keeps it affordable.
ARMSTRONG LOCAL MOVERS
This company is a member of the Armstrong Relocation & Companies.   It has branches in various states including Alabama, Georgia, Kentucky, Colorado, Mississippi, Ohio, Texas, and more.
Beginning in 1922, this family owned company has grown from its humble origins to a success story.
It is also a hauling agent of United Van Lines.  It is also a member of the American Moving and Storage Association.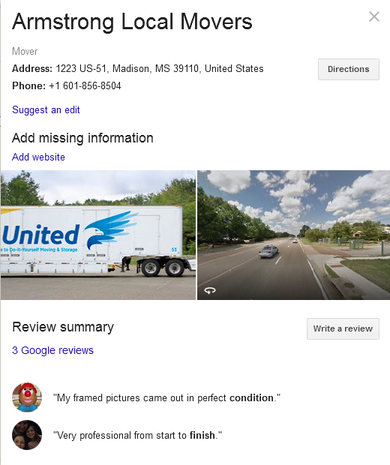 These are but 10 of the moving companies to be found in Jackson, Mississippi. You can compare actual moving quotes based on your current location and destination if you request your 5 free movers' quotes.
We invite you to fill-out our short online form with your moving details. You are sure to hear from 5 professional moving companies near you who can provide the type of moving service you require.
Our local and long distance moving partners are all licensed and insured for your protection and peace of mind.
We wish you a pleasant moving experience to Jackson, Mississippi.