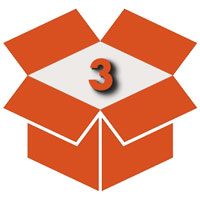 Does the trader have the right to operate heavy vehicles?
The Commission des transports (CTQ) is responsible for registering operators and
owners of heavy vehicles.
It must also deal with the evaluation of individuals judged to be at risk due to their conduct. Thus, the CTQ has the right to prescribe conditions in order to smooth out the defects observed.
The commission can, therefore, in the worst cases, impose a prohibition on the sale of heavy vehicles or even exploitation.
Americans and operators or owners of heavy vehicles must register with the CTQ.
This means that if you want to see if your mover (using one or more heavy vehicles) is registered in the mandatory CTQ register, here is the procedure:
1. First check with the mover (on their website or by phone) for their type of license or their Quebec Business Number (NEQ).
2. Then use the form for verification of a record of the CTQ
3. Complete the fields with the information you have obtained.
4. Click on "search".
5. If you do not have a result, simplify your search by putting only a fraction of the name of the moving company and try again.
6. You will be able to see the address, the company name, the NEQ, the company name, the NIR, the registration date, and the security clearance of the company.
For example, after consulting the fact sheet of one of our long-standing partners, Déménageur Côté which is located in Quebec City, we found that its Security Rating was Satisfactory.

Here is their record: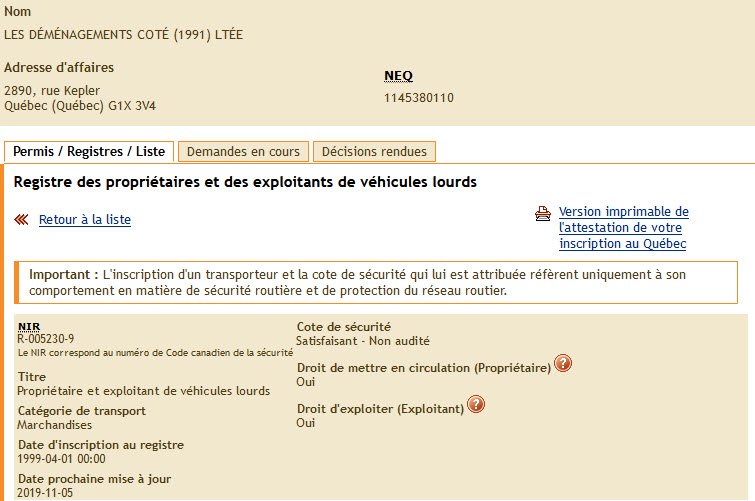 Record of moves on the CTQ register.
Source: Commission des transports
Did you know that Déménagement Côté is among the top 5 luxury movers in Quebec?