21 avril 2016,
You are moving to Los Angeles – the City of Angels – and for plenty of good reasons. It is the second biggest city in the United States, being home to millions of residents who are proud to be part of this exciting and vibrant city. But with its close ties to the entertainment world, and its perpetually sunny and mild weather, people simply love wearing flip-flops all year round, living in close proximity to the beach, and having a more casual and relaxed way of life. Definitely, you can forget about wearing winter clothes ever.
Of course you are moving here because you have terrific plans for your career and your lifestyle. Every year, thousands of people of all ages pack up and move to LA, from budding screenwriters and aspiring actors to young tech geeks. But before that happens, you need to first plan your move to LA. How can you move at the least cost possible? How can you avoid being stressed out or forget important stuff you need to do before moving day?
Don't worry, we have compiled for you a list of the best Los Angeles moving companies for your comparison and what their customers have experienced about their services, moving tips to consider and Los Angeles facts you would want to know before you arrive.
At 5 Movers Quotes, we aim to give you access to the best Los Angeles movers at the best prices, moving tips to help you save money and be prepared for the exciting life ahead of you.
We are your one-stop moving guide to accomplish the best move to this fabulous city.
LIVING IN LOS ANGELES – WHAT'S IN STORE FOR YOU?
Unlike other US cities like New York, life in the City of Angels is more relaxed. To say that people here have a surfer's attitude isn't exaggerating at all. People live so close to the beach that it is almost impossible not to adopt a more laid-back lifestyle. The population in La is also one of the most ethnically diverse in America.
Although the city's residents are known to live pretty exciting and glamorous lives, the cost of living here is much lower than Chicago or New York City.  It is almost half the average rental prices in the Big Apple.  Los Angeles moving companies also charge much lower rates compared to other states.
As the world's entertainment capital, Los Angeles is a place where people dream big.  But of course, the economy of Los Angeles has also seen a rise in jobs in fashion, tourism, and professional business services.
The city is the biggest manufacturing hub in the United States, with more than 500,000 employed in various activities.  It also has the largest port and is a major player in international trade as evidenced by more than 50 international companies with headquarters in the city.  Its banking and finance sector is massive, with the presence of foreign banks and investment companies.
You may be surprised to find more than 80 neighborhoods sprawling around the city.  Hollywood and Beverly Hills aren't the only choices – there are options in Santa Monica, Malibu, Pasadena, and Pacific Palisades.  Neighborhoods adjacent to the coast are very popular choices.
If you want to know where to start looking for affordable homes to rent in LA, you can find out the best neighborhoods at http://maps.latimes.com/neighborhoods with accompanying data and statistics.
Moving tips to consider before moving to LA:
Check out the date you plan on moving, especially if you are bound for Hollywood or Beverly Hills.  Surrounding areas can be cordoned off during an event such as a movie premiere or an awards night.  The Oscars and the Golden Globes are frequently held here and traffic can be a nightmare.
As with most metropolitan areas, the traffic here particularly on major highways is the worst during rush hour.  On Fridays, the traffic is pretty bad so it is probably not the best day to move.
Temperatures in LA can be really hot in some days especially around August and September.  It would be a really good idea to be dressed for warmer weather.
Moving with experienced and professional movers in Los Angeles is a great way to make your move as smooth and hassle-free as possible.  Get multiple quotes from moving companies so you can compare moving companies' prices and services to suit your needs and budget.
Rates of professional Los Angeles moving companies drop around winter and fall so if you can move during off season, you could really lower your moving expenses.  Rates during weekends also tend to be high.
If you are thinking of doing your own packing and don't have a lot of experience with packing fragile items like china and glassware, here's a video from a professional moving company about packing fragile items like a pro.  Protect your delicate items as movers aren't liable for damage to items they didn't pack.
LA Moving Companies – Compare Moving Rates and Services
The most pressing question you probably have right now is how much it will cost to move to Los Angeles from your present location. Many people move here from thousands of miles away so long distance moves from all parts of the United States are not uncommon. What is the easiest and most affordable way to get that done? The good thing is YOU have the power to make that happen – by choosing a reputable moving company that offers flexible and affordable moving rates and by adopting some simple measures to reduce your moving expenses.
Generally, you have 3 options for your move.
You can opt to hire a moving company for a full moving service that takes care of everything for you
Get a customized moving service for only moving truck and crew while you do all the packing and unpacking
Have a Do-it-yourself-move from companies such as U-Haul where you do mostly everything.
It is important for you to determine which type of move best suits your budget and situation. Are you moving from a one-bedroom apartment or a 2-bedroom apartment with a lot of furniture and appliances? Do you need to move on a very tight budget or are you open to spending more for your move in order to have a more stress-free move?
The following list of movers in Los Angeles and what customers have to say about their services will give you a better perspective of your moving options. After reviewing this list, you will have a good idea of moving company costs on average.
TAKE STAR MOVING
This moving company is relatively new, having started operations in 2012. It offers moving services, delivery services, junk removal and hauling. It offers guaranteed flat prices to its customers rather than hourly rates which can be uncertain.
For $125, you can get a 10' truck/van with one helper for 2 hours. For $195, you can get the 10' truck with 1 helper for 3 hours.
ROYAL MOVERS
This moving company is family-owned, licensed and fully-bonded and offers rates that have no hidden fees but with FREE PACKING.  It offers local, long distance moving, office moving and storage.
The company offers all inclusive rates for small moves with 2 movers and a small truck that also comes with packing and unpacking, assembly/disassembly, basic insurance, no truck or gas fee and taxes included.  It also offers standard moving package that includes a big truck with 3 movers and the same amenities.   For big moves, they offer a package with a big truck and 4 movers and all the same amenities.
FIVE STAR MOVING COMPANY
This Los Angeles based movers offers commercial and residential moving services. This company is licensed and insured and guarantee a smooth move with their professional moving specialists. They serve Manhattan Beach and its surrounding areas.
You can get savings with their redeemable vouchers for $20. You also get free bubble wrap with your moving quote.
EXCALIBUR MOVES
This moving company specializes in household moves. With more than 14 years of experience, it has knowledgeable and trained staff to guide and help you during your move for affordable fees.
For local moves less than 100 miles, rates are on an hourly basis so you can save money. For long distance moves, the moving cost is based on the weight of your cargo and the distance of travel. You can opt to get their full moving service including packing your valuables or simply get them for transport of your belongings.

ADEPT MOVING COMPANY
This moving company was founded in 1998 and enjoys an A+ rating with the Better Business Bureau. This company is licensed and fully insured so you get peace of mind when you hire movers. It also offers one of the lowest moving rates based on hourly rates and number of movers. At $59 per hour (Cash), you get 2 movers complete with blankets and moving pads, loading and unloading, tools and straps. If truck is required, an additional flat fee is charged for truck and gas. At $89 per hour (cash), you get 3 movers with the tools and equipment to do the work for you like loading and unloading. You can get a truck for an additional flat fee.
Hollywood Moving Services
This licensed and insured moving company has been in business since 2001. This is a local residential and commercial moving specialist with very low rates for its customers. They also sell all packing supplies such as boxes, felt guard, newsprint, dish pack boxes, tape and plastic bags.
You can choose to get labor only or truck and labor, depending on your needs and budget.
Mario Moving
This moving company can help you with a local move or cross country move for your home or business. They offer basic services or full service relocation.
For $59 (cash) o $69 (credit) on hourly basis, you can get 2 movers to do the job. For an extra $10, you can get 3 movers.
They offer full service packing, fragile packing, packing supplies, and crating. So if you are looking for movers who pack for you, this company can definitely do the job well.
ABC Moving Systems
This professional moving company established in 1993 has been serving Los Angeles families and businesses. Offering household moves, commercial moves, storage and packing services at fair prices, their repeat customers are proof of their excellent services.
The company specializes in office moves, with half of their work moving businesses in Southern California. Rated A+ by the Better Business Bureau, you can depend on this moving company to make your office or household move smooth and affordable.
If you are moving to or from Sta. Monica, Malibu, Pacific Palisades, Calabasas, Beverly Hills, Agoura Hills, Westlake Village and Los Angeles, check out this moving company.
NorthStar Movers
This moving company is headquartered in Los Angeles but can move your household or business anywhere in California. They can do your packing or you can opt to pack yourself. The company also offers storage in case your new home isn't ready yet or doesn't have adequate space for some of your valuables.
Since 1994, this moving company has serviced local and long distance or international moves and won many awards in the process. In Angie's List, it was given the 2015 Super service award under category of moving. It is also one of the largest family owned businesses as ranked by the San Fernando Valley Business Journal.
Their rates for local moves are based on moving crew required and the distance to be travelled between old and new addresses. Check out their celebrity moves and luxury packages.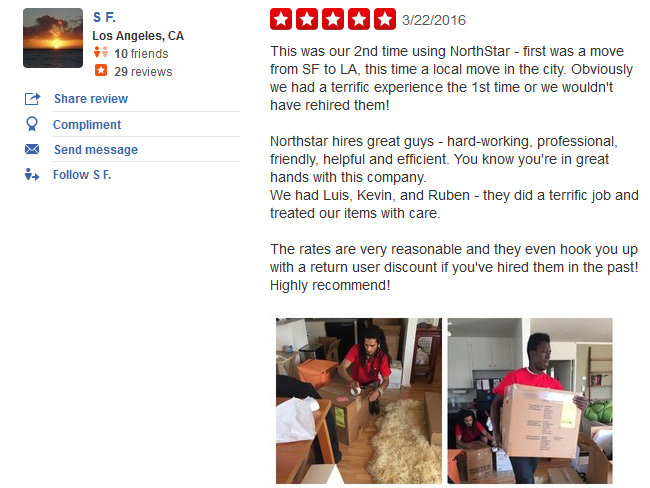 Pure Moving Company
This moving company specializes in local, commercial, and long distance (California moves only) moving services. They take pride in a transparent and honest billing system, with no hidden charges or additional fees for stairs, assembly/disassembly, wrapping, mileage, or long walking distance.
The company offers very reasonable rates which include everything – truck and gas, blankets, wardrobe boxes, dollies and shrink wrap and tape. Check out their rates below.
CALSTATE MOVING AND STORAGE
If you are looking for reliable and honest movers, check out this moving company. It can help you with packing and moving your household with state of the art equipment to keep your valuables safe and protected.
It has been in business for more than 10 years and has served countless residential and commercial clients in LA.
For local moves, their charges include free use of equipment, free in-home assessment, and packing supplies. The company can also provide a guaranteed flat rate for a long distance move. It has offices in Orange county, San Diego, and Los Angeles.
Man with a Truck Moving (MWAT)
This moving company started in 2005 as a local Los Angeles movers and delivery company from Culver City. It specializes in small, medium and large size apartment moves, commercial moves, and specialty moves serving Los Angeles and surrounding areas.
For small item special moves, they charge $220 for 2 hours with 2 movers which include a moving van, loading and unloading and packing services. This is idea; for small loads such as small furniture and boxes.
For residential moves, they charge $105 per hour for 2 movers and $130 per hour for 3 movers, and $160 per hour for 4 movers, with moving truck, supplies. Mileage fee will apply and boxes are extra.
They promise no hidden fees and on time and high quality service.
ALL IN MOVING SERVICES
This professional moving company started in 2005 and has quickly built a reputation for good customer service and affordability. They serve Los Angeles and surrounding areas.
Their all -inclusive rates include a truck, free wardrobe boxes, blankets, tape, stretch-wrap and no additional charges for fuel and mileage, stairs/elevators, wrapping and taxes.
They service local and long distance moves, commercial and residential moves.
Get Moved Today
This business has the best movers and with more than 5 years of experience in relocation, the company makes sure to train its movers well. As a premiere moving company, it has offices in Miami and North Hollywood in LA. With these 2 locations, they can offer affordable moving rates for long distance moves between these locations. Moving trucks don't have to charge return trips as they can be kept in 8 other locations in California and Florida.
If you are moving within Los Angeles or out of state to Florida, you might want to consider these movers. They also do packing and offer storage for your convenience.
Meathead Movers
This Los Angeles County movers offers local and long distance moves. Established by 2 brothers in 1997, it grew from a moving labor company to a full moving service company. Today, the company has its own storage facilities with state of the art equipment and has become the largest independent movers in California.
Aside from local and long distance moves, the company also has Princess Packers and senior moving services. It offers written estimates free of charge and not to exceed quotes that they always honor. Check them out.
MELROSE MOVING
This top moving company in LA can be booked in advance or even at the last minute. They provide total moving packages for household and office moves. If you are looking for reasonable moving rates without compromising service or efficiency, you would do well to consider this company as they offer flat rates or hourly rates, depending on what suits your needs and budget. As a matter of fact, the company is prepared to beat any competitor's reasonable moving estimate.
The company has been in business since 2000 and services all of Los Angeles and Orange County.
10 Things You Must Know Before Moving to Los Angeles
Public transportation is almost non-existent.
If you are coming from a city like New York where public transport is 24/7 and goes everywhere, you may be in for a shock. In Los Angeles, where you live matters a lot or you might be living in your car going to work or dreading the thought of meeting friends even when they live close by. Many people have opted for Uber to go places to avoid the expense of parking, car maintenance, gas, and DUI tickets. If you can afford it, have a car because the reality is, Los Angeles' wide roads were designed for cars.
Liquor is sold everywhere.
In some cities, liquor is sold only in liquor stores. In LA, supermarkets and mini-marts sell liquor.
Food delivery is not reliable and choices are few and far between.
If you live on food delivery, you may have to re-think your options. This isn't like New York City where you can have everything delivered. The fact is that everything is spread out that it could take at least an hour for anything to be delivered to you, even if it is only a few minutes' walk. You might want to choose a neighborhood where you can easily walk to eating places you care to run to for food.
Be prepared for long commutes to go anywhere.
You might GPS the location of a place you need to go to and estimate it is about 20 minutes but better add another 30-45 minutes to your travel time.  Traffic in Los Angeles, especially going downtown, is absolutely horrendous.
Penalties for traffic violations are harsh.
There may be cities in the US where traffic laws are options but in Los Angeles, they actually demand to be followed.  Coasting past a red light is going to cost you – and cost you plenty.  A ticket could be as high as $500, mailed to you complete with a photo of your daring escapade.
Don't get an apartment anywhere near highway entrances.
In time, you might get used to playing Candy Crush while sitting in traffic but living it day after day is probably not something you would want to do.  Entrances to highways are a maddening sight especially during rush hour and not an inspiring view to look at from your window every day.
Love Flea markets.
There's one every week and you can get amazing finds and save money when you shop for furniture and other stuff in flea markets.  It doesn't sound glamorous but it will help you get more out of your money.
Live on incredibly fresh and gigantic fruits and vegetables.

You might want to start to make grocery shopping a habit and stock up on fresh produce to get you through the week.  You will save a lot of money from having to run out every now and then for something to eat as this isn't a walking city.  Fruits and vegetables here are incredible so take advantage.  There is a farmer's market every week where you can enjoy shopping for the best produce in the country.

Prepare a wardrobe for business casual.
When you start going to interviews, don't think the suit and tie applies here, too.  The city of Los Angeles is a very informal place, and business deals are brokered over jeans and casual shirts.  The weather won't allow for much of anything else.
The Valley is a good option to go apartment hunting.
People do live in The Valley around here and that means the San Fernando Valley (Studio City, Van Nuys, Burbank, North Hollywood, etc.).   The cons: it is known to be 10 degrees hotter in the Valley than other parts of LA. The pros: apartments are definitely cheaper out here so if you want to save rent money, go apartment hunting in The Valley.
Don't worry – Plan your Move – Enjoy Moving Day
Moving to LA can be pretty exciting and stressful at the same time. Of course you can't help but worry but it is much better to plan your move and enjoy your moving day than to feel anxious. Remember, you aren't the first and only person to move out here and with a good deal of planning and knowledge, you will actually survive and enjoy it.
Now that you know professional movers can really take the stress out from your move and you have a good idea of what to prepare for and expect, it is time to sit down and get organized.
After thoroughly reviewing the list of professional LA movers and understanding the services and moving costs they offer, think about what moving services you need and how much you can afford to spend.
Click 5 free quotes and get started on your search for the best LA movers. Request an in- home inspection and a written quote from the moving companies so you can select based on professionalism, experience, customer ratings, and price.
When you are done with choosing your moving company, you can simply wait for moving day and anticipate living in this fabulous city called Los Angeles.