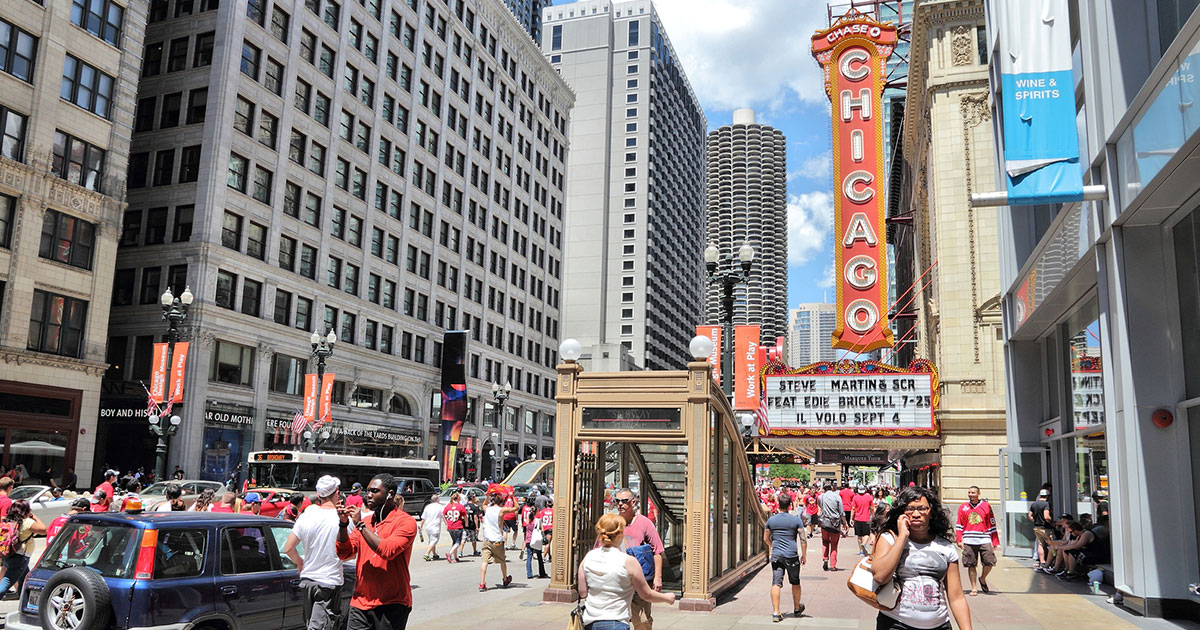 The city of Chicago is fondly nicknamed "The Windy City" and it is a great place to live in and work.
If you are contemplating a move to this city, it is important to know everything about your new city and how much the move will cost you.
Moving is always a stressful time because it comes with a lot of changes. Fortunately, there is an easy way to reduce moving stress – hire a professional Chicago moving company to handle your relocation.
How do you choose your Chicago moving company?
We can help you connect with professional and affordable moving companies serving Chicago and surrounding areas with 5 free movers' quotes.These free moving estimates will give you an accurate idea of the lowest moving costs to help you plan your moving budget.
When you fill out our quick online form, you are guaranteed to receive free moving quotes from local or long distance moving companies in your area.
Since our moving partners are all licensed and insured, you also get peace of mind that you are entrusting your valuable possessions to reputable movers.
The City of Chicago is one of the top moving destinations in America.  Don't be surprised that majority of residents are passionate about sports.  The city is home to popular sports teams including the Chicago Cubs, White Sox, and the Chicago Bulls.
Being the 3rd biggest city in the US, it has all that you could ever want – world class arts and cultural venues, amazing waterfront of the famous Lake Michigan, an impressive skyline, a thriving economy, and the best educational institutions.
The weather is critical in planning the timing of your move. Extreme winter conditions and heavy snowfall make moving difficult at this time. The summer heat is also brutal.  The best time to move is during spring and fall although thunderstorms and tornadoes pop up now and then.
Nothing beats Chicago when it comes to diversity of neighborhoods.  It has 77 unique and distinctresidential areas.  As a city of neighborhoods, you have plenty of options where to settle in the city. South Loop and the Gold Coast have amazing lake views, Humboldt Park or Roscoe Village offers urban living in a historic neighborhood while other up and coming neighborhoods continue to develop.
Chicago's cost of living is high as it is one of the most expensive cities in the Midwest.
No matter where you choose to live in Chicago, we are sure to have the best moving company for your relocation.
Obtain your 5 free movers' quotes to start comparing local and long distance moving companies and their services.
Book your moving date ahead of time so you can relax and be worry-free until your moving day.
We know you are hungry for more details about how to relocate successfully to Chicago. Check out the relocation tips and moving advice below to help plan your move.
RELOCATION TIPS AND MOVING ADVICE TO CHICAGO
The Windy City, third most populated city in America, has everything anyone would want.  From the famous Lake Michigan waterfront, a beautiful skyline, world-class performance and arts venues, and a vibrant economy, Chicago offers many reasons for people to relocate here.
We want to give you a start to finish moving advice and provide you with resources you will need to plan a successful move.
Preparation is essential to ensure your relocation is done efficiently and within your budget.  You don't want to start your new life in Chicago with problems regarding delayed delivery of your belongings, loss or damage, or even ballooning moving expenses.
With 5 free movers' quotes, you can pick a dependable and trustworthy moving company with transparent moving rates.
Let's get started with planning your move.
ESSENTIAL CHICAGO FACTS FOR A SUCCESSFUL AND AFFORDABLE MOVE
Located on the southwestern shore of Lake Michigan, Chicago is a gem of the Midwest.  It is full of big industries, fervent and passionate about sports, and has some of the country's most brilliant architecture.
It is also an incredibly diverse city, blending cultures living among one another in a thriving metropolis.  It has the biggest libraries, the tallest building in the west, the oldest zoo in the country, and so many more.
One of the most important facts you need to know before your move is that it is true that Chicago is an expensive city to live in. It is the 9th most expensive city to rent in, according to Kitty and Michael Dukakis Center for Urban and Regional Policy at Northeastern University.
Research says that it costs an average person a minimum of $1,400 to live in Chicago.  This covers food, shelter, cable and internet, and electricity.
Housing will be your biggest expense so plan well where you choose to live.
But before you start getting cold feet, read on because the City of Chicago really has so many things to offer new arrivals.
6 Perfectly Good Reasons to Move to Chicago
Just to keep your level of excitement up, let us list down some perfectly good reasons to move to Chicago.
You can skate in fabulous surroundings in the winter.
The city's public transport system is efficient and makes getting around easy and affordable.
The cityscape is amazing no matter where you are viewing it.
It has fantastic parks like Millennium Park that should be a model for all other cities in the USA.
There are so many fun things to do in the city that you will never run out of entertainment options.
It has the Chicago Cubs, the White Sox, the Chicago bulls, and the Chicago Bears – enough to keep any sports fan on the edge of his seat every season
Here is more about the city you'll want to know to blend in successfully in your new home.
The Weather.  Depending on the timing of your move, the weather can be a critical issue.  Chicago winters can be extreme and heavy snowfall can make relocation a big challenge.  Summers can also be quite intolerable.  Spring and fall are far more ideal for moving to Chicago but watch out for tornadoes and thunderstorms.
Where to Live.  Whether you desire to live near the lakefront or a trendy and hip neighborhood, Chicago has what you are looking for.
Depending on your source, the city has from 70 to 245 neighborhoods with each community offering a distinct identity. Some of the most popular residential districts include:
Lincoln Park is near Lincoln Zoo, the Lincoln Park Conservatory, and incredible Lake Michigan.  It is easily accessed through buses. It is also filled with many retail stores, fine restaurants, and great parks.
Wrigleyville is a small neighborhood and gets its name from the famous Wrigley Field, home of the Chicago Cubs.  It is a lake view neighborhood and extremely popular.
The West Loop has a lot of art galleries, performance venues, vintage and antique shops.  It also has some of the best restaurants in the city. Lofts are popular in this area and Union Park provides plenty of green space, picnic areas, playgrounds, a pool, and tennis courts.  Of course, Millennium Park
Downtown. Usually, people like to move downtown but in Chicago, your options are not limited to expensive high-rises downtown.  Busy during the week, downtown is pretty quiet during weekends, with most stores closed.  But apartment buildings here do have magnificent views.
Andersonville.  This neighborhood is relaxed and more affordable.  Here you will find eclectic houses and a strong LGBT community.
Wicker Park/ Bucktown.  This neighborhood is hip, with plenty of live music venues and upscale restaurants along with clothing stores for street wear.
Ukrainian Village.  South of Wicker Park, this neighborhood has quieter streets and has gems like locally owned Italian restaurants offering delicious dishes and unique coffee shops.
South Loop and the Gold Coast.  This residential district has incredible lake views, shopping and an unrivaled cultural and arts sector.
Get to know these neighborhoods and a few more to choose the best neighborhood for you.  Finding an apartment in the city can be pretty stressful. Don't search too early – the best time to look is a few days before your desired lease date.
Chicago Jobs and the Economy. The city has a diversified economy based on printing, manufacturing, publishing, insurance, food processing, and finance.  It is still called the candy capital of America.  Chicago has also been a significant player in transportation and distribution and a rank highly among the world's busiest shipping hubs.
The city's unemployment rate is higher than the US national average but over the years, statistics have been going down.  The city's biggest employer is the US Government, the City of Chicago, and the Chicago Public Schools.
Transport.  It is not necessary to own a car to get around Chicago.  The CTS has an efficient network of buses and elevated trains.  Biking is also popular among residents and gives them another alternative than the CTA or walking.  Bike lanes are provided and you can mix public transit with biking as bikes are allowed on trains and buses.  Divvy, a bike rental company, has stations all over the city.
Keep Life in the City Fun and Exciting- How to Enjoy Chicago
With its staggering number of options in terms of great food, drinks, and entertainment, there are so many things to enjoy in the Windy City.
Chicago is home to some major sports and serious sports fans.  It is one of only 4 cities to have a team in 5 major American professional team sports – basketball, baseball, soccer, baseball, and hockey.  The entire family can always enjoy watching the Chicago Cubs in Wrigley Park or the Chicago Bulls over at the United Center.
Intelligentsia coffee is famous around these parts and served in many restaurants but they have 3 coffee bars where you can enjoy the real experience.  Also, you can find the best tacos, the best donuts, to the best hamburgers whipped up by Michelin-starred chefs, no less.  When it comes to good food, the city has 3 staples – the deep dish pizza, the Chicago style hotdog, and the hot beef sandwich.
Chicago also has the best shopping such as Oak Street (Chicago's version of Bond Street), 900 shops (houses 6 floors of shopping outlets), Block Thirty Seven (home of global brands) and Belmont Army for trendy but affordable wear.
Chicago summers are filled with street festivals in the warm months. Each weekend can have a neighborhood festival going on.
Cloud Gate, also called the Bean, is famous and a must see for new arrivals.  The John Hancock Observatory gives the most amazing view of the city, perfect for anyone starting a Chicago life.
Millennium Park is a frequent venue of concerts in the summer, winter ice skating, and exhibits all year round.  The Lincoln Park Zoo offers free admission and is open the whole year.  You can also find a lot of museums in the city from the Art Institute, the Field Museum, and the Museum of Science and History.
You can plan your own Chicago adventure to make moving here exciting and fun-filled from day 1.
Now that you are ready to move to the Windy City, take a peek of the most popular moving companies in Chicago for your relocation.
LINE-UP OF CHICAGO'S 12 GREATEST MOVING COMPANIES
What Customers Say about their Moving Services
PROFESSIONALS MOVING SPECIALISTS
This Chicago moving provides residential and commercial moving, student moving, art and antique moving, emergency moving, and movers and packers.  It was established in 2004.
As a licensed and insured company, it aims to provide safe and reliable moving services at affordable prices.  Its services include disassembly and reassembly of furniture, packing/unpacking, loading and unloading, and delivery.
It is accredited with the Better Business Bureau since 2005 and a member of the Illinois Movers' and Warehousemen's Association.
WINDY CITY MOVERS
This moving company provides residential and commercial moving services for small or big moves in the city.  It has over 30 years of experience and has the resources and equipment needed for delivering a high quality move.
They offer comprehensive moving services including packing, storage, and large item transport.  They have clean and well maintained trucks and ensure proper training of crew for safe and professional service.
Whether you want just help with packing or need all the difficult aspects of moving done for you, count on these professional movers to do the job well.
CHICAGO BEST MOVERS
This moving company began in 1987 and offers moving services and convenient storage locations in Chicago.  It has years of experience, professional employees, and personalized customer services.
They provide local and national moving services, residential and commercial moving, professional packing, and convenient storage at 2 locations.
REDI-BOX
This moving company offers plastic moving boxes delivered to your doorstep.  After you have filled them up, their crew also picks up for your convenience. No assembly is required so it is quite easy and fast.
This moving service is perfect for small moves, student moves, and those that don't have a lot of furniture or appliances.
Check out their pricing for moving boxes depending on the size of your move.
If you are moving out of a studio, you can get 20 moving boxes that you can pack for 2 weeks before pick-up at a low price of $99.  For a 2-3 bedroom move, you get 45 boxes at $199.
These prices are quite affordable and a good option if you don't want a full moving service.
You can also obtain other moving supplies such as mattress cover, redi wheels, packing paper, wardrobe boxes, and hand truck.
H2H MOVERS
This Chicago moving company has years of experience in the moving industry.  Their services are available 24/7 and their staff are dedicated to make your move stress free and easy.
They provide household moving, senior moving, corporate moving, as well as local, interstate, and long distance moving services.
They also offer moving boxes delivery so you can do your own packing and they pick up when ready for delivery.
They are also experts at piano moving, packing/unpacking, and loading and unloading.
The company is accredited with the Better Business Bureau since 2014.
BERNARD MOVERS
This moving company started in 1972.  They provide affordable moving services with personalized service to make customers feel at home.  As a top Chicago mover, their local and long distance moving crews work for to safely and efficiently deliver your household goods.
The company is a member of the American Moving and Storage Association and accredited with MoveSeniors.com.  It is also accredited with the Better Business Bureau and enjoys a rating of A+.
They have partnered with Penske Trucks for reliable moving trucks.  They also offer packing, loading, and storage.
NEW CITY MOVING
This moving company serves Chicago and its suburbs.  Since its start in 2009, the company's aim is to provide the care and attention to customers during a move.
They provide local moving, residential and office moving, loading and unloading, and intra-building moves.  They also handle piano moving and antiques moving.
Their local moving rates are charged by the hour and the rate depends on the number of moving crew you need.  They also charge a minimum of 2 hours for every move.
They are licensed by the Illinois Commerce Commission and carry the appropriate insurance.
ON TIME MOVERS
On time Movers of In and Out is fully insured and licensed by the DOT for transporting household goods anywhere in the USA.  It also has an international moving coverage for customers' protection.
All moves in Chicago include:
loading, unloading and transport
wrapping of furniture
moving labor
fully equipped moving truck
assembly and disassembly of basic furniture
travel time from office to pick up and delivery location
Local moves are charged hourly and the bill starts from the time the crew arrives at your location and has completed the move in your new home.
They also provide commercial moving services, long distance moving, and international moving.
MOVE-TASTIC
This is a Chicago premier moving company specializing in residential and commercial moving.  It offers prompt pick-up and transport, loading and unloading of household goods, packing services, and high quality moving services in Chicago.  They also provide labor only for those who just need extra hands.
The company offers competitive hourly rates based on number of men needed and travel distance between pick up and final destination.
They accept moves within Chicago and its suburbs or within 40 miles from their office.
BURROWS MOVING AND STORAGE
This is an independent moving company in Chicago offering residential and commercial moving services.  They also handle piano moving, antique moving, hoisting, packing, local, and long distance moving.
Since 1972, the company has been providing full service moving, packing, and storage services.  They also ship household goods to 48 states in continental USA.
USA MOVING AND STORAGE
This moving company has been serving Chicago residents since 1981. As a licensed and insured moving company, it offers full service moving for residential and corporate relocation.
It offers packing, loading, transport, and storage services for household and commercial goods.
For local and long distance moving, the company gives guaranteed pick-up, delivery schedule, as well as affordable pricing and comprehensive transit protection.
They use the latest models of fully equipped moving trucks to protect your goods from damage during transit.
It is accredited with the Better Business Bureau and enjoys a rating of A+.
CHICAGO MOVERS
This moving company offers worry-free moving at affordable rates.
As a licensed relocation company, they provide residential and commercial moving services for local or long distance moves.  They also move pianos, antiques, and artworks.
You can receive a free in home assessment for a fair and accurate moving quote.
Here you have seen 12 of the best moving companies in Chicago based on customer ratings and reviews. We have more moving partners that can provide you with cost-effective and reliable moving services for moving to Chicago.
FIND HIGH QUALITY CHICAGO MOVERS WITH
5 FREE MOVERS QUOTES
If you are excited to plan your moving day, you can get started with finding your moving company. Fill out our quick online form with your moving information to receive fair and accurate moving quotes based on your type of move.
Whether you are moving across the street or coming from another state, we can connect you with the most qualified moving company to handle your relocation.
Choose from a full moving service for a worry-free move or opt for custom moving services that suit your needs and your moving budget.
Because our moving partners are all licensed and insured professional moving specialists, you have peace of mind that you are dealing only with reputable companies.
Book your Chicago move with our moving partners to enjoy the best moving experience.