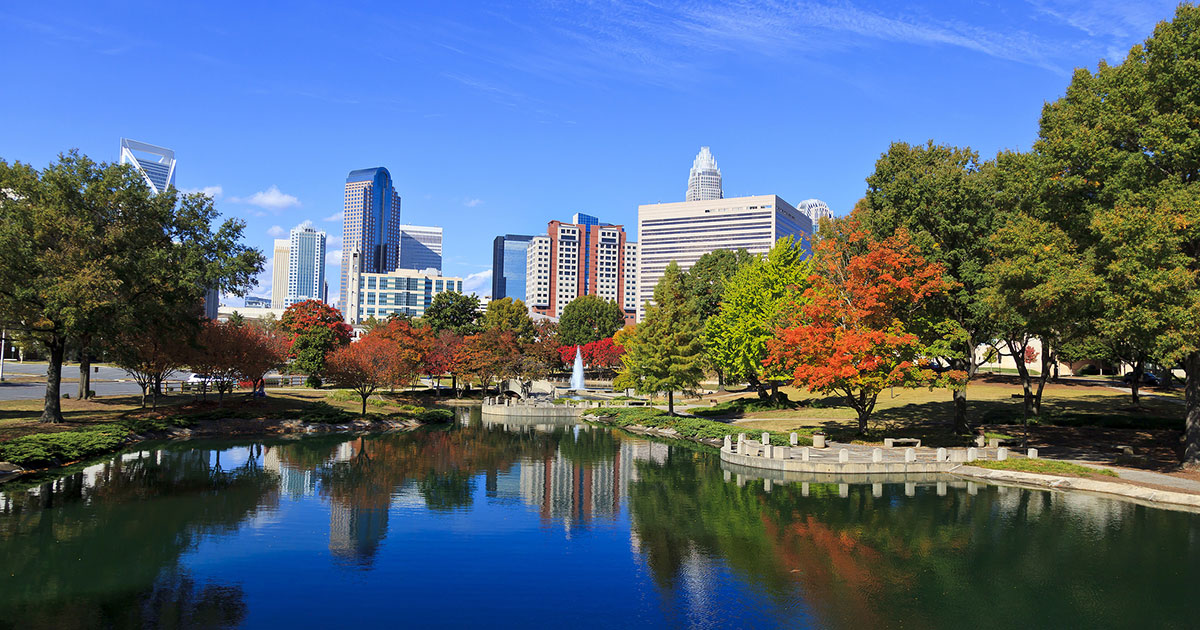 Low Moving Company Prices To Charlotte – Easily Choose Movers With 5 Free Quotes
If you are moving to Charlotte, North Carolina, you surely want to have a safe and stress free move. But you also want to ensure you don't overspend on moving services.
We completely understand and want to help you find cheaper moving services that suit your budget.
With 5 free movers' quotes, you can quickly compare moving services and moving company rates to choose the best moving rates.
Just fill out a quick online form with your moving information and you will surely get the lowest possible moving rates from our moving partners.
Whether your move is local or long distance, professional moving companies can plan and design your move to ensure a smooth and successful relocation.
Charlotte is the second biggest financial and banking center in America, next to New York City.  It is home to prestigious institutions such as Bank of America and Wells Fargo.  It is also the site of several higher education institutions, among them the University of North Carolina at Charlotte.
Due to its thriving economy and abundant economic advantages, people are drawn to relocate to this exciting city.
While it doesn't have a huge population, it does offer several diverse neighborhoods for new arrivals.  Dilworth is rich in history while the South End caters to younger crowds looking for newer housing options.  You can surely find a great neighborhood that caters to your taste.
An unfurnished 2-bedroom apartment could cost you about $750 which is cheaper than other major cities of the same size. According to Kiplinger's Best Value Cities, Charlotte's cost of living is lower than the US national average.
The city's subtropical climate means residents experience 4 seasons, with cool winters but quite tolerable.  Summers are not as hot as in Texas and rainfall is evenly distributed throughout the year.
It is never too early to start planning your move to Charlotte. Take time to choose your moving company to ensure a successful and affordable move.
Obtain 5 free movers' quotes today for your relocation to Charlotte and start comparing moving company rates to save on moving cost.
QUICK REVIEW OF PROFESSIONAL MOVERS IN CHARLOTTE
Are you ready to book your move to Charlotte or maybe you just want to know how much your move would cost you?
As a rule of thumb, moving costs depend on several factors such as the size of your move, the timing of your move, distance of travel, and your choice of moving services.  Many people feel intimidated by moving companies and feel they cost too much. By understanding how movers work and how they charge for their services, you can design your relocation to suit your needs and your budget.
People who are relocating are generally concerned with 2 things – the efficiency of the move and the moving cost.  If you plan well and make the right choices, you can achieve both and actually enjoy a positive moving experience.
Moving during peak season, usually summer, means higher moving rates.  If you can be flexible with the date of your move, most moving companies can offer lower prices for their services.  If you can do your own packing, it could also lower your moving cost. However, keep in mind that moving companies don't take responsibility for damage to items they didn't pack.
Below is a list of moving companies serving Charlotte to give you an idea of the moving services you can choose from and what their moving rates are.  At the end of the review, you will be in a better position to evaluate moving companies and choose the best one for your relocation.
CAREY MOVING AND STORAGE
This moving and storage company was established in 1907 in South Carolina but shortly after expanded its operations in Spartanburg.  Today, it also has an office in Charlotte and offers full service moving and storage.
The company is one of the founding members of Allied Van Lines which allowed it to expand even more to cover the eastern coast of the USA. It is one of the most trusted nationwide movers with over thousands of agents in the US and Canada.
It offers a full range of moving services between states, in the city or statewide.  It provides professional packing and unpacking services using the highest quality packing materials and also handles vehicle transport, antiques and fine art moving, corporate relocation, commercial moving, residential moving, and climate-controlled storage.
The company is a member of the American Moving and Storage Association and is accredited with the Better Business Bureau.
GENTLE GIANT MOVING COMPANY
This is an award-winning moving company in Charlotte serving customers throughout the area including Weddington, Marvin, Waxhaw, and Matthews.
In its 30-year history in the business, it has won many awards for its top-notch services and has become a top moving company in Charlotte.
It provides local and long distance moving, commercial moving, international moving, craning and specialty moving, piano moving, and storage.
It has locations in Washington, Florida, Virginia, Rhode Island, California, Illinois, Maryland, Massachusetts, New Hampshire, California, and more which enables the company to deliver fast and efficient interstate moving services.
CHARLOTTE VAN AND STORAGE
This Charlotte moving and storage company emphasizes quality in its moving services, from their movers to the equipment that they use.  Since 1955 when it is established, they have gone from being a household mover to a full-service moving company that specializes in specialty moving (piano and fine art), corporate relocation, international moving, and logistics.
It is a Mayflower Transit moving agent with easy access to agents all across the country and abroad.
As a family-owned nosiness with over 60 years of experience in the industry, you get peace of mind that you are working with a reputable and reliable mover.
TWO STRONG DUDES MOVING
This independently owned and operated moving company in the Charlotte Metropolitan area handles small to large sized moves in Charlotte, surrounding areas, and other states in the east coast.
This moving company is proud to be one of the best movers in Charlotte, North Carolina.  It is a licensed and insured moving company specializing in local and long distance household moves.  Since 2005, the company has delivered professional and high quality residential moving services to customers in Charlotte and surrounding areas.
They offer full service moving, labor only moving, long distance moving, and move out cleaning services. You can choose to let their movers do everything for you or opt for labor only service to save you time and money. For long distance moving, they provide guaranteed rates for moving your household goods anywhere in the country.
ALL MY SONS MOVING AND STORAGE
For more than 20 years, this Charlotte moving company has successfully delivered superior moving services to customers.  It specializes in commercial moving, local moving, long distance moving, auto transport, and corporate moving.
The company has 4 generations of experience and brings expert knowledge to your relocation.  It has been a family-owned business since its inception and is well-known for its reliability and personalized attention.
Their movers will handle all the details, from packing and unpacking and setting up the furniture in your new location.
A-1 MOVERS
This family-owned and operated moving company has 27 years of experience as Charlotte movers. It specializes in local and long distance moving while offering affordable options for households and businesses.
It is also called A-1 Clean Up and Movers, a fully licensed and insured moving company operating in 26 states in the east coast.  It is a member of the Better Business Bureau with an A+ rating.
They provide different options to meet needs and all kinds of budgets.  Their services and moving rates include moving truck, pads, tools, and dollies.
YOU MOVE ME
This is a professional local moving company that moves more than just your boxes.  As part of a national franchise with locations all over the country, they have the resources to move you anywhere.
It is a full-service, commission certified moving company in Charlotte and can pack everything up for you, plan your move, solve any problems related to your relocation, and even bring coffee on moving day.
They provide up front and transparent moving rates and have only a one-hour minimum which means you pay only for the actual time it takes to complete your move.
They serve Charlotte and surrounding areas including Ballantyne, Waxhaw, Matthews, Concord, Monroe, Harrisburg, Huntersville, Gastonia, Kannapolis, and more.
These are some of the best professional moving companies in Charlotte.  We hope you have a better idea now about how moving companies can make your move stress-free and how you can save from your moving cost.
You can obtain 5 free movers' quotes today to start reviewing moving companies and moving rates for moving to Charlotte from your current location.
Fill-out our short online form with your moving details to connect with 5 of the finest moving companies near you.
We wish you the best move to Charlotte with any of our moving partners!