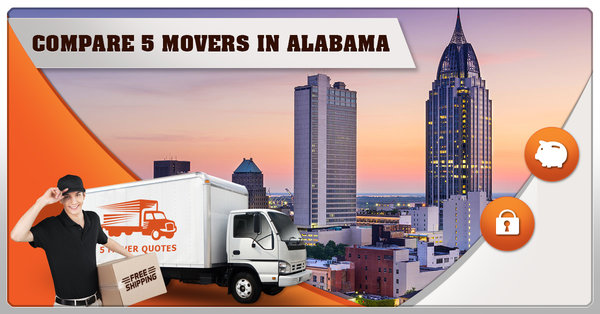 Alabama, famous for its southern hospitality, is one of the top moving destinations in America.  Its 5 major cities include Birmingham, Montgomery (the capital), Mobile, Huntsville, and Tuscaloosa.  Population in the entire state is estimated at 4,858,979.
If you are dreaming of living in a southern mansion, you may be surprised to discover that these homes are more affordable than you think.
Indeed, there are many reasons that make living and working in Alabama a very attractive option.  Many of its cities are densely populated with 4 Alabama cities among the largest in the country.  But interspersed with these highly urban areas are many rural and tiny towns for those who want a more laid-back lifestyle.
Whether you are making a local or long distance move to the state of Alabama, we can help you connect with the best movers at the lowest prices.
The success of relocating to Alabama will depend on planning.  One of the major factors to consider is the weather.  You should avoid moving in the months of March, April, May and November as these times are prone to storms.  The best time to move is October as the climate is usually dry and mild at this time.  You should also know that the state of Alabama is frequented by hurricanes, tornadoes, and thunderstorms.
Professional moving companies in our network are familiar with relocation in Alabama and can give you the best advice for a stress-free move.  When choosing a good mover, it is important to go with licensed, insured, and experienced moving companies offering full moving services.
When you request for your 5 free movers quotes, you will receive fair and accurate moving estimates based on your moving information.  Our partner moving companies will offer you the best moving solutions to make your move as easy and convenient as possible.
Whether you are looking for white-glove moving services or want to customize specific moving services to fit your budget, we are confident we can help you find the right moving company.
The moving company you choose will help you plan your move from before moving day until the arrival of your goods.
For local or long distance moving in Alabama, find the best relocation specialists in your area with our free moving quotes.
Compare movers' prices and check on moving companies to avoid moving stress and over-spending.